Research Forum
HORSTMANN/PFAFF/HA(R)SE
published by rockerjt9 on Thu, 30/04/2020 - 13:44
Are there any descendants of Franz Heinrich (known as Henry) HORSTMANN and his second wife Christine Louise PFAFF who would like to tell me more about their watchmaking ancestors?
This German couple married Nov 7th 1893 in the Parish church of Christ Church in WsM. She was probably the sister of witness Friedrich Wilhelm Ewald PFAFF - the German bandmaster in WsM. (however, PFAFF is also the name of many German watch & clockmakers who came to UK to learn/improve and market their wares).
I am (slowly) researching material for a book on German watch & clockmakers in the UK and came across this couple...
What also intrigued me was, on the same page as their marriage entry, the details for a John RICH marrying Charlotte Mary HARSE...she of 35 Meadow St and d/o Joseph HARSE, butcher...how about that for coincidences....?!!
Jenny Towey
jenny@towey.me.uk

6 Comments

login
or
join us now
to post comments
Lavinia LEWIS my 3x Great Grandmother
published by Graham Payne on Tue, 21/04/2020 - 9:02
Lavinia Lewis was born about 1827 (Yatton/Churchill according to various census) She married George Land in Bristol 6 September 1846. According to the marriage certificate Lavinia's father was John Lewis. The only other information I have established for Lavinia was that in the 1841 census she was recorded as a farm servant aged 13 working for William & Samuel Harris in Yatton.
I would appreciate any help in finding Lavinia's baptism, actual place of birth and mother.
Thank you
Graham
PETTIE and RITCHIE relatives, around 1900-1950s
published by Richard Burnham on Sat, 18/04/2020 - 14:30
I would welcome any information concerning my mother's maternal grandparents, Henry Vincent PETTIE, a tailor, and his wife Jane nee RITCHIE, who lived at 9 Jubilee Road, Weston, early in the 20th century. They had two daughters, my gran Annie Henrietta (Dolly) and her younger sister Catherine.
Also concerning three younger unmarried sisters of Jane called Johanna (Hannah), Agnes (Aggie) and Catherine (Kitty) Ritchie. Auntie Hannah and Auntie Aggie were still running a boarding house, Maycot at 12 Beaufort Road, when I went there on family holidays as a very young child in the 1950s. I also owe my existence to the sisters and Maycot, as it was where my father first met my mother.
Please see my notes under surname Ritchie for what I already know.
Thanks for your help!
Richard Burnham

login
or
join us now
to post comments
Sarah IRVINE - 3rd G/Grandmother
published by LouChapman13 on Sun, 12/04/2020 - 22:13
Evening everyone,
I hope you lovely people can assist me in tracing my 3rd Great Grandmother Sarah IRVINE. I have no DOB or Death date although I know she married James Edward BROWN on 14th August 1865 St John's Wood.
Sarah had a daughter Annie BROWN on 24th Nov 1865, Middlesex.
Sarah's father as per the marriage banns William IRVINE.
Any help would be appreciated.

2 Comments

login
or
join us now
to post comments
Schools in Weston super Mare
published by youngfear on Tue, 31/03/2020 - 15:48
I am researching my father's family tree (surname FEAR)...
My father was Alan George FEAR 6/5/1934 (WsM)- 22/4/1999 (Hartlepool).
His parents were Frederick Clarence FEAR 1900-1957 and Dorothy Ellen STONE 1902-1976
I am interested in finding out which schools my father might have attended. The family lived in Southend Rd, WsM in 1939, according to the England & Wales register for that period.
Any help or advice would be most appreciated.
Francis Stephen DYMOND 1924-1943
published by Pat Hase on Tue, 31/03/2020 - 13:33
Have had this query from member Peter FOLLETT - I will pass on your replies.
"Francis Stephen DYMOND died on 24 March 1943 in RAF Hospital Poulton, Lancashire of septicaemia. I have a copy of his death certificate. He had joined the RAFVR only a month earlier on 21 February.
This discovery came about when the CWGC placed a plaque at the entrance to St Mary's Churchyard, Hutton stating there was a war grave in the churchyard. He is buried in a family plot with his grandparents and uncle. Why he is not on any war Memorial is a mystery maybe his parents did not want his name on a memorial or maybe they thought he did not qualify as he had served for such a short time.
In 1939 the family were living in 7 Bournville Road ,but at the time of his death his parents were living in Victoria Cottage, Station Road his father was the caretaker of the Methodist Church. According to the Mercury he was employed as a clerk at Bristol railway station before enlisting. There could be War Memorial recording the names of railway men who died during the war and he could be recorded there.
Hutton Parish Council have agreed to add his name to the Hutton War Memorial subject to every effort being made to trace any relatives, to obtain their view as recommended by the War Memorial Trust.
His parents were
Francis William DYMOND born 1890 died 1962 and
Ophelia Maud DYMOND nee BOWEN born 1896 died 1972
Any relatives would be descendants of his parents brothers and sisters."
Any help would be appreciated in tracing them to get permission to add his name to appropriate memorials.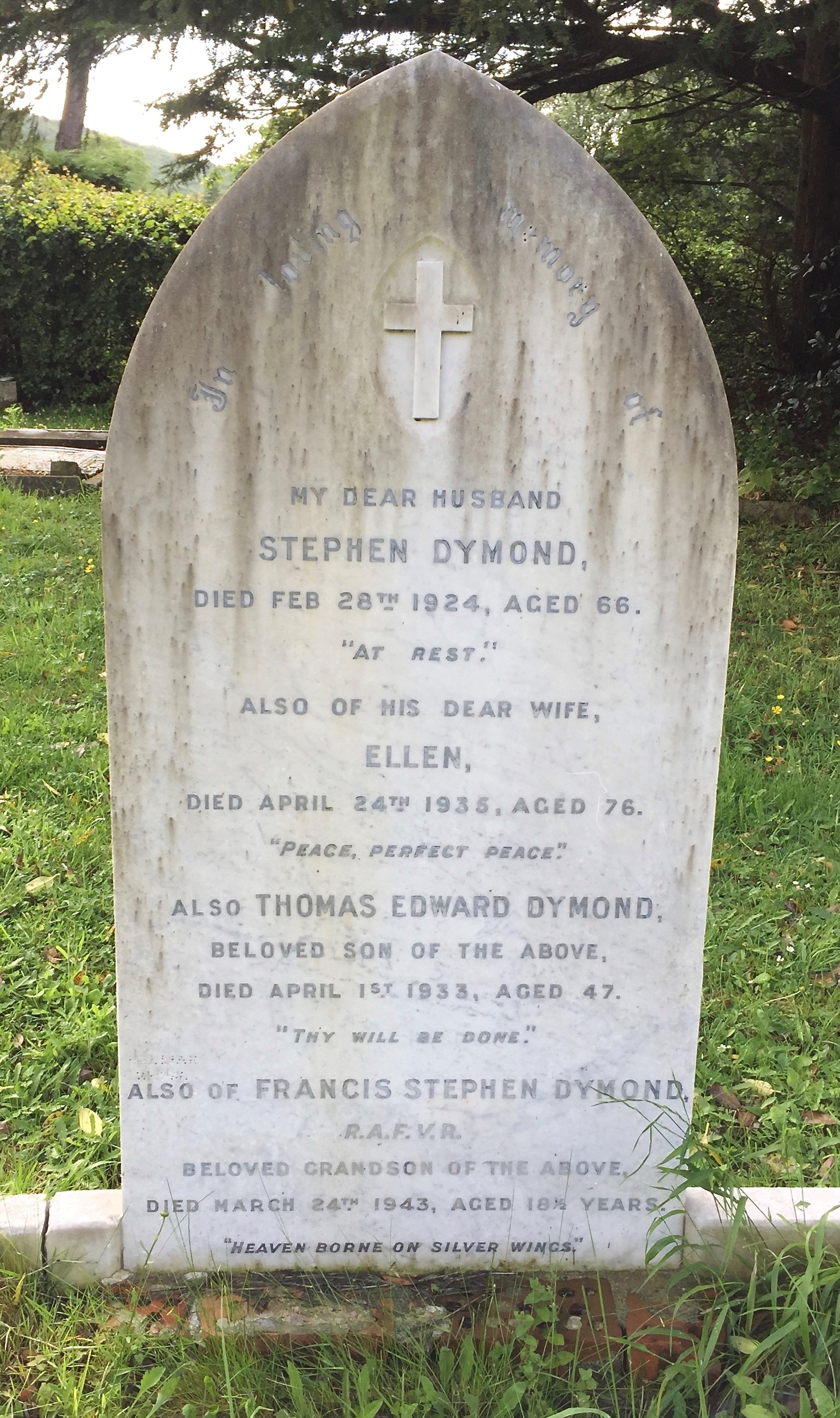 Is your research stuck?
Use our research forum and
(If you are already a member please login (if not already logged in). If not why not join us now - see the link to the membership page.