Comments
August 2020 Newsletter
published by rockerjt9 - 2 days ago.
re the churchwardens marrying each other...you'd have thought that the transcribers would have realised that something was 'not quite right'...
I was going to watch the U3A Zoom lecture yesterday - but got so engrossed with checking my Ancestry DNA matches (below 9cM) that I completely forgot the time.
I have a marriage certificate free to a good home...William JONES to spinster Catherine EVANS, 17th May 1862, Capel Ebenezer, Mallwyd, Merioneth: this William is a farmer, whose father is named Rowland JONES - also a farmer. Catherine\'s dad is also a farmer - but named as Rowland EDWARD.
Wondering if we could offer up our unwanted certificates to everyone else? (I needed 'my' William to be a painter - not a farmer - got the right cert now...). I wouldn't mind organising it...
---
John Dyer 1803-1880
published by littlebinton - 5 days ago.
Thanks for the info. I did realise that John Dyer and Louisa Wride were on two separate pages of the 1841, but what I did not realise was that the 1 in the box indicated a start of a household and // the end. I have always gone by the actual address in the first column, but in this case there are no separate residences shown in that column. Thank you for that - it will be very useful moving forward. Also I did not decipher the occupation of F.S. on the census. If I had it would have been clear that they were all living in the same house. I guess there isn't a marriage and they were just co-habiting, but it is surprising that they had 8 children together without marrying - must have caused a bit of gossip at the time!
As a point of interest, Louisa had 3 children between 1834 and 1838 where the baptism records show her as the single parent and the child's surname as Wride, John being one of them.
Thank you for all your help.
---
John Dyer 1803-1880
published by Pat Hase - 5 days ago.
If you look at the image of the 1841 census, Louisa WRIDE is entered as a F S - Female Servant and is in the same house as the DYER family which is spread over two pages.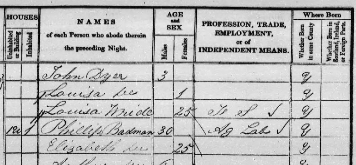 To the left of John DYER's name is a 1 in the box which indicates the start of a household and the double // above his name is the end of the previous household. Go to the next page and you will see a double // below Louisa's name and the start of a new household with Phillip BADMAN. Just above Louisa's name is a single / which shows a different occupant but in the same house. So she was living in the same house as the DYER family, not next door.
I agree with you that the Probate seems to confirm that they were not married when their son John was born - hence the use of both surnames for him as Executor. He was not necessarily a beneficiary - A Copy of the Will will show the details of any bequests.
---
John Dyer 1803-1880
published by littlebinton - 6 days ago.
Thanks for your reply. I have the 1841 and 1851 censuses, but as in the 1851 Louisa is shown as John's wife, I wondered if there was a marriage anywhere. Have checked FreeReg, Family Search and Ancestry and Winscombe parish records but no joy.
---
John Dyer 1803-1880
published by littlebinton - 6 days ago.
Hi Pat
In 1841 Louisa Wride was living next door to or with John Dyer in Sandford (no actual address shown). In 1851 Louisa is shown as John's wife and they are still in Sandford. I am attaching all of the info I have. Thanks for your help. Kind regards Julie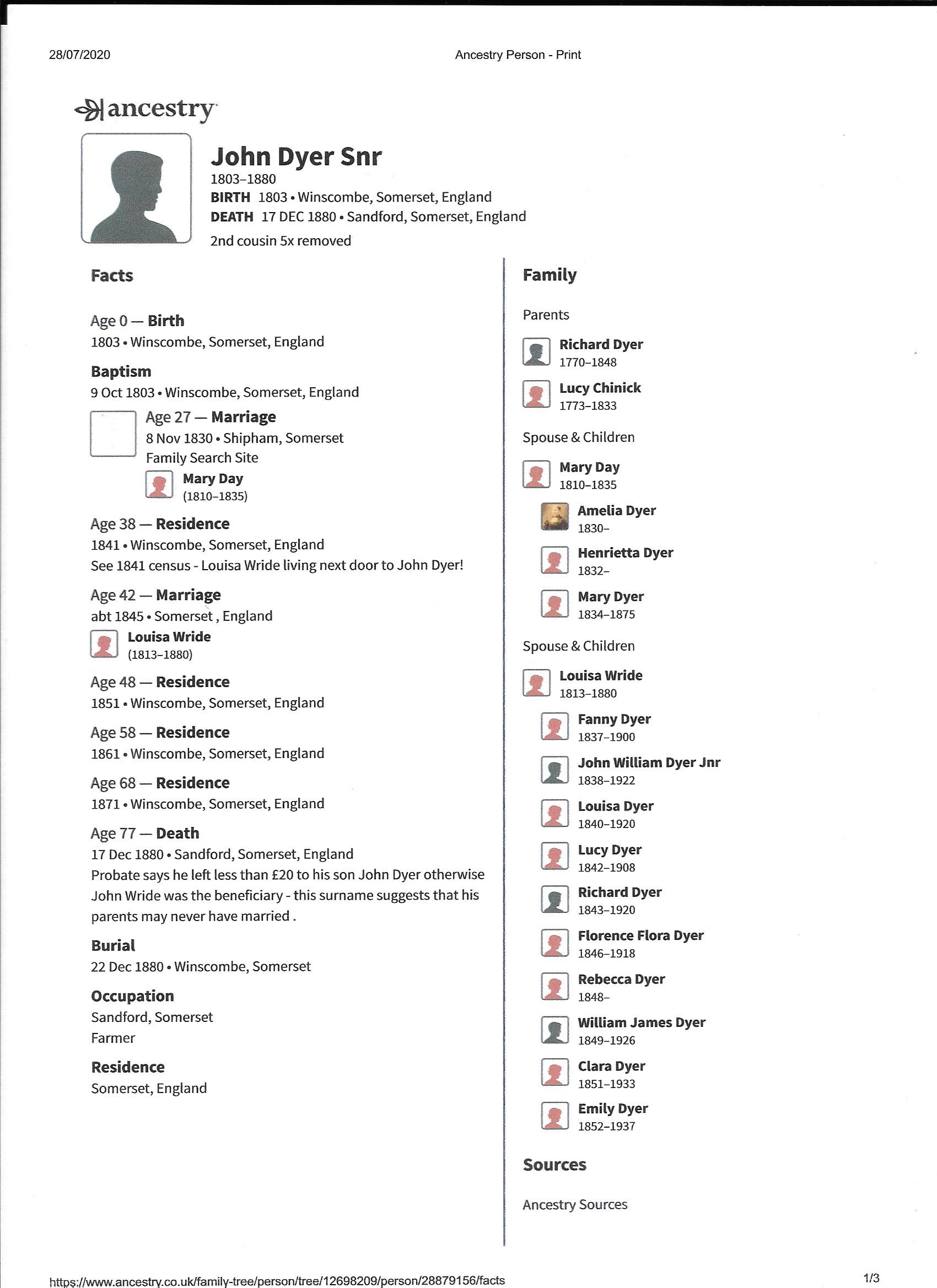 ---
John Dyer 1803-1880
published by daveerasmus - 7 days ago.
At the time of the 1841 Census John DYER was living in Sandford with his children. Louisa WRIDE appears to be part of the same household. John's youngest was Louisa born 1840. According to the GRO her mother's maiden name was RIDE (sic). So, it looks like John and Louisa WRIDE were in a relationship at that time. If you can't find a marriage (I can't either) my guess would be that Louisa became John's common law wife and took his name.
---