News & Information (Monthly Update)
January 2020 Update
published by rockerjt9 on Fri, 27/12/2019 - 15:56
Welcome to 2020
A new year, a fresh start - new resolutions?...before you consider what to write on your list of resolutions...please ensure that you have renewed your membership in order to benefit from attending meetings, receiving the journal and having access to all the birth, marriage and death transcripts of local records - as well as being able to pick the brains of your fellow members on the forum!
Membership
Methods of payment can be found in the membership section...you can opt whether to receive your Buckets & Spades journal electronically or in the traditional paper form.
Select the Click Here to Download Membership Form to join or renew.
DNA
DNA testing for genealogy has set the family history world alight! Why do it? - because you can connect with cousins you never knew existed...and they may have photographs and family information that you don't. You will expand your knowledge of your greater family tree: discovering, for example, that great uncle Fred emigrated to Australia (voluntarily or otherwise!), Canada or elsewhere in the world. He may have lived an amazing life that you can tell your children and grandchildren about.
Brickwalls can be knocked down via DNA testing but - more importantly in my opinion - you can verify your research! I have been researching my ancestors for over 45 years so I have a lot of information - and when I find a DNA match with someone whose mutual ancestors go back to the C20th, C19th or even the C18th I am cock-a-hoop!!
Do email me with any DNA queries and/or come along to one of my U3A DNA sessions (1st Monday, 2pm - 4pm, at 5A Madam Lane, Worle; 2nd Thursday, 2pm - 4pm, at 4, Channel Heights, Bleadon).
Free Help Sessions
Every Saturday afternoon volunteers from the Society attend Weston Library, in the Town Hall, 2pm - 3.30pm, to freely advise and assist anyone (member or not). With our experience and expertise we can - usually! - discover information to add to your family tree: anywhere, not just in Somerset. Bring us your brick walls!!
Next Meeting
The next Members' meeting - open to all - is on Tuesday 28th January at the Vintage Church, 25 Hughenden Road, BS23 2UR. Our speaker is Peter Lander on the subject of the Birnbeck Pier and people connected with it. This iconic, Grade II listed pier, designed by architect Eugenius Birch, deserves a future and, hopefully, Peter will be able to give us an update on what the future holds...
Refreshments are available.
Hope to see you there...
December 2019 Update
published by Pat Hase on Mon, 02/12/2019 - 15:18
It's nearly Christmas and late in November, our Society had a stand at the enjoyable St Mark's, Worle, Parish Christmas Event which had been organised by our member Grace Rubery.
There we met people who were new to family history and were able to stress the point that we are open to anyone, not only those who are researching Weston families.
A school choir performing Christmas music meant that there were families present and the new My family Tree Booklet was very popular. If you haven't seen it - look at the Family Federation Site and perhaps print it off to give as a stocking filler to your young relations. Perhaps you could help them fill it in?
During the November Monthly Meeting the Society held its AGM, returning a Committee which saw the official recognition and election of Jenny Towey as Chair. A full house enjoyed a light-hearted quiz, refreshments and an interesting presentation by member Ann Lockyer about a black sheep member of her family who suffered the privations of a spell on a Prison Hulk. The November 2019 edition of our journal – Buckets and Spades – was available and it is also available online to full members.
Christmas Day Marriages
At this time of year, it is more difficult to spend time researching the past amid the festivities and meeting up with living relatives. But it is interesting to spare a thought for the number of marriages which took place on Christmas Day. In my own family I have recorded 29 Christmas Day marriages. Most of them 120 - 300 years ago and I wonder how the day was spent after the ceremony?
The majority of these being before 1837 will have had to have taken place in Church of England Churches. My husband's grandparents were married on Christmas Day in 1885 in the Congregational Church in Waterloo Street.
This building was destroyed by enemy action during WW2 and replaced by the United Reform Church using the same site and footprint.
Photographs
It is amazing how new information emerges from the woodwork. I have been given some photo albums and documents by a cousin and was delighted to find a letter from Australia written in 1895 to my great grandmother in Bristol. A number of different family members were mentioned, and a story is developing – however, the photo albums have the age-old problem of un-named photos! Only a handful have any identification and it brought home to me once again the need to label photographs. It is so disappointing especially as one of them resembles my grandson as a child – I think the young boy in the photo might be my grandfather who was born in 1874 but have no proof.
TV Programmes
There have been several TV programmes lately with a family history and war time flavour - you might be able to catch up with them still.
I was particularly interested in gary Lineker's "My Grandad's War" originally broadcast on Remembrance Day, Nov 11th. A description of the programme can be seen here. My own father was severely wounded during the Monte Cassino Campaign in May 1944 and the description of Gary Lineker's grandfather's experiences added to my understanding of the event. As I write this there are 16 days left to view this programme on BBC iPlayer
Channel 4's 'My Grandparents' War'

featuring Helena Bonham-Carter can be still be viewed and the next programme in this series will be shown on Wed Dec 4th at 9.00pm it concerns Mark Rylance who explores the extraordinary World War II story of his grandfather Osmond Skinner, who spent almost four years as a Japanese prisoner of war.

There are 10 days left to view the two programmes which cover Ant and Dec's DNA Journey on ITV when Ant and Dec are given a unique insight into their lives using innovative DNA science and technology to trace their ancestors.
Wills
I continue to be pleased with the Wills which I have received at £1.50 each since they were reduced in price. It isn't so much about what was left to beneficiaries but the names which are mentioned in the Will. The latest one to arrive added little to what I already knew but the Will was written just one month after the writer married (nothing strange there) and the witnesses were his father-in-law and the husband of his bride's sister. Everything was left to his wife but as I knew the people involved it all built up a picture of the family.
Research Forum
The Research Forum query about the Gallop Tea Gardens at Dundry produced some very interesting replies and the use of maps to aid in research was very useful.

The newspaper accounts of events which took place concerning residents were a useful reminder that all that you read in newspapers might not be correct!

Things haven't changed much over the years.

In this case the first name of someone who died 20 odd years previously was incorrect – but perhaps he was known by another name, different from the one he used on censuses and when he married?
If you have any query and it doesn't have to be about family in the Weston area please consider using the Research Forum.

The replies can help others and suggest ways of furthering your own research.
Free Help Sessions
The Free Help Sessions in the Library continue every Saturday afternoon and the Volunteers are pleased to meet new people. The free access to Ancestry enables the helpers to deal with queries about people in other parts of the country. Situated in the North Somerset Local History Library we also have access to newspapers on film which have not yet been digitalised and therefore are not available online. However, unless you have a specific date of an event allow yourself plenty of time to trawl through the pages!.
Next Meeting
We do not have a Society Meeting in December so the next meeting is on Tuesday, January 28th when member, Peter Lander will be talking about Birnbeck Pier: Past, Present & Future. Peter is closely involved with the Birnbeck Pier Regeneration Trust and is very interested in the history of the Pier in particular with the people involved with it.
Wishing all our members (past, present and future) a joyous Holiday season with plenty of opportunities to ask questions of and record the answers from older relatives - as Gary Lineker said - "Although we were close, my grandad never spoke to me about his wartime experiences… and now he's passed away, it's too late for me to ask him." and name those photographs!!
Happy Christmas!
November 2019 Update
published by Pat Hase on Thu, 31/10/2019 - 23:26
Tricks and treats are not only evident at Halloween but also in family history research. It sometimes looks as if our ancestors played tricks by purposely making it difficult to be traced when they disappear from all the usual resources. At other times, some documents may suddenly reveal amazing information which you are not expecting – a real treat!
I've just received a Will of a maiden lady who I thought was an only child only to read that she left bequests to her six nieces who turned out to be the daughters of her two sisters and two brothers.

Not only did she name all of them but gave their married names as well – which filled in many gaps in the family.

For £1.50 that really was a bargain!

The wills are now coming through quite quickly and have given quite a boost to my research.
I've also heard via the Ancestry Site that someone has discovered that he is related both to me and to my husband.

Now that is going to take a bit of sorting out!

Who can say that they have finished their research?
Military Matters
Remembrance Sunday this year falls on November 10th when we remember the contribution of British and Commonwealth military and civilian servicemen and women in the two World Wars and later conflicts.

Not only those who fell but also those who were wounded, mentally and physically as a result of wars. The Commonwealth War Graves Commission Web Site

should be the first port of call when looking for relations who died in any of these conflicts.

Don't forget that Civilian casualties are also recorded there.
The CWGC site has more than lists of casualties.

My father was severely wounded on his birthday May 11th1944 at the battle of Monte Cassino in Italy.

The CWGC

pages about Monte Cassino

give an interesting look into this battle.

It pays to explore this site.
My Diary for 2020 tells me that the May Day Holiday on the 1st Monday in May will not take place next year but instead there will be a Bank Holiday on Friday 8th May to coincide with VE Day or Victory in Europe Day, which marks the day during World War Two when fighting against Nazi Germany came to an end in Europe.

That weekend there will be many commemorative events as we look back 75 years to May 8th, 1945.

Victory celebrations were anticipated in Bristol.

Late at night on May 7th, before the much-anticipated official announcement, my mother woke me to get out of bed to see the bonfires which had been lit along the railway line near what was then the thirteen arches in Eastville.

I sleepily said "alright" and went back to sleep!

I do remember the Street Party and the feeling of excitement during the days which followed, we as children, catching the mood of our elders.

Do you or other members of your family have memories of this time?

How should we as a Family History Society mark this occasion?
Events
On Saturday the 23rd November from 10.00 a.m. until 4.00 p.m. the Society will be having a stand at an event at St Marks Church in Worle.

Please come along and support us.

It will be in the form of a Help Desk so bring along your research and any queries.
We are looking to attend more local shows next year.

If you know of any Village, School, Scout or Guide fete or any other community show at which we could have a stand to publicise our society please let Graham Payne or any of the Committee know so that we can discuss this with the organisers.

Please let your friends know about our Free Help Sessions each Saturday afternoon at the Library.

They do not have to be members or researching local families.

We would be happy to see anyone with a query.
Photographers and Photography
The talk we had about Somerset Photographers in October was very interesting but has left me with more questions than answers.

Some years ago, I was given an old photograph album by my Aunt.

She told me that all the photographs in it were of her side of the family.

Not one of them was named.

Two of them were taken by J. G. Williams, Photographer of High Street, Weston-super-Mare and showed what I believed to be a young family on holiday in Weston-super-Mare and the children had been given buckets and spades to hold during the session.

I thought that I could identify them.

I thought they were my great grandmother's sister and husband with girls born in 1872, 1875 & 1878 and two boys born in 1880 and 1883. The boys had not yet been breeched (put into trousers)

However, from the book "Secure the Shadow" compiled by the speakers about Somerset Photographers 1839-1938 I discovered that J. G. Williams left the High Street in 1874 which did not match the ages of the children.

I contacted Phil Nichols and he cast even more doubt on my identification of the family by suggesting that

the style of photographs looks to date it to late 1860s or very early 1870s. Firstly, the carte has square, and not rounded, corners, and secondly the full-length poses are typical of the 1860s - see the descriptions of styles / fashions at

http://www.cartes.freeuk.com/time/time.htm

So, I'm now looking for a family in my tree with at least 5 children born before 1872.

Back to the drawing board!
Web Site
I sound like the proverbial broken record here - but why are members not using the Research Forum? We have said that the queries do not only have to be about our area as many of our local members are researching family from elsewhere.

There are under a handful of members who ever contribute to this Forum - either to ask a question or to give help and suggestions to others.

I have just put a new item on our web site – it can be found under Information Sources, Places/Churches, and Wraxall. You will find a document relating to Wraxall – "My Wraxall Connection" click on that and you will be able to read about part of my maternal tree – the STOKES family. This is an experiment to see if we can add to the information and general interest available under the Information Sources.
This isn't a tree but a narrative about the place and people living there. Could you add similar documents under other places? Let me know what you think. I'm working on one now for Mark and my connection with the PUDDY family – but as they frequently wandered from Mark it is proving difficult!
Next Meeting and AGM
At our next monthly meeting on Tuesday November 26th will be our AGM and a members' evening when you are asked to contribute. In the past we have had some fascinating items from your research. This month you are asked if you know of any Black Sheep in your family? Do you have Famous or Infamous people on your tree? Be prepared to talk about your naughty and/or interesting ancestors. The latest edition of Buckets & Spades will also be available for collection.
October 2019 Update
published by Pat Hase on Tue, 01/10/2019 - 12:51
Yesterday, Sept 30th, we enjoyed our Annual Lunch which took place at the Worlebury Golf Club. Thank you to Peter de Dulin for organising it and it was agreed that we would do it all again next year so if you couldn't make it today, we hope you can join us in 2020.
Thanks also to Peter Towey for his interesting talk about military medals at our last monthly meeting – so many of our families had people who took part in the first world war and we may be familiar with Pip, Squeak and Wilfred and their variants but the more recent medals were new to me not being in a military family. My grandfather's records are amongst the lost WW1 ones but just last week I noticed that his name appeared in a list on FOLD3 via Ancestry – you need a subscription for FOLD3 but by using their Free Trial I was able to see information about his pension.
I hope some of you took the opportunity to visit some of the churches which were open during the Heritage Days in September. Several of them had interesting exhibitions of their history on view and thanks to all the people who took time to answer questions about the places.
Next Saturday, October 4th, we will be taking part in the Library's initiative to inspire people to take up a new hobby and of course we will be suggesting Family History could be the one to choose. This "Fun Palace" will be operating from 10.00 – 12 noon and the afternoon Free Help Session will be running as usual. If you can spread the word to others outside the Society, it would be appreciated. Full details can be seen here.
On October 12th the Weston & District FHS Stand will be at the Glamorgan FHS Open Day hoping to help all those "Welsh" people whose families came from Somerset! If you live on that side of the Bristol Channel do make yourselves known to Graham Payne and Bill Caple who will be managing the stand.
WW2 Memories
At our last meeting it was suggested again to me that we might be able to produce a booklet about people's memories of WW2. Some articles have already gone to Sue for inclusion in the next edition of Buckets and Spades but I would be glad to receive any more so that we can see whether this booklet is possible. First or secondhand memories and photographs are welcome of life in Britain during WW2. As I mentioned last month. Any accounts of the blitz on Weston or elsewhere, experiences of evacuation or the "Make do and Mend" culture, food and rationing and anything else which would give those who follow us an idea of what life was like.
Music in Weston
I have also had several queries lately about people who were musicians in Weston. Some were of German ancestry while others were local. Names include DEAHL, PFAFF, MOGG, BURGESS, CORELLI, WINDEATT, WAGNER etc. If you have a musician in your family please can you let me know because this might be of interest to others.
Aspects of Family History Research
A couple of years ago I enrolled on the free online course on Family History hosted by Strathclyde University and found it very worth while and recommend it if you want to brush up your research techniques. I know that some other members have benefitted from it and the next course starts on the 28th of October. It's a five week course and is suitable for all, beginners and those with some experience.
If you are following the Rugby World Cup in Japan you may be interested in the My Heritage research into the DNA of 4 former world class players.

Essentially an advert for My Heritage DNA but I still feel that the most important results of DNA testing are not the aspects of ethnicity but the connections made and confirmed by traditional research

Findmypast has a free blog which has some interesting items – In particular during September it put on an article about tracing the family tree of Tess DALY who introduces the BBC programme Strictly Come Dancing It is a step by step guide to research which shows how some errors can occur on original documents.
We have talked a lot lately about how we can get younger people interested in Family History.

Essex Record Office has produced a series of brief power-point presentations intended for use by school teachers but the content is of interest to anyone who is researching their family and want to find more that just names and dates – these give a background into the social history and lives of our ancestors
If, like me, you are still waiting for Wills and Probates you ordered way back in July – it seems that they grossly underestimated that response that the reduction in price would produce – you are encouraged to wait patiently because contacting them simply lengthens the process.

The wills I have received have given me some surprises and answered some questions.

As I probably would not have ordered them at the original price, they are well worth the wait.
Our next meeting at the Vintage Church is on the 4th Tuesday of October – that's October 22nd – and the subject will be Somerset Photographers 1839-1939. Phil Nichols and Robin Ansell will be discussing the project of cataloguing all the known photographers operating in Somerset at that time. With Allan Collier they have produced a book and CD entitled "Secure the Shadow", published by the Somerset & Dorset FHS which lists all the named photographers many of whom operated in Weston-super-Mare.
The Help Sessions in the Library on Saturday afternoons 2.00 'til 3.30 p.m. and the Facebook Group continue to attract new people and we hope that some will join our society
Addition to Sept Update
published by Pat Hase on Fri, 06/09/2019 - 20:03
The announcement that the images from the Bristol Parish Registers were going to be released by Ancestry on Friday Sept 6th came after the Sept Update was published. More details about this can be seen on the Ancestry Blog. I've found the baptism of one illegitimate child for whom I already had a birth certificate which named a father! Vicar knows best?!! He did write in the margin "Not for the Parish Magazine!"
September 2019 Update
published by Pat Hase on Sun, 01/09/2019 - 0:53
On September 3rd it will be 80 years since the outbreak of WW2. If you have any memories of this time – your own or your parents' memories - we would love to hear them before it is too late! Thank you to Ben Simpson for his article in the July edition of Buckets & Spades. Were you or your parents evacuated? Did you have evacuees billeted with you? Was your home damaged during the war? What effect did the war have on your family? Can you remember food rationing? Did you have clothes made for you from parachute silk? What about Utility furniture? Etc.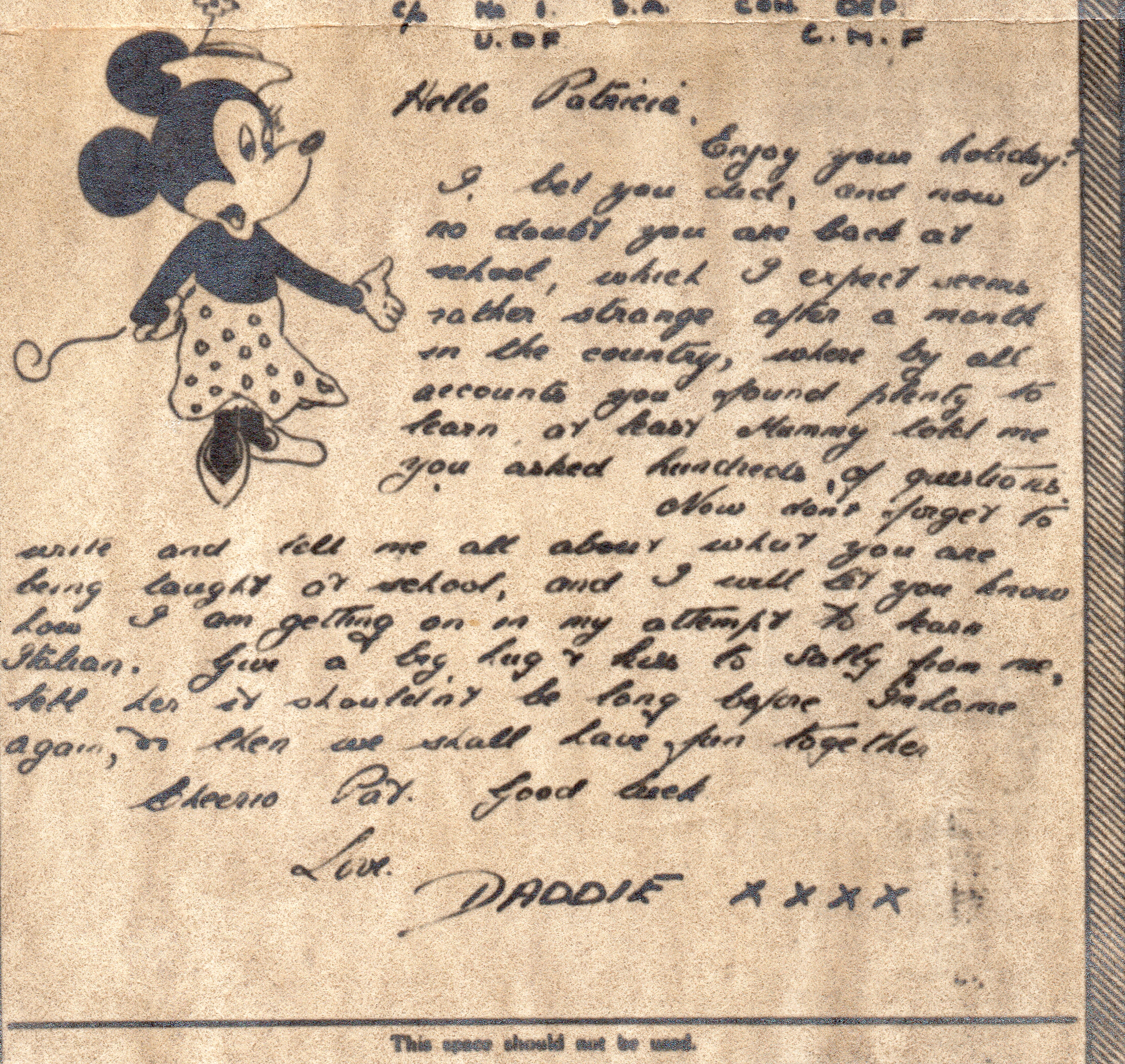 This is part of a photo-letter sent to me from my father in 1945 from Italy after he had been severely wounded at Monte Cassino in 1944. I have several of these letters which were photographed and reduced in size before sending.
WW2 Research
The National Archives has many research guides to assist your research into the Second World War and many of them have resources available online.
The National Archives has also re-issued some videocasts done for the 70th anniversary which tell the real stories behind some of the well-known WW2 films
Historic England has published some aerial views of Weston which includes some interesting shots of wartime Weston including air-raid shelters on the Beach lawns and Reservoirs on Alexandra Parade
Dates for September
North Somerset Archivist - Thursday 5 September

will be the next archivist visit to Weston-super-Mare Library- Sessions are open from 11.00 am to 1.00 pm, and from 2.00 pm to 3.30 pm For more information and to order documents to be brought to the library contact Somerset Archives somersetarchives@swheritage.org.uk Please give 2 days notice.

Heritage Open Days 2019 - 13 - 22 September

Every year in September, places across the country throw open their doors to celebrate their heritage, community and history. It's your chance to see hidden places and try out new experiences – and it's all FREE. In North Somerset many of the Churches will be open - some having special exhibitions of their archives and some, St Mary's Church at Portbury (for one) offering cream teas! Take a look at all the places which will be open they include The Town Quarry in Weston, The Curzon Cinema at Clevedon, Uphill Church on the hill, The Mayor's Parlour in Weston, etc. See Heritage Open Days for full details of places open in North Somerset
Society's Monthly Meeting - Tuesday September 24th

our meeting at the Vintage Church in Hughenden Road will feature Peter Towey with British War Medals as his topic. If you have any which you cannot identify or with a particular history please bring them along.

Bristol & Avon FHS Open Day - Saturday September 28th We will have a stand at this Open Day on with many other organisations offering help with your research. If you have even a passing interest in postcards, mining, Canadian research, Military matters, quilts, Railways, Caribbean research or maps as well as family history there will be something there to interest you. Local History Groups, Family History Societies from Wales, Warwickshire and the South West, Record Offices and commercial enterprises which support your research will all be on hand to help you. For full detail go to the Bristol & Avon web site
Our Annual Lunch - Monday Sept 30th

The Society's Annual Autumn Lunch will take place at Worlebury Golf Club – full details in the July edition of Buckets & Spades. Contact Peter de Dulin if you have any queries.
Using family history research techniques for other purposes.
Many of us are also interested in house histories and research the families which lived in them. The BBC programme "A House through Time" is an example of this and I understand that the next series in 2020 will feature a house in Bristol. Researching a single street (a short one is best!) can provide an amazing amount of information about the area in which our ancestors lived.
A display of Classic Cars in Weston recently reminded me that over the years, our family has owned and enjoyed a number of vintage cars. As it was in the 1960s when we bought our first one, it was more difficult to find out about previous owners and the history of the cars. Today it is easier. Although the old log books with names and addresses of previous owners are no longer in use, it is often possible to find mention of the owners and even sometimes a photograph in newspaper archives. Specialist car clubs have their own archives and museums and other enthusiasts have often posted histories and photographs of their cars on other sites. I was surprised recently to find online a letter written by my husband in the archives of Motor Sport Magazine!
Researching one car gave us a happy time in Worcester Record Office looking for the original 1923 registration of a car that carried later number plates. The records held there for cars registered in Worcestershire were fantastic and we eventually managed to get the original number back again. That car also took us to the Museum of the South Staffordshire Regiment for information about the first owner where we also found a photograph of him. We visited where the first owner had lived and a neighbour gave us information which led to us taking the car to see a close friend of the original chauffeur who was able to give us more information. All very similar to tracing a member of your family.
Family Trees on Ancestry.
I recently posted a photo of my great grandmother, Annie STOKES, on our Facebook Group and have been looking at her side of my family. She was one of 15 children and there are currently 31 trees on Ancestry which include her parents, Charles & Lavinia STOKES nee SPERRIN.
The first one I looked at had 4 different birth dates for Charles STOKES – 1819, 1820, 1821 and 1833. The first two dates I can understand as he was christened on the 2nd Jan 1820 at Wraxall and unless he was christened immediately it is likely that he was born in 1819. The 1821 date was taken from an entry on the 1841 census where ages are approximated to the nearest 5 years downwards. Unfortunately, the wrong Charles STOKES had been picked up. This tree has chosen a Charles STOKES living in Shepton Mallet in 1841 whereas my Charles was still in Wraxall. Just to confuse matters the researcher adds the Shepton Mallet "parents" of Charles to the tree. I could go on, but I am now trying to get in contact with the owner of this tree!
Do check any tree before adding anything from it to your own research!
Research Forum.
I have posted a query twice on the Research Forum about Samuel STOKES (Father of the Charles STOKES) baptised in Wraxall in 1793 said to be the son of Joseph & Martha. Neither time did I get any response, so I posted a similar query on the free Rootschat Forum and immediately had some really helpful suggestions which made me ask myself "Now, why didn't I think of that?" One of which was simply - did I have a death certificate which might show a relationship? This led me to wonder whether members are not using our Forum because they think their query is too silly or the answer to someone else is too obvious? Believe me, you can spend so much time going over in your own mind your own brickwalls but another person looking at the problem may see it from a different angle and make really useful suggestions. A member once commented that they couldn't answer any of the queries because they didn't refer to their own tree. The query might not be about your own research but in many cases you can use your own experience of how you built your own tree to help others.
Free Help Sessions
Many thanks to all the volunteers who turn up each Saturday not knowing what they are going to be asked to look at. Today, the last Saturday in August, we looked at Indian Records – How do you send for an Indian Marriage Certificate? We unearthed the marriage of a young woman who we eventually discovered used her stepfather's surname when she married which was why we couldn't find her marriage in the first place. A young Air or Army cadet came in looking for a member of the Home Guard who had died in 1944. The local newspapers which are on film (not online) gave us details of his inquest and funeral and our own transcriptions gave his burial in the Cemetery.

1 Comment

login
or
join us now
to post comments
Forthcoming Events
Society Meeting
Tuesday, 28th January, 2020 19:00 - 21:00
Society Committee Meeting
Monday, 10th February, 2020 19:30 - 21:30
Society Meeting
Tuesday, 25th February, 2020 19:00 - 21:00
Society Meeting
Tuesday, 24th March, 2020 19:00 - 21:00
Society Meeting
Tuesday, 28th April, 2020 19:00 - 21:00
<- View calendar for more