News & Information (Monthly Update)
April 2021 Newsletter
published by Pat Hase on Thu, 01/04/2021 - 13:35
All Fools Day! What does that mean to you? I think it was Abraham Lincoln who said, "You can fool all the people some of the time, and some of the people all the time, but you cannot fool all the people all the time". He must have seen some of the Family Trees which have been posted online!
I know we can all make mistakes in compiling trees but to mindlessly add information from another tree without checking it out is foolish to say the least. These days, when DNA testing is another tool available to researchers, hints are often suggested based on similar names in other published family trees and this can cause no end of frustration and hours of fruitless research where the other tree is suspect.
Zoom Meeting in March
We had a very interesting Zoom talk in March by Chris Reid from the Weston LDS Family History Centre who explained some of the benefits to be gained from using FamilySearch, a completely free site. You do have to sign in but there is no charge. I come from a generation of researchers who cut their teeth on the extremely helpful IGI, (International Genealogical Index) searching through fiche after fiche to find christenings and marriages with very few burials available. I did order some films which I was able to see at the Bristol Wells Road Family History Centre, but Somerset records were limited – said to be due to a Bishop of Bath & Wells who did not allow the filming of the C of E Registers. This has now all changed and the number of records available on this site matches if not overtakes other Commercial Sites and has some with images. But I have to admit that although I did have a great deal of help from a school friend who is a member of the LDS when the enhanced web site came online, I have never really used it as my first port of call. I have not made myself familiar with all that the site has to offer and although I had put the start of a tree on the FamilySearch site I did not look at it very often.
Yesterday, March 31st, when I looked at FamiySearch I found that additions have been made to my tree in a place where there has always been a stumbling block. The parents of James MILLARD who married a Jane PARFREY in Axbridge in 1787 (my husband's 3 x g grandparents) are now, according to the tree, Leaster and Ann MILLARD of Banwell. It is possible but where is the proof? There are several other contenders for the role of parents and I am looking for some sort of proof before committing them to a tree. Chris Reid did talk about the collaborative trees – I'd be interested in your comments. There is an article about how to correct trees on FamilySearch How to Correct Mistakes on the FamilySearch Family Tree | LDS365: Resources from the Church & Latter-day Saints worldwide which also gives the benefits of having such a tree.
Wedding at Holy Trinity on 3rd May 1945 - just 5 days before VE Day

Back in 2012 we were contacted by an American, Nan Turner, who was researching information about her father's time in the USA Army when he was billeted in Weston-super-Mare in 1944/5. We placed an item on the Research Forum for her with a picture of a Wedding which took place at Holy Trinity in Weston. Although nobody replied to the site we were later able to help her with some information which she has now incorporated into a web site which includes more photographs of their stay in Weston. Her father was a member of the 1270 the Engineer Combat Battalion this link will take you to her web site - you will need to scroll down a little between the photographs to enter the site. Go to Weston-super-Mare in the left hand menu. She is still interested in identifying members of the Wedding Photo. Her contact details can be found on her web site. See also the original Research Forum Entry and another one in 2018 with more response.
Family History Federation - Really Useful Show
As a member of the Federation we will be included in the Really Useful Show on April 10th. There is still time to buy a ticket for this online Show with a variety of excellent speakers.
Buckets & Spades
The March edition of Buckets & Spades is now available to full members. Thank you to all who contributed to it, to Sue Maguire, who edited it and to Paul Tracey who oversees the distribution. There are some very interesting articles in it, several with a military flavour, while others covered other aspects of family history research. There is also a brief mention of resources held by Brian Austin whose contact details are on the web site.
Transcriptions
Graham is busy adding more transcriptions - today Biddisham MIs. Here's just an example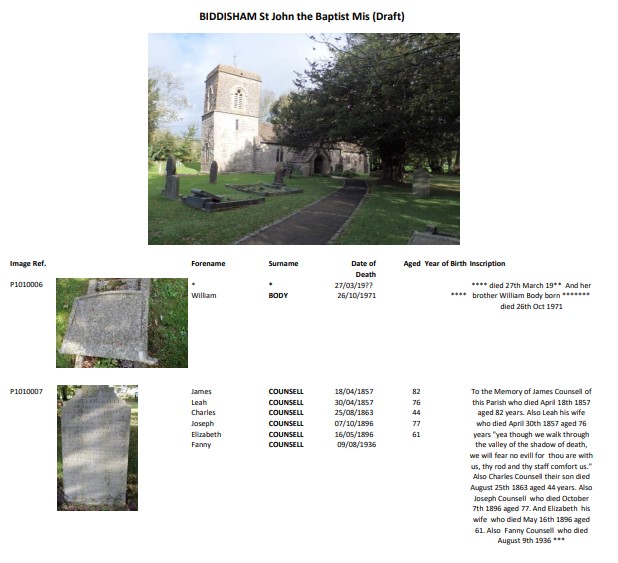 The MIs, like all the parish registers are so easy to search by using "find on page" and give a marvellous amount of information.
Membership
We are delighted to note that our membership numbers have kept up during the past year but are still puzzled about why we are not getting any entries in the Research Forum. At a time when contact between members as been curtailed are there other ways in which we can we help other members in their research? We encourage you to raise topics about your research whether it is based in Weston or not - most of our local members have family from elsewhere and I know that we have members with a tremendous amount of knowledge who could help others.
Facebook Group
We now have 331 Members. It is difficult to know how many are actively researching their families or are thinking about it or are more interested in the locality but all are welcome. Queries posted to the group are usually answered within a day and we keep a file of SURNAME Interests which allows members to see if someone else is interested in the same surname. We have had some interesting discussions and some brickwalls have been knocked down.
When someone asks to join this private group they have to answer a question before being admitted. Unfortunately, there have been several occasions where this question has not been answered and in spite of trying to contact them we have received no answer and therefore they have not been admitted to the group.
We do encourage full membership of the Society as the very low subscription rate of £9.00 per year brings with it our interesting Journal Buckets & Spades, the transcriptions and other items available only to full members and admission to our Zoom meetings - there is an additional entry fee when we meet in a Hall.
Zoom Meeting Thursday April 15th at 7.00pm
Although lockdown restrictions are being gradually lifted and those of us who have been shielding are now able to leave home I suspect that it will still be some time before our monthly meetings will be able to resume. At our first Zoom Meeting it was interesting to see those members from further afield who have not been able to attend in person before, so there is a silver lining to the cloud which is still over us! Our next meeting is due on Thursday April 15th at 7.00pm when I will be the speaker, talking about researching "Clara's Cottage and Burlington Street" in Weston, the site of the Weston Museum.
You will receive an email with instructions on how to join each meeting, if you didn't receive one last month check that the email which we have for you hasn't been changed recently. There are several videos available on how to join Zoom for the first time – this is just one of them which might be helpful.
Any Other Business!
If you have any information to add to this newsletter or comments about any of the items please use the Comments Facility at the bottom of the page. Have a Happy April!

4 Comments

login
or
join us now
to post comments
March 2021 Newsletter
published by Pat Hase on Mon, 01/03/2021 - 12:26
Welcome to a new Month and a special mention for our Welsh members who will be celebrating St David's Day today. Even if many will have discovered that they are not Welsh at all but have come from other parts of the Country including many from Somerset, you can wear your daffodil with pride!
The high spot of last month just has to be our first Society Meeting via Zoom. It was a very successful meeting with an interesting and informative talk from our Vice-Chairman, Peter De Dulin about the 1939 Register. Thank you to all concerned for arranging it and the Society hopes to run Zoom meetings on the 3rd Thursday of each month from now on. We welcomed some members who would not normally be able to attend local meetings and it was great to match names with faces. An email will go to all full members advising them of the contact details each month. If you did not receive one last time, please check that you have not changed your email address. If you have any ideas of topics for these meetings, please let Jenny Towey know. Please note that the meetings are on the 3rd Thursday NOT 4th Tuesday.
Online Talks
I wonder how many of you have benefitted in the last few days from the wonderful selection of talks available from Rootstech which will still be available for another 11 months. Perhaps you could recommend some of the talks you have found helpful to other members?
Census
On March 21st the 2021 Census will be taken – I know it has been suggested that you copy your form to preserve in your own Family History Archives. You might consider asking whether other members of your family might do the same and let you have copies of their entries – it will save your descendants having to wait 100 years to access them!
I admit to having waited avidly for the release of the 1881 census and here we are, 40 years later, looking forward to the 1921 Census for England and Wales which will be released in January 2022, initially by Find my Past.

I think I know where my parents and grandparents were then but 3 of my great grandparents were still alive and it would be interesting to find out exactly where they were living and with whom.
Commonwealth War Graves Commission
There was an interesting query on our Research Forum about some military graves in Milton Road Cemetery which revealed a piece of WW2 history which I had not really researched before although I had seen the graves in question.

At one of our Zoom meetings hopefully will be a speaker from the Commonwealth War Graves Commission – their site seems to have more information on it every time I go to it.
There will be a War Graves Week in May to raise awareness of the work done by the Commission. Their project for Wild Flower Gardens has already been oversubscribed.
Newspapers and Coroners Reports
A posting on our Facebook Group led me to the report of an Inquest in a local paper.

This reminded me that although Coroners Records have in the main not survived, amazing detail can often be obtained from the newspapers.

I find that although Find my Past does have access to the British Newspaper Archive, the search facility is so much better on the BNA site.
Many of the sites containing searchable resources update regularly, including the Newspapers so it can be productive to search again for mention of your families, remembering that newspaper entries can have errors in them!

One small thing I have become aware of recently is the use of the phrase "of this town" sometimes used in Family Announcements.

I spent some time looking for a man at an address in Weston only to find that although the notice was entered in a Weston newspaper it was under a heading of Somerset Events with a sub heading Burnham and he was from Burnham on Sea!
Leisure Activities
Newspapers are also very helpful at giving information about leisure time activities – often listing sporting teams, winners of flower shows, competitors at Music Festivals etc.
From documents found with my great grandfather's photographs I have found out that he was a fisherman. This was at the start of the First World War but presumably that was not going to stop him fishing.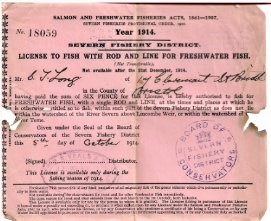 For several years Samuel Thomas LONG had been a member of the Bristol West End Angling Association – he was also their Auditor – and their very posh Member's Ticket for 1896, apart from their Rules and Regulations, listed the Railway Arrangements whereby the Midland Railway Company issued 3rd Class return "Fishing Tickets" at preferential rates to members provided that they showed their Membership Cards, Fishing Rod and Tackle at the Booking Office! Although the newspapers did report their annual fishing matches, I cannot see that he ever won a prize.
Local History Groups
I know I have included this before but do not overlook the Local History Groups covering the area in which your ancestors lived. In many cases they have web sites rich with historical information about their home places.
Workhouses
You probably know of my interest in Workhouses and Axbridge Workhouse in particular. There are a number of Axbridge records including, births, baptisms, deaths and censuses which I have transcribed and made available on our web site for members. Find them under Axbridge Poor Law Union in Main Menu
The Somerset Archives have released some searchable Somerset Workhouse Admission and Discharge Transcriptions for the whole of Somerset under their Index to Workhouse Admission and Discharge Registers from 1836. It is not a complete listing because not all records have survived and there is a 100 year cut off, but very useful if you have lost someone.
Buckets & Spades
Look out for the latest edition which you should be receiving shortly. Please consider how you can contribute to the next one. It is always interesting to read about other people's family history and how they managed to find that elusive ancestor.
Facebook Group
We now have 319 members. and it is interesting and encouraging to see how links are being made between local families. I am posting advertisements from a 1911 book about Weston which have been jogging memories of long-established trades people in the town and of how life was before our time and of course before WW1. These have generated useful discussion.
Web Site
Graham Payne is still busy with the transcriptions and photographs of Memorials which are very well received by our members.

In particular the transcriptions of the burials in the Milton Road Cemetery are in great demand by full members as they answer so many questions about what happened to their relatives after 1856.

Bill Caple is still adding pictures to the Places covered by this Society. Go to Places/Churches and click on the name of the Place not the church. They give literally a snapshot of where our ancestors lived. If you have any which could be added I'm sure that Bill would love to hear from you.
Finally, the future is looking more promising now, provided we do not let go too quickly as soon as the better weather comes. We all want to meet up again but let's not lose the advantage the vaccination programme has given us by rushing things. In the meantime, please keep in touch through the Research Forum, contributing to Buckets & Spades, contacting us through the web site or the Facebook Group and join in with the Zoom Meeting on Thursday March 18th.
Yesterday, I had to add the death of a very dear first cousin to my family tree and although not unexpected, it has triggered a whole range of happy memories, from childhood escapades, through teenage confidences, to marriages and the sharing of family gatherings when our children were small to our last contact, a Zoom meeting over Christmas. A whole generation of memories to be cherished – that is what family history is about - not just the framework of names, dates and places. It is recognised that it is more difficult, if not sometimes impossible, to catch the underlying aspirations and feelings of our ancestors but it is those which makes each family different and separates genealogy from family history.

login
or
join us now
to post comments
February 2021 Newsletter
published by Pat Hase on Mon, 01/02/2021 - 13:09
The snow drops are out in my garden and snow is gently falling, as I write this on the last day of January. This month has flown by, but that is the way time seems to go during Lockdown – days blend into each other and all the plans I have when I wake in the morning seem to be still plans in the evening! The occasional zoom meetings and many phone calls and emails keep me in touch and I am grateful for those, and for the way in which researching my own family (and others!) has given me an escape from the reality of life during a pandemic.
Renewing Subscription
Can I gently remind members that their annual subscriptions are now due. Normally many members renew at the January meeting, which of course did not take place, and it may have slipped your minds. If you can renew as soon as possible it will save administrative work sending out individual reminders. Thank you to those who have already renewed.
New Members
We offer a warm welcome to New Members and hope that their time with us is productive and useful for them. Take time to make yourselves familiar with the website - there is a lot on offer. Add your SURNAME interests to the lists so that others researching the same name can find you and share information. Use the search button at the top right-hand corner of the home page to see if your particular interest, whether it is a surname, occupation, place or event etc. is mentioned anywhere on the site. Use our Research Forum to breakdown your brickwall.
For those who are not yet members I would like to point out that annual digital membership is very low, just £9.00 per year which as I have pointed out before, is less than the cost of an individual civil registration certificate. For that you will have access to our Journal, "Buckets and Spades", the next edition being due in March, access to the transcriptions of parish records for most of North Somerset and the Axbridge Registration District and access to the Burial Records of Weston Cemetery, from 1856, when local churchyards were closed. Local members also have access to our Library.
Our Library
The Society's Library is in danger of being lost unless we can find a member who is prepared to give it a home. One big advantage of volunteering to do this is that whoever holds the library has immediate access to the books. We have been asking for someone to come forward for some time and we will have to make a decision soon about what to do with these books. Please contact Brian Airey for more details about what is involved.
Sharing Resources
We received a valuable suggestion from a member that members may own resources such as Street Directories, and they would be prepared to do look ups for other members. To set this up on the website would have incurred a cost and the committee were uncertain about how many members would have taken advantage of it. This is a shame because the closure of the Public Library has meant that access to Street Directories has been curtailed. However, the Research Forum could be used for requesting help such as from a Street Directory. Please make use of the Forum for furthering your research. Why is it underused – nothing at all in the last month?
Buckets and Spades
The deadline for the next edition of Buckets and Spades is February 15th and Sue Maguire, the editor, would be pleased to receive copy for this or future editions. Your family history research and how you went about it would be interesting to other members.
Resources online
Many sites are increasing their resources during the pandemic. Here are just a few, perhaps you can add others.
Videos etc
Sometimes you may want to while away some time watching a video or a recorded Zoom presentation about family history research, many of which are now available on You Tube. Although these are mainly from Findmypast the content is varied and can be viewed without having a subscription.
RootsTech in February
Normally this would be a live event in Salt Lake City but this year there is a free Virtual Event taking place 25-27 February – you can register for free and then join in as much or as little as you wish. Their publicity answers the question - What's Included?
Celebrity keynote speakers

Dozens of classes to choose from taught by presenters all over the world and in multiple languages

An interactive expo hall with companies from all over the globe

Fun cultural activities/demonstrations geared to celebrate traditions from around the world
Vaccination
I hope that the vaccination roll-out continues to work well and those who qualify are accepting their vaccination. I have been very impressed with the efficient and caring way in which our local centres have been operating and it reminded me of this certificate I posted on Facebook a short while ago which confirms that young Master PENNY had received his smallpox vaccination at a time when that vaccination was compulsory, and parents could be prosecuted if their children were not vaccinated.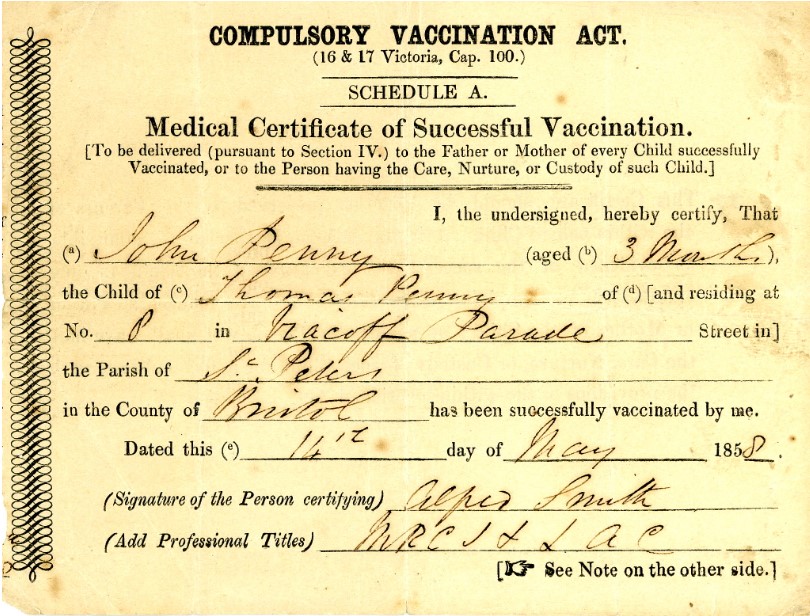 Long Lost Family
I watched an edition of this ITV programme which was concerned with using DNA to identify WW1 soldiers whose bodies have recently been discovered in France over 100 years after they were killed. It is available on the ITV Hub for 30 days
DNA Research
Peter and Jenny Towey are sharing their expertise in this field and one thing I have realised is that it is essential to have researched all the descendants of my ancestors in order to identify a possible match. If the match is a 3rd, 4th or 5th cousin then there are many places in each generation where the surname may change. I recently had a match on My Heritage which has me researching their tree to see if there is a connection and if there is it will break down a long standing brickwall! I'm still waiting for a reply from them to see if I'm on the right lines.
Facebook Group
You do not have to be a member to join our Facebook Group. Our aim is to be available to quickly answer queries and make suggestions about future research. In this way we hope to attract full membership of the Society and to support all who share our interest in Family History. We would welcome more contributions and queries both on the Facebook Group and on the website.
The Future
This time last year we had no idea that we would be in this situation now with no face to face meetings and we sincerely hope that it will not be too long before we can meet up again. Please let us know how you are getting on with your research, either by an article for Buckets and Spades, use of the Research Forum or on our FaceBook Group. We would like to share your successes and frustrations as you unravel your family. Happy Hunting!
January 2021 Newsletter
published by Pat Hase on Fri, 01/01/2021 - 15:43
A Happy New Year!! I am sure none of us will forget 2020 or regret its passing. Our thoughts and prayers go to members who have lost dear ones during this pandemic and to those who are feeling the effects of loneliness and isolation while we keep ourselves and others safe from infection. Our thanks go, not only to the members of the NHS and other essential workers, but also to those who have made our lives so much easier by keeping in touch and with the random acts of kindness which have brightened our days. Welcome to 2021 bringing a fresh start and an optimism that things can only get better!
When future generations research our lives, they will wonder how we coped and how it affected us, just as we wonder about how our ancestors lived through other historic events. As we are part of our own family's history, we could make it easier for them by recording our own thoughts and feelings about 2020. I remember reading an account which was found by one of our late members amongst the papers of his grandfather which simply described each member of their family as they sat around the fire one Christmas in the late 19th century. It painted an evocative picture, not only of the individuals but also mentioned how life was treating them. Yes, we now have photography, and you could record those family Zoom meetings but could one of your New Year Resolutions be (yet again!) to write up your family history and make sure that it is passed on to younger members?
Review of Some Online Resources
Society Library
This is an important asset for our members BUT it needs a home and someone to take responsibility for it or we will lose this feature of our Society.

Please consider whether you could help – Brian Airey, our secretary and current librarian, would be pleased to explain exactly what is involved and we would all be grateful to whoever takes it on.
Surname Interests
The last new addition to our Surname Interests was made 4 months ago.

Is your list of Interests up to date?

-

Perhaps that is another New Year's Resolution?

A reminder that under our Surname Interests you can add a PDF with a family tree for your family or part of it – this can also be seen by non-members and is helpful in allowing others to see whether they are researching the same family.

As an example here is one of mine for part of a LONG family from Bristol. It is suggested that you do not include living people in these trees.
Weston Worthies
Those of you who are following these profiles will know that I am almost half way with them now but I am having some difficulty identifying a couple of them. I posted a query about John HARRIS - no response to it yet - but I am also looking for someone called JARRETT for whom I have no other information. Any help would be welcome.
~o0o~
They say that one way to keep the brain active is to use it – whether by crosswords, puzzles, quizzes etc. – and I think that researching your family's history combines all of these and is a fantastic and productive way to exercise the brain (If frustrating at times!). It also serves as a motivation to learn something new. I know that genealogy was the reason for learning how to use the internet for many older users when it first became available. Many of us are now learning the implications of DNA testing and how it can help us add to our family's history. As we delve deeper, aspects of history become more relevant - my interest in Axbridge Workhouse and the Poor Law grew out of family history.
Remember that your family history experiences are interesting to others so write them up and let Sue Maguire have them for insertion in Buckets & Spades. Use the Research Forum to solve your brickwalls, submit your Surname Interests and enjoy and benefit from your membership of this society. Wishing you all a very different year for 2021 during which we will be able to meet up again

login
or
join us now
to post comments
December 2020 Newsletter
published by Pat Hase on Tue, 01/12/2020 - 19:25
Let me start this Newsletter by saying how honoured I am by my new position as President of this Society which you will have seen announced in the latest edition of Buckets & Spades. I am incredibly grateful to those who have contacted me with their congratulations, but I can only be President with the support of our excellent committee and the membership as a whole. Thank you all.
Well, here we are nearly at Christmas and still severely affected by restrictions in our lives due to the Covid Pandemic. The one constant factor is our family history research. I have found it invaluable as a distraction from the reality of life and being able to assist others with their research queries gives me great pleasure and satisfaction. Researching people with whom I have no genetic connection has widened my experience and has made me look at records from other parts of the Country which in turn helps me with my own research.
The success of the BBC's programme "A House through Time" has inspired others to look at their own House Histories.
One of our Members, Keith GRAHAM, is researching Hill Road – his request for help can be seen on our Research Forum

He is particularly interested in the house built and lived in by the architect Hans Fowler Price,

Tyn-y-coed.
David TYLER is researching Moorland Road and would welcome information about any of the families who lived in that road over the years.

Several houses were damaged during the blitz with fatalities – CHINN, ETTERIDGE and WILKERSON
John HARDING is also researching Moorland Road – in particular his ancestor's connection with "The Moorland Pedler"

Can you read what is reflected in that window?
Some years ago, I took a look at Holland Street because I was fascinated by the buildings (designed by Hans Fowler Price) with their very long gardens, wide access to the rear, and stone built out-buildings. The censuses revealed that the majority of the men worked at the nearby Pottery whilst the women took in washing which were washed in boilers situated in the buildings at the bottom of the gardens and the washing lines made the most of the long gardens.

Was this use just a coincidence or were the houses built with this occupation in mind?
The Bristol & Avon FHS is advertising a book written by one of its members "Saints, Crooks and Slavers" about their own house which was short-listed for the BBC programme It includes tips on how to research your house.
Ancestry - West Midlands, England, Police Files and Ledgers, 1850-1950
Birmingham Police
Ancestry has released some new records some from the Birmingham Police and I was surprised to find a HASE relation amongst their ranks. I knew about Dora HASE – I even had a letter from her when we were first married – but had no idea that she had ever joined the Police. This must have been her war work as she was with them from 1942-1946. This is one of the advantages of having a relatively unusual surname (although it often gets misspelt) and to look at new records "just in case" Dora's grandfather was a greengrocer in Meadow Street, Weston-super-Mare.

Family History is not just collecting names and dates, we need information such as this to add necessary detail to our tree. The Women's Auxiliary Police Corp was a new one to me. Founded in August 1939 after the National Council for Women pressed for and were successful in ensuring the creation of the WAPC. They dealt with a large range of police duties, initially mainly administrative but expanding to take on roles formerly performed by Police Officers. On the 1939 Register Dora was a Ledger Clerk and Assistant Cashier so presumably her office skills would have been utilised in the Police Force. This document also describes her stature and appearance but we have to look elsewhere to discover that she was a keen and competent pianist and singer and married a widower in 1957 but had no children.
Between the wars, I'm told that Dora's brother, John, cycled to Weston from Birmingham - I wonder whether he saw any of the attractions on this leaflet? I recently put this image on the Facebook Group called Memories of Weston and it provoked quite a bit of interest. I have a Guidebook to Weston for 1928 and I found it inside.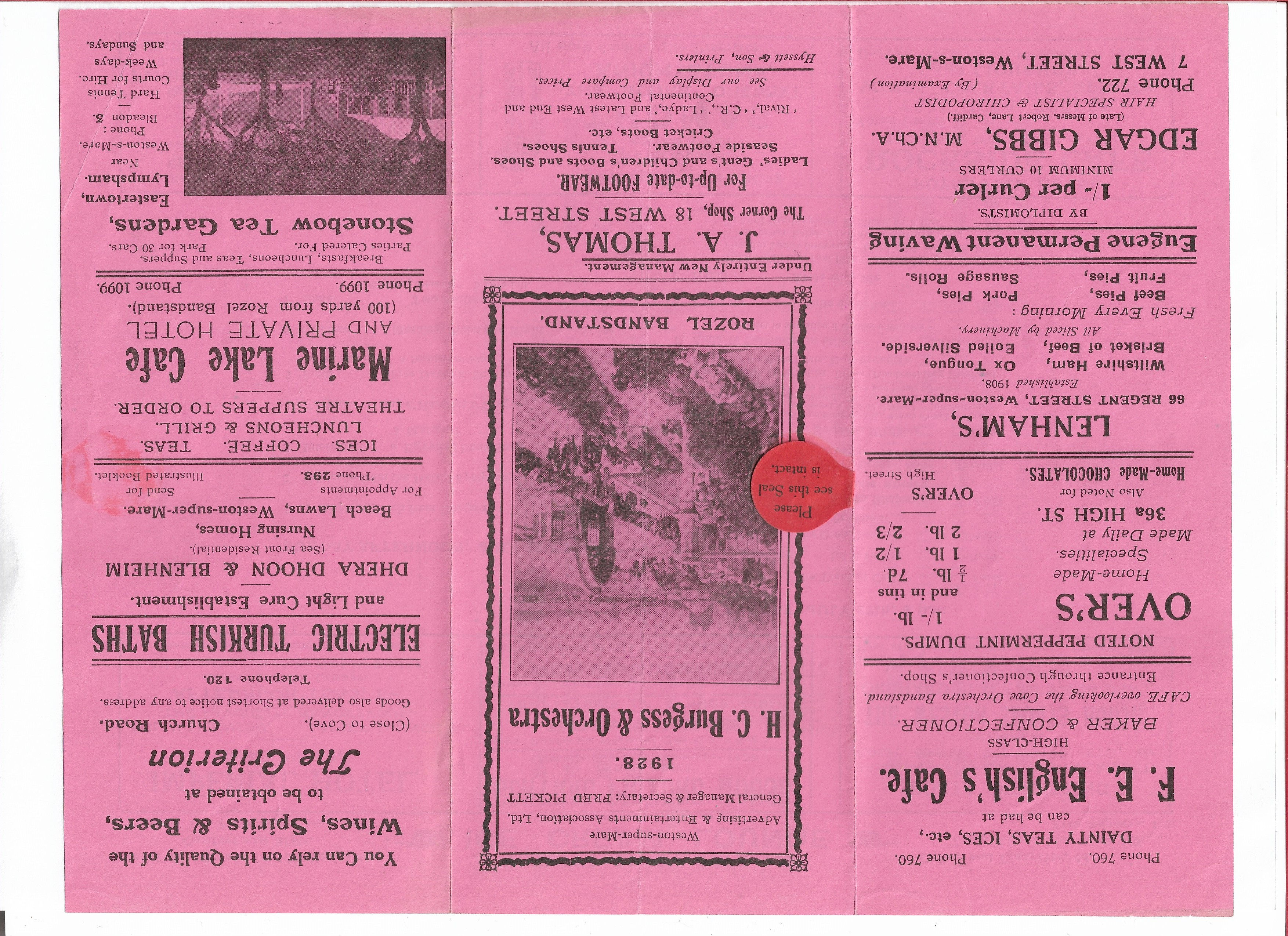 I wonder what an Electric Turkish Bath involved or was that just the way the water was heated? It is also interesting to consider how specialist shops like Over's coped with shops such as Woolworths offering "Pick 'n Mix" as the High Street developed over the years.
Wills
A reminder that the £1.50 Wills for England and Wales from 1858 are still available from the GRO.
I have found that the Wills of unmarried members of the family are surprisingly valuable as they often name nephews and nieces and other members of the family.
The National Archives
Whilst we are still unable to visit the National Archives they are still offering the Free Download of their digitalised documents. They include PCC Wills, Military Records and many others. Try entering the Place your ancestor lived to see what is available. Click on "available for Download only" to see the range of documents which you can obtain.
Closure of Victoria Methodist Church
During the Pandemic we were saddened to hear that the Victoria Methodist Church in Station Road was closing. The foundation stones for the original church on this site were laid in April 1899 and the School Room opened for services in September of that year with the church opening in Sept 1900. There had been a Methodist Church in Weston in Regent Street since 1847 (now Barclay's Bank). If you are searching for Christenings the records are sometimes confusing. For example Mary Ann PUDDY was born in Mark on the 4th April 1861 and christened in Mark Chapel on Mark Causeway, but listed as part of the Weston Circuit of which Regent Street was the main Church.

But the England, Select Births and Christenings, 1538-1975 on Ancestry has this entry!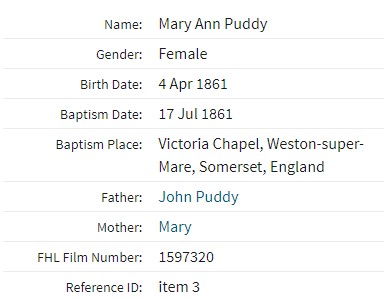 Victoria Chapel had not been built in 1861 but this would have been correct for later entries after 1900. Is it surprising that so many trees on Ancestry are muddled!
Family Heirlooms
Like many of you I have been enjoying "The Repair Shop". It is amazing how items can become so important in our lives. Each programme you hear "Family History" mentioned in connection with these articles. Normally in November at our "Members' Evening" we invite members to share stories about their treasured artefacts. This year we haven't been able to do that but perhaps you could write a short article for Buckets and Spades explaining the importance of your heirlooms and why you want to pass it on. Sue Maguire is always grateful for contributions however short to add to our journal. The latest publication has some fascinating articles - highlighting various aspects of family history.
Society Library
Brian Airey is still waiting for someone to volunteer to take over the responsibility for the Society Library. Please consider helping out. Contact Brian to find out exactly what it entails.
Facebook Group and Research Forum
I hope to encourage those of you who are reading this and are members of the Facebook Group to post more queries about your family history to that Group. We have some very knowledgeable members who will be pleased to offer suggestions about how you can find out more about your family members.
Full members of the Society can of course post their queries to the Research Forum on this web site and the same thing applies.
Don't leave it to others to offer suggestions have a go yourself
Christmas
This year we will be limited to how many can get together - As an experiment why not look at all your family on the 1911 census and calculate how many lived close enough to celebrate together on Christmas Day 1910. Who was pregnant? Who died between Christmas and the Census? Did anyone get married on Christmas Day?
Have Christmas celebrations changed over the years? I remember Christmas during WW2 - yes I was a child so excitement levels were high - but looking back, the home made decorations and gifts all added to the fun. Simple games played in front of a roaring fire with hilarious results still bring back happy memories. How about writing up your own Christmas Memories for inclusion in your Family History?
Christmas and 2021
So, with seasonal greetings from your newly exalted President, wishing all our members as good and enjoyable a Christmas as you can in the circumstances and looking forward to 2021 with optimism as the year when we will all meet up again, starting probably with Zoom Meetings! Watch this space!
November 2020 Newsletter
published by Pat Hase on Sun, 01/11/2020 - 18:00
It is the 1st of November already and time for another newsletter. Yesterday we learned of another lockdown so that is the way we have marked Halloween this year. It is scary enough living through this pandemic and my thoughts go to members of our families who lived through earlier ones.
In the Autumn of 1957, I had just started at College when the Asian 'Flu struck. I don't remember any guidance about controlling the infection and within a fortnight I was in the sickbay of the Hostel. Within a week the college closed, and we were all sent home presumably spreading the disease. By December 1957, a total of some 3,550 deaths had been reported in England and Wales. Online newspapers for 1957 show how unconcerned the country was about this flu epidemic and the Government's slogan was "Wait and Sneeze". Schools, colleges, factories, sporting teams and military establishments all reported multiple cases.
My mother was born in 1910 and lived near to the main gates of Greenbank Cemetery in Bristol. She told me how as a girl she watched the arrival of the military funerals of the men brought back from the first world war. Although her father was serving in France, she had not realised that many of the later casualties were as a result of the Spanish Flu pandemic.
Although most of my grandfather's records were lost in the "Burnt Records", just recently by using Ancestry and Fold 3, I was able to find a Penson Card which showed that in March 1919 he was granted a conditional pension due to the effects of pneumonia which was attributed to his war service.

A year later this was reduced to 30% for which he received 12/- a week plus 7/- for his 2 children. After 6 months it was further reduced to 8/- a week – it is unclear how much for the children at this point but in July 1921 he was allowed a final total allowance of 7/6 a week for a further 35 weeks. He was considerably luckier than many of his comrades and lived a full and active life after that and returned to the job he had previously with the Bristol Cooperative Society.
The lasting effects of the pneumonia may well have been like those described as pertaining to Long Covid and in his case were judged to last for over 2 years, although as he also had been gassed in the trenches that must have aggravated the situation.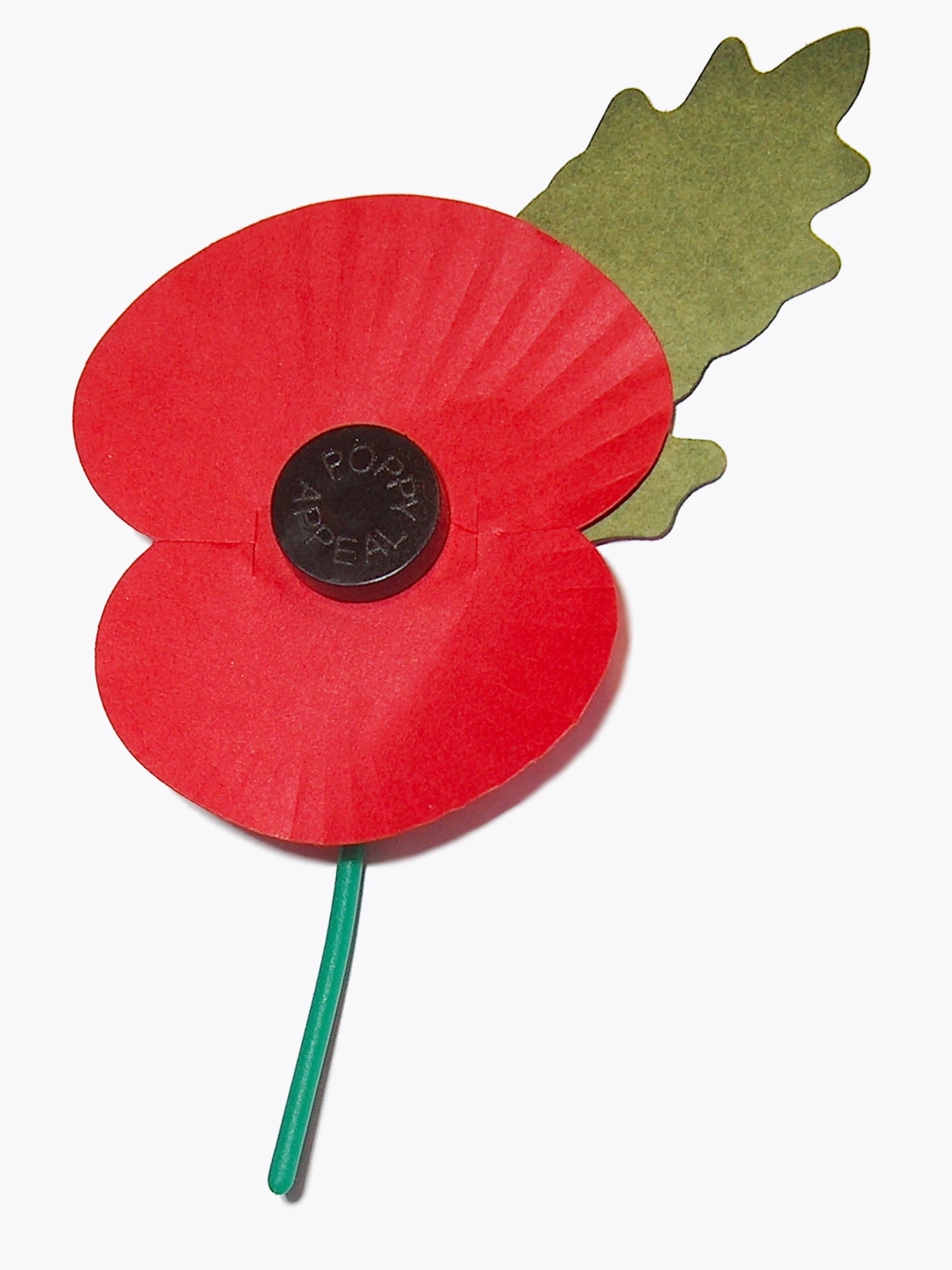 Remembrance Day
This year when we remember those who were lost in the service of their country on November 11th we will not be able to attend traditional parades at Cenotaphs and War Memorials. Our thoughts should include those who came home carrying wounds both physical and mental which remained with them for the rest of their lives. This was most tellingly portrayed in the recent "Who do you think you are?" episode with David Walliams.
War Memorials
In all of our parishes there are memorials to victims of the two world wars sometimes inside the church and sometimes on a community War Memorial and sometimes in a workplace. On our web site we have listed the names on the Grove Park Memorial in Weston but it would help our members if we could show these memorials under each parish. This was suggested to me after the Research Query for information about casualties of WW2 from the 3rd Weston (St Paul's) Group was posted.
Under our parish transcriptions there are many fantastic photographs and transcription of MIs for some parishes which, for example, does include the list of names on the WW1 memorial at St John's in Weston. If you have information about any of the War Memorials in a parish covered by this Society we would be delighted to add it. There is a memorial to those from Weston who died in both wars and worked for the Royal Mail in the Warne Road Delivery Office Do you know of others? Incidentally, Ancestry have just added the UK Post Office Memorial Books 1914-1945
There is a web site dedicated to War Memorials online which may provide some additional information but in many cases it contains photographs but not yet transcriptions. However, it may help you if you are looking for someone outside of this area.
Who do you think you are?
You can catch up with all the programmes on iPlayer they are available for a year. Don't forget that the last of the four is on Monday 2nd Nov on BBC1 and is about Liz Carr whose mother she described as follows: " An armchair genealogist, my mum has dragged us around graveyards in search of our ancestors but to no avail so I'm hoping this will now all stop (probably not - knowing my mum!)." I think we can all relate to that except that in my case I dragged my mother around the churchyards!
Inaccurate Original Documents
On our Research Forum we have had a query about a George GILL. In a comment in March 2018 from Dave Erasmus, one of our stalwart members who often answers queries and gives helpful advice, sited an example of a marriage of a widow Emily Jane PAYNE whose father's name was given as Silvester PAYNE. This was an example of whoever was filling in the information forgot that the bride was a widow and assumed that her father would have the same surname.

This is not the only time that errors occur and here I am not talking about transcription errors.

In my own family I have at least two examples of birth certificates where the mother gives her surname as the same as the father and states she was formerly – giving her maiden name – but I have since discovered that they were not married at that time.

The birthdate of Grandfather, Ashton Bertie HILL, is one week late as his parents hadn't registered his birth within the allotted 7 weeks. This resulted in him having to wait an extra week for his Old Age Pension to begin – I remember his reaction to this!

If you look at the military pension card above you will see his date of birth given as 1882 when it was actually 1880.

I have a marriage certificate where the bride (who was illegitimate) gives her grandfather's name as father. It is possible that she really thought this as she was brought up by her grandparents.

Harry MARSHALL was christened HARRY but the enumerator of the 1939 Register decided that he was really Henry and so he was entered as Henry.

Birth places on Censuses are notorious for being inaccurate – perhaps they didn't know where they were born but knew where they had been living as children? – sometimes when the enumerator is at fault by using ditto marks in the wrong place and I have an example where a birthplace appears to be entered at random. This is from the 1901 of Wells. Harry MARSHALL was born in Wells in the same road where he was living in 1901 so where did the Gosport, Hants come from and why no entry for his wife Lilly who was born in East Pennard, Somerset?

Because I knew where they were born when searching for them I entered their birth places and of course drew a blank. Be aware of this – sometimes entering less information can be more fruitful.

The latest newsletter from Lost Cousins deals with how to overcome these problems with lots of useful tips for breaking down these brick-walls cause by inaccurate original entries.
New Resources online
As we are faced with more time at home – probably in bad weather as well – there are some fresh resources available
If you have Welsh ancestry, last August FindmyPast announced that they had released a collection of Welsh Parish Registers with images and Ancestry have in the past week added the same Welsh Parish Registers. As many Somerset folk moved over to South Wales these are very helpful to our members and I can research my Welsh cousins!
Our Society
Your committee will continue to meet via Zoom each month to monitor the situation. As you will already know all our face-to-face meetings have been postponed but please keep in touch with each other and us to share successes and frustrations (about Family History).

The committee is looking to start some short Zoom sessions with members in the new year and if you are not already familiar with Zoom it would be a good idea to sign up for

Zoom

(for which there is no cost) and make yourself familiar with the controls. Keep an eye on the website and Facebook page for announcements. You could practise by setting up 'meetings' between friends to see how the system functions and whether your camera and/or speakers work etc. If you only invite one person as a trial then the timing is unlimited but if you add someone else (have 3 people meeting) then you become a group and are limited to 40 minutes.
I have continued to upload the Profiles of the

Weston Worthies

– please add your comments to these of you have any additional information.
We have added a section for the

Mendip Hospital

to our Web site as so many of our members have family who were there at sometime or other. The Harry MARSHALL mentioned above who lived in Wells was employed there as were others of his family

Jenny Towey tells me that she has some cardboard document wallets wanting a good home (She could deliver or leave them outside her front door for people to collect). Contact her through the web site using the category "Chairperson".

We are still looking for a Librarian – if you are interested or want to know more about it please contact our secretary.

With the Free Help Sessions in abeyance please feel free to use our research Forum or the Facebook Group to share your problems and successes.

As you know we have postponed our AGM until further notice but the latest edition of Buckets and Spades should be available soon. Thanks to all who continue to support the Society and we are looking forward to hearing what progress you are making with your research.

Keep safe!