News & Information (People)
Brian Austin
published by Pat Hase on Sat, 16/09/2023 - 11:45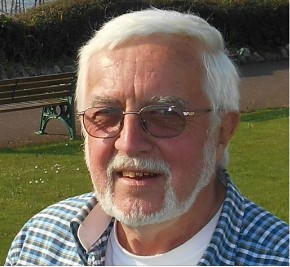 It was with shock and sadness that we heard of the sudden death of Brian Austin on the evening of Thursday 14th September. Brian had given one of his inimitable talks at the Museum in the afternoon during which he had been on good form.
Brian will be greatly missed for his generous research into the family and local history of Weston, his home town. It was from one of his classes in Family History that our Society grew - for which we are very grateful. His continued kindly support and encyclopedic knowledge of the history of the people, events and places of Weston was an inspiration to many. Our thoughts and sympathy go to Annemarie at this sad time.

11 Comments

login
or
join us now
to post comments
Family Bible donated
published by Brian & Pam Airey on Wed, 11/05/2022 - 16:51
The Society has been donated a family bible relating to family MAY from Langford/Churchill area and would like to give it back to family. If anyone is researching the MAY family please get in touch
Brian
Emmanuel Scout Troop
published by Pat Hase on Sun, 07/11/2021 - 17:43
I have added a file entitled "Emmanuel Scout Troop" to the Weston-super-Mare Page. It is a collection of the names of Scouts who were mentioned in the Log Book of the 9th Weston-super-Mare Scout Troop which was set up in 1929. Not all scouts are mentioned but if you have relatives who were young men in Weston between 1927 and 1944 it might be worth looking through this file. I believe it also contains some evacuees.

1 Comment

login
or
join us now
to post comments
Weston Worthy - No 16 John HARRIS
published by Pat Hase on Mon, 09/08/2021 - 18:06
John HARRIS - No 16 - is the last Weston Worthy which I am able to post as it has been difficult to identify 3 of them. If you can help with the missing ones please let me know. As usual they can be found under Weston Worthies in the main menu.
Weston Worthy - No 39 Henry WILLIAMS
published by Pat Hase on Fri, 16/07/2021 - 19:36
No 39, Henry WILLIAMS, of our 40 Weston Worthies has just been uploaded. There are three gaps still to be filled. No 16 John HARRIS 1775-1855. I think those dates are correct but there are several men called John HARRIS and I am not convinced that I have the correct one yet. The other two missing ones are No 19 which might be a man called JARRETT who has not been identified and the very last one, No 40, which has no name on the back but might be a John WEEKES who was landlord of the Railway Inn. The whole set can be seen under Weston Worthies in the main menu and any comments would be welcome on the missing ones.
Forthcoming Events
Physical Members' Meeting
Wednesday, 13th December, 2023 14:30 - 17:00
Help Session
Saturday, 6th January, 2024 14:00 - 15:30
Physical Members' Meeting
Wednesday, 10th January, 2024 14:30 - 17:00
Physical Members' Meeting
Wednesday, 14th February, 2024 14:30 - 17:00
Physical Members' Meeting
Wednesday, 13th March, 2024 14:30 - 17:00
<- View calendar for more