Welcome to Spring! The trees in our road are in blossom with daffodils and snowdrops blessing our garden so it must be spring, but the temperature is still quite chilly. February was a month of celebration in our family. A very special 90th Birthday managed to get the family together for the first time for ages and the birthday boy was delighted to receive a card and gift from the Society for which he was very grateful.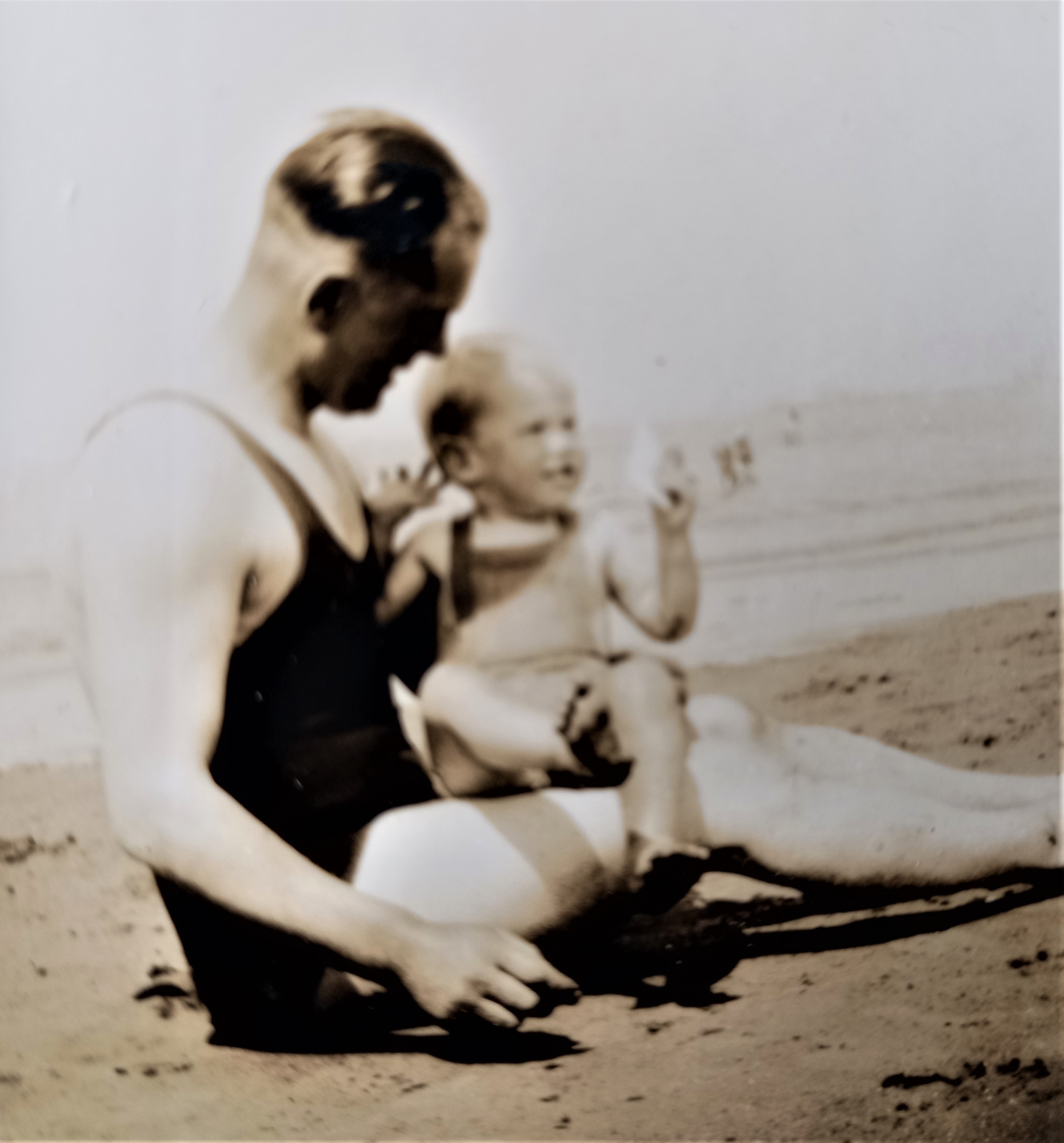 We spent some time delving into family photographs. My mother-in-law had kept a couple of small albums covering his first two years – all named and dated with the place taken recorded as well.
This one taken in 1934 shows father and son on the beach in Weston. I love the knitted swimsuit! Who remembers wearing those and how heavy they became in water?
NEWSPAPER PHOTOGRAPHS
Gone are the days when the local newspaper had a number of Birth, Marriage and Death Announcements often accompanied by photographs. The Weston Gazette published a Pictorial Review for 1933 which contained, amongst many others, this photo of a wedding at Hewish Church.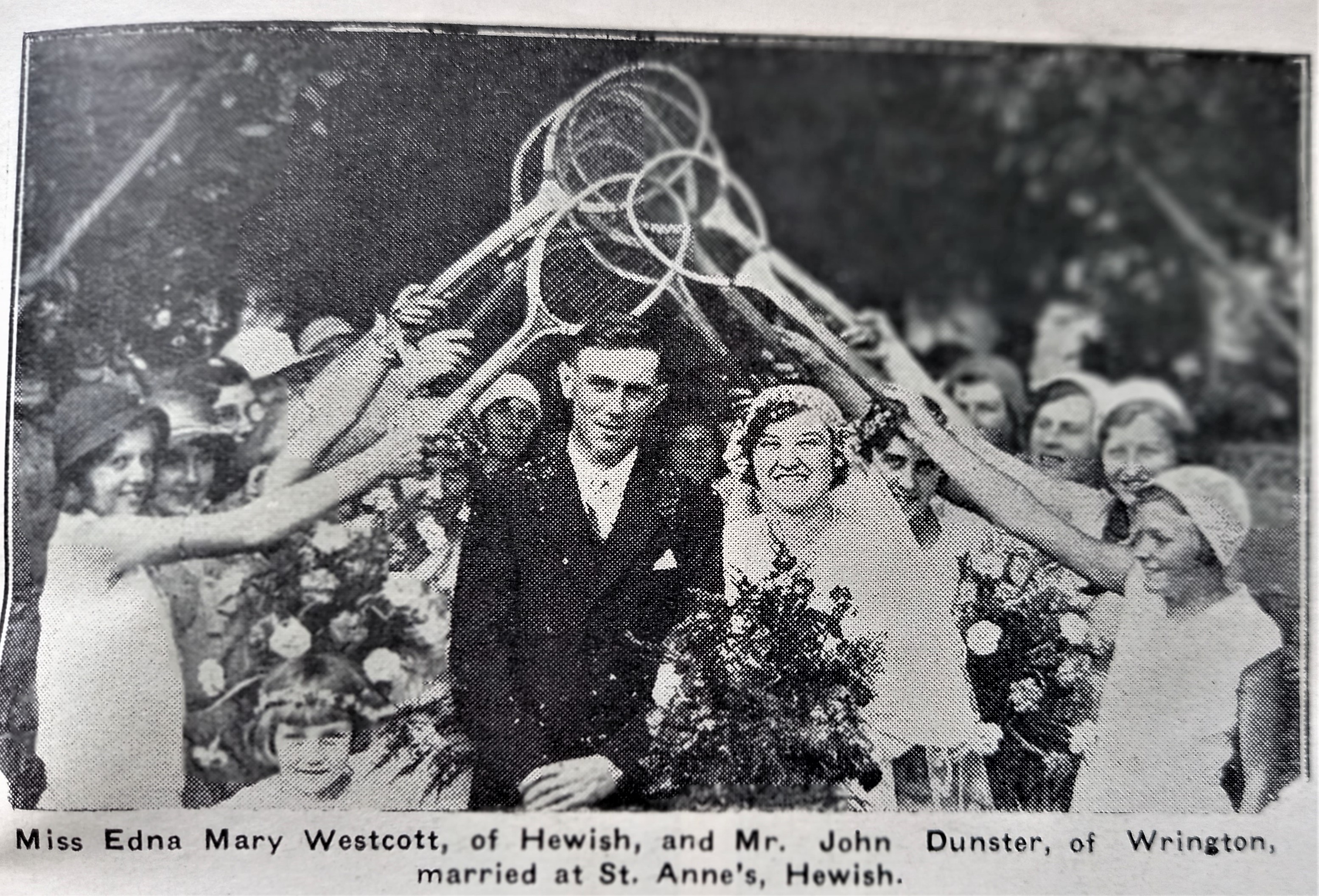 Is anyone researching WESTCOTT or DUNSTER? Or even the DAY family from Blagdon? Other photographs in that edition include this one of a Diamond Wedding Celebration of the DAY family.
William and Harriet DAY née DERRICK were married on the 30th Dec 1872 at Blagdon.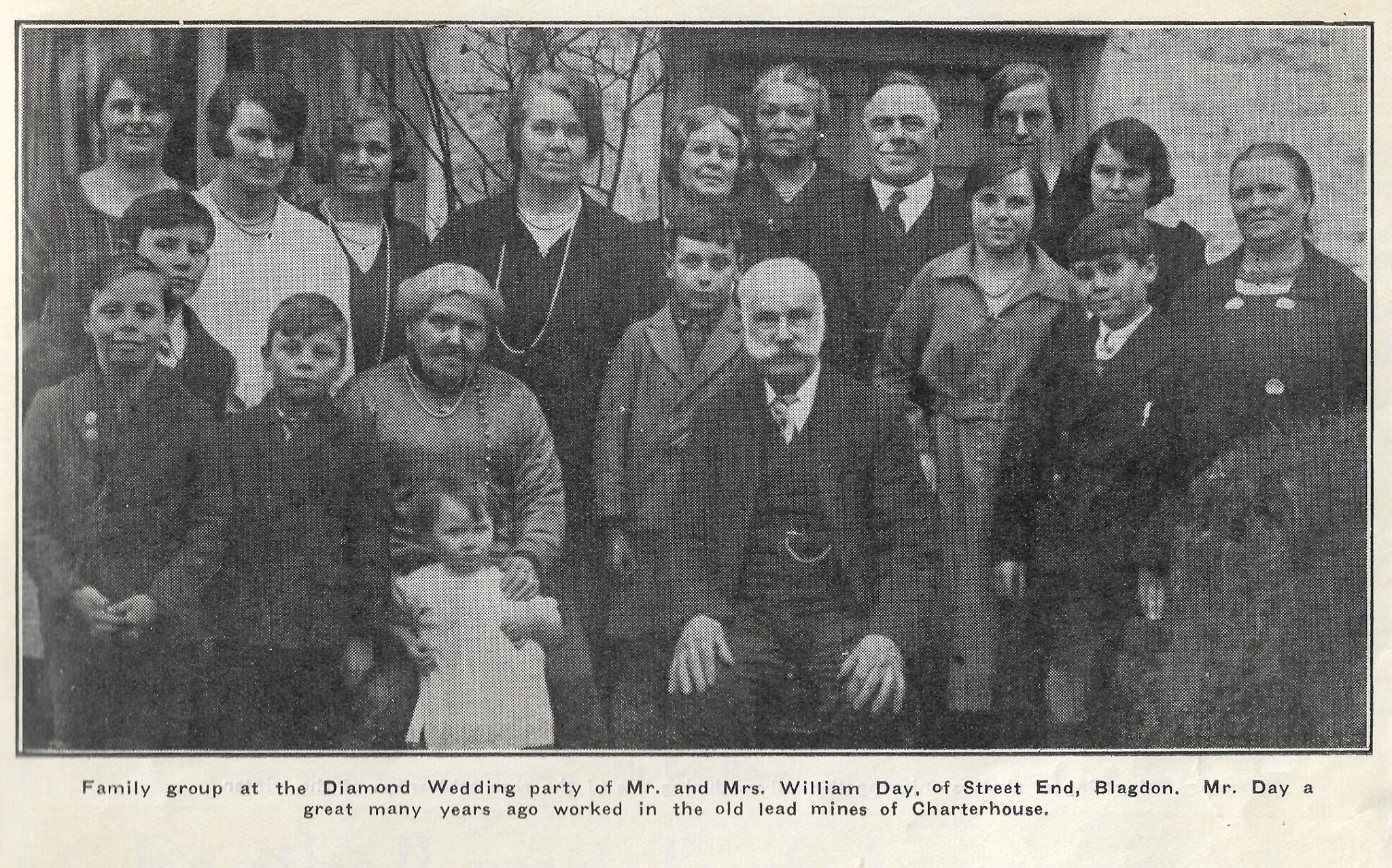 QUESTIONNAIRE
During February members answered the Questionnaire about what you wanted from the Society for which the Committee is grateful and will try to ensure that the Society provides as far as possible what the majority wants. One thing that puzzled me was the large number of you who asked for help with breaking down brickwalls. There will be a Zoom Workshop tackling Brickwalls on Wednesday March 22nd for all paid-up members starting at 7.30 p.m. and if you miss it you should be able to watch a video of the meeting at time to suit yourself. I am curious about your Brickwalls because there are very few requests for help ever posted on our Research Forum which was set up for this very purpose. Why is it not used?
WORKSHOPS
Workshops are planned on the Use of Family Search on April 26th and on the use of Family Tree Maker on May 24th. These are available to paid-up members of the Society who also have access to all other recorded videos. Perhaps you might consider the £9.00 annual fee worth it to enable you to join these events as well as accessing our transcriptions and other information.
ASKING FOR HELP
We all have experienced times when it seems impossible to track down the next generation. There will be tips of how to go about this during the Workshop but in the meantime why not talk to your relatives again? You haven't got any older ones? – try your children – they may well have been told different stories about the family by their grandparents! When forming your questions try not to use terms like "Granddad said" – whose Granddad? - yours or theirs? I spend over a year looking at the wrong generation because my father-in-law used "Granddad said" and I thought he meant his grandfather.
I find writing up a narrative profile of individual family members some help in clarifying my own thoughts. Something like the Weston Worthies – As you piece their lives together chronologically questions emerge which need answering. Just recently I've had to send for my own mother's birth certificate. Of course I knew when she was born and who her parents were, but where was she born? I think she must have had one of the shortened birth certificates which did not give the birthplace. She was born in August 1910 and was christened in October 1910 – address 24 Greenbank Road. On the 1911 Census, when she was 7 months old, in my grandfather's distinctive writing, the address is 93 Greenbank Road.

I'm now waiting to see where she was born!
The certificate has arrived and it shows that she was born at 93 Greenbank Road - so the address given in the Baptism Record is incorrect.

PASSING ON INFORMATION
Narrative profiles such as this one about Dame Mary Berry on FindmyPast is an example of how you might put one together. I trained at the same College in Bath as Mary Berry (a couple of years after her) and on a different course, but the Tutors were singing her praises even then, when she was employed by SWEB South Western Electricity Board demonstrating how easy it was to cook on an electric stove. Look at this video it will remind you of her programme in WDYTYA.
It is a good idea to consider the best way to pass on your research, remembering that the younger generation is less likely to want to read or handle information in book form. They will probably be happier accessing it on their phones or tablets so how can you provide a stimulating and interesting account that they will want to see and possibly continue with? Some of us have interviewed older relatives but have you considered letting your children or grandchildren interview you? This could be videoed on their phones and easily transmitted. These ideas were offered at a Zoom Meeting of the Bristol & Avon FHS, of which I am also a member, and I thank Steve Ralph for these suggestions.
RESEARCH FORUM
When asking for help from the Research Forum or the Facebook Group do not assume that the only people who will help are those researching the same family. It is well documented that doing Family History Research is like completing a jigsaw puzzle or solving a detective story. It can give quite a buzz to solve someone else's problems – Give it a try! – and it may give you a clue about your own research. This is assuming that there are problems to solve!
Give sufficient information so that who ever wants to help can see exactly what you already know and also what you want to know.
FREE HELP SESSION
The next free help session at Weston Library will take place on Saturday March 4th from 2.00 until 3.30p.m. Our knowledgeable volunteers will be there to help you find that elusive ancestor and/or make full use of what is available on the shelves in the Library. Street Directories, Electoral Rolls, Background History of North Somerset and files of Local People and Places.
MAPS
Maps are a really helpful way of identifying where your ancestor lived. I was horrified recently when one of the contestants on The Apprentice said that he could not read a map and that they were a bit before his time! I suppose it depends on why you want to use a map.
Know Your Place has been discussed here before and we have a link to it on our web site but still someone said that they had not heard of it and was grateful when it was pointed out to them how useful it could be. There is a such a lot of information which can be gleaned from it – just try the various maps and community and monument layers. It is free to use.
However, I was about to put a link to show Our Lady of Lourdes Church Hall when I found that a photo of Milton Methodist has been entered at that site so be aware that errors can occur on this site. (I have notified them).
Another source of useful maps is Map Explorer on The Genealogist. Here the maps are linked to census entries and other resources as well as having a vast variety of maps available. I find the Tithe Maps with their Apportionment Lists extremely useful. You do need a subscription to use this. However, take a look at the video which shows what it contains
This is the Tithe Map for Stinchcombe in 1839 showing Plot 357 with a House and Garden occupied by Leonard HILL, my 3 x great grandfather and Richard HILL, my 2x great uncle. The cottage is no longer there.
On the 1841 census only Leonard and his wife are living there. Richard was living elsewhere.
1939 REGISTER and EVACUATION
During February this has been updated to include those who were born up to 1922 so you might be able to see someone who was originally redacted.
You can also use the 1939 register to discover some children who were evacuated during September 1939. If you search using "Evacuee" as occupation. There are over 13,000 entered with 63 in Weston.
Ancestry has just released some Evacuation Records from Berkshire. About 45 percent of the evacuees were school children travelling alone. The plan also called for pregnant women, mothers of infants, the elderly, and disabled people to be evacuated. About 25,000 children were evacuated from London to Reading between September 1939 and October 1941. These records detail Berkshire's work as a reception area. Besides the attendance registers of evacuated schools, there are files about emergency accommodation, maternity homes, nurseries and hostels.
TOPICS FOR SPEAKERS AT MEETINGS AND SPEAKER FINDER
One of the issues to arise from your questionnaire was the topics you would like covered from Speakers at Meetings. Why not post a comment with some ideas of possible topics which would be helpful?
The committee is looking for a volunteer to take on the role of Speaker Finder – The programme for 2023 is complete so you would have plenty of time to arrange the speakers starting from Jan 2024.
There are lists of speakers available to consult and neighbouring societies and groups may also be able to help.
NEXT SOCIETY MEETING
The next meeting will be on Wednesday 8th March at Our Lady of Lourdes Church Hall at 2.30 p.m. Visitors are welcome and the talk will be on "The Walker & Ling Story" by Sam Walker. This well-known store in Weston-super-Mare, which started in 1892, has had the Walker family at the heart of its development. We welcome Sam Walker to tell us about the ups & downs of the store's history.
This is a photo of Walker & Ling's entry in the Summer Carnival in 1931 entitled "The Cries of London" showing how the firm has always entered into the life of Weston.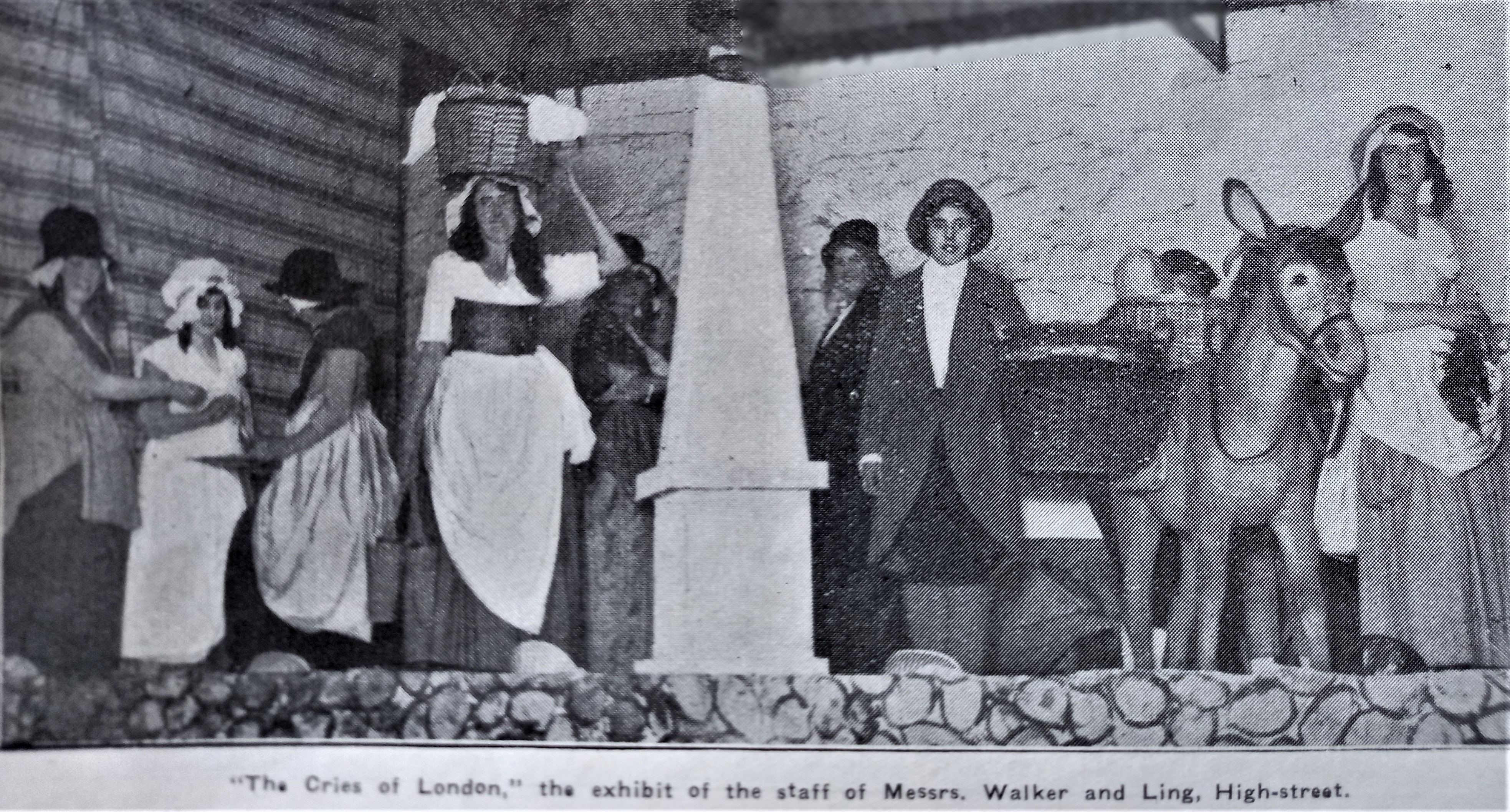 The next issue of Buckets and Spades will be available at that meeting for collection. If there are any copies which you could deliver for us that would be helpful.
OUR 40th ANNIVERSARY CELEBRATIONS
Plans are now well advanced for our Family and Local History Fair on Saturday 20th May at Our Lady of Lourdes Church Hall from 10.00 a.m until 4.00 p.m. Admission will be free and Refreshments will be available. Apart from our own stand and Help Desk there will be other local societies and Groups attending:
Bristol & Avon FHS
Somerset & Dorset Family FHS
Kewstoke Local History Group
Worle History Society
Wick St Lawrence Local History
Anglo-German FHS
DNA Advice
Know Your Place
Church of Latter Day Saints
Friends of Birnbeck Pier
W C & P Railway Group
U3A Family History Group
Guild of One Name Studies
Second Hand Books
We would welcome any contributions for the 2nd Hand Book Stall and if you could publicise the event in any way we would be very grateful.
Society members will also be enjoying a celebratory meal at the Grand Atlantic Hotel on September 18th which is being organised by our Vice-Chairman, Peter de Dulin.
This newsletter is available for all to read, member or not, and if you find it useful perhaps you could point others in its direction. We would value comments and suggestions either on the Web Page or on the Facebook Group to assist others with their research or adding further information.