It's another Bank Holiday and the sun is shining on the apple blossom so it's time to welcome May, which I often think is the best time to visit Great Britain. This May Day Holiday is said to celebrate the coming of Summer with dancing around a Maypole and the crowning of May Queens. This photograph shows my daughter-in-law when as a pupil at Christ Church Primary School she joined in the traditional activity.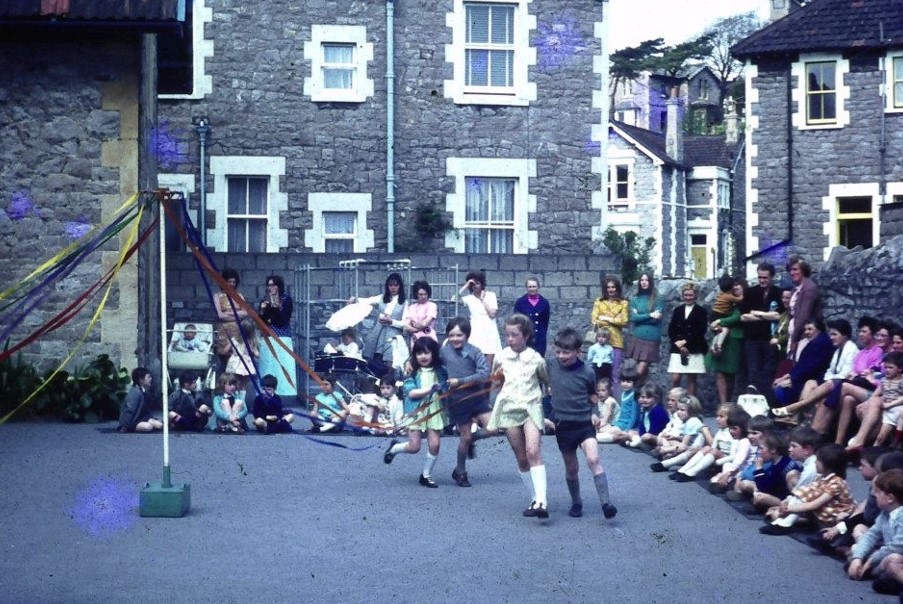 The first Monday in May was officially granted Bank Holiday status in 1978. The traditional Whit Monday Holiday this year has been moved to Thursday June 2nd to make a 4-day break to celebrate the Queen's Platinum Jubilee together with Friday June 3rd . When coupled with the following weekend this should allow plenty of time to commemorate this special occasion. How will you be marking the event?
Memories of the Coronation
I wonder how many of our members can actually remember the Coronation. My husband, who was on leave from his National Service, went with his parents to Birnbeck Pier to have lunch and to watch it all on a very small television – he thinks it couldn't have been any larger than a 10" or 12" screen. The day was captured for posterity by Jackson's Faces - arriving in time for the great event.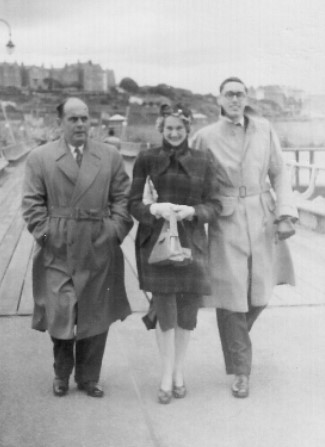 My Great Aunt Maud was the only member of our family who had their own television. She organised a family party at her home in Bristol. There were probably about 15-20 people crammed into her living room around a TV set about the same size as the one on the Old Pier. Great Aunt Maud had catered extremely well, and we were kept going on sandwiches and cakes, which seemed to go on for ever as did the ceremony!
Diary Keeping
Memories like those are the bedrock of family history. My husband has kept a diary since a schoolboy and it is interesting reading the entries which highlight issues which concerned him most at the time of writing. The cost of chocolate is entered (almost daily) once sweet rationing ended and after he was 17 and the proud owner of his first car the cost of fuel becomes important - about 4 shillings a gallon (20p). Chocolate has maintained its place in his daily life whereas the recent hike in fuel prices has passed him by as he no longer drives. Do you have access to any diaries?
DNA Journeys
I have been watching the DNA Journeys on ITV and although entertaining these programmes have little to do with actual DNA research. However, I was interested in the revelation that one of Christopher DEAN's ancestor had become a Mormon in this country and had subsequently travelled to Salt Lake City where a branch of the family still lived. In the commentary it was stated that at that time there were more active members of the Church of the Latter-Day Saints in this country than in America.
In my own research Great Aunt Kate née LONG married Albert E DAYER in 1907 and when looking at the DAYER family I came across this census entry and was intrigued to see that Albert's elder brother, George, was born in America in Salt Lake City. Their parents had been married on the 23rd June 1873 in Salt Lake City. George T DAYER had arrived in the USA in July 1868 and Jane McBURNEY had arrived from Ireland in August 1871 so presumably they had met through their connection with the Mormon Church.
1881 England, Wale & Scotland Census
4, Sydney Street,Ss Philip & Jacob (Out) Barton Regis, Bristol
| | | | | | | | |
| --- | --- | --- | --- | --- | --- | --- | --- |
| First name | Last name | Relation-ship | Marital status | Age | Birth year | Occupation | Birth place |
| George T | Dayer | Head | Married | 32 | 1849 | Rail clerk | Newport, Mons |
| Jennie | Dayer | Wife | Married | 30 | 1851 | - | Ireland, Ballymena |
| George T | Dayer | Son | Single | 7 | 1874 | Sch | United States, Salt Lake City |
| Albert E | Dayer | Son | Single | 3 | 1878 | - | Bristol, |
| Herbert C | Dayer | Son | Single | 0 | 1881 | - | Bristol, |
A great aunt of Albert's called Ann DAYER had married a David SPOONER in 1835 in South Wales and had 5 children in Glamorgan. After David SPOONER's death in 1850, Ann emigrated with her children to Salt Lake City where she married again in 1856 to an Isaac MORLEY. In 1857 Ann's daughter Sarah married Benjamin Franklin JOHNSON, who was an elder of the Mormon Church. Under the auspices of this Church, it was possible for Benjamin to have 8 wives of whom Sarah was the fifth, all living at the same time. It is likely that these experiences may have influenced George DAYER's decision to go to America. Missionaries from America were active in this country at that time.
There is anther series of programmes this time called DNA Family Secrets, beginning 9pm on May 11th on BBC2 – it will be interesting to see what format these take.
Next Society Meeting
Also on May 11th we have our next Society Meeting, when the speaker will be Stuart Burroughs with the title "The Poor Man's Friend? Bath and the Workhouse". Stuart is the Director of the Museum of Work at Bath and is immensely knowledgeable about life in Bath. Read about him here The Museum of Bath at Work is a fascinating place to visit. All too often Bath is described as the Georgian Town catering for those in Society, but it had its poorer residents as well and they have their history to be discovered.
ALHA
As a Society we are a member of the ALHA (Avon Local History Archaeological) Association which has just updated their web site. You can discover what each of the member Groups are offering to their members and whether there is a group covering the area in which your family lived.
Workshops
If you are a member, you will have received an email from Peter de Dulin about our proposed Workshops. Please reply to him with any requests for topics you would like covered or giving details of any brickwall you are trying to break down. Very little use is made of the Research Forum on the Web site but please respond to Peter if you need any help, however simple it may seem.
Facebook Group
We have had some interesting requests for help in the past month and discovered some surprising information about ancestors of our FB members. It has highlighted the problem of an inaccurate transcription of a marriage on FindmyPast which led to many hours of futile research. It is always best to check with the original document if possible.