Thank you for that - I looked Gilbert E H FROST up on Ancestry and that photo of him at the wedding looks very similar - is the chap in my photo too old though? Think my theory of the committee being the front 9 might be under threat though - there are too many old 'uns to match the names I found so far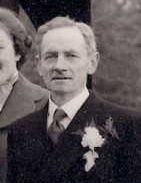 I was originally drawn to this his fellow - my g/grandad Harry was also a cricketer - and this chap seems to have the look of a sportsman - but he seems differently dressed to the others - did you notice the shoes? Not he shoes of a GWR man - farmer? That's why I originally thought that he might be the school teacher - unless the school teacher is the stern looking man over on the left!
Every time I look at these photos though - they seem to be the same man.
Kate, do you know when that wedding photo on Ancestry was taken?