In the Weston Mercury of May 16th 1874 there appeared this advertisement reproduced courtesy of the British Newspaper Archives.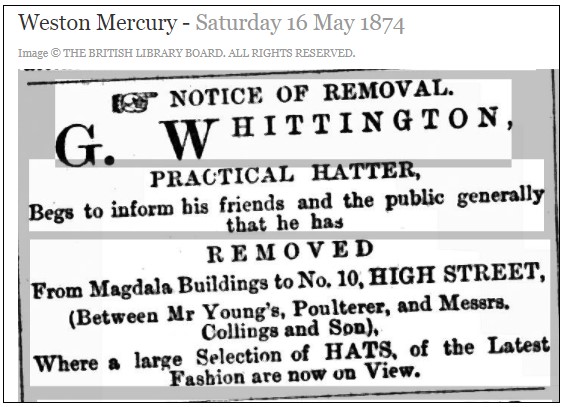 Over the years a descendant of George WHITTINGTON, now living in Australia, has been trying to find out where he was born. Please can anyone help?
George WHITTINGTON had arrived in Weston in about 1868/9. On the 1871 Census George his wife Caroline and 6 children were living at 7 Magdala Buildings with 2 female boarders who were Milliners. George gives his birth place as Bristol. The last child mentioned on this census was born in Weston and was christened at Emmanuel Church in Nov 1869, but others had been born in Bristol and London before that.
His descendant believes that George (aged 7) and his sister Eliza (aged 10) appear on the 1841 Census at Lower Langford, Burrington at a school run by a Mary MANLEY.
On the 1851 census George is listed in Bristol as a carpenter (surname WILLINGTON) with birthplace Weston-super-Mare alongside an Alfred BUSH who later married Eliza.

There is a problem in that when George married Caroline KING he said his father was a John WHITTINGTON, Hatter but when Alfred BUSH had married Eliza WHITTINGTON in 1852 she said her father was Henry WHITTINGTON, Yeoman.
There is another problem in that when Albert & Eliza BUSH emigrated to Australia in 1853, the passenger list giving Eliza's parents as George & Sarah WHITTINGTON (deceased) which contradicts their marriage certificate!
If anyone is looking for a challenge – this is it! Where was George WHITTINGTON born and who were his parents? Was Eliza his sister? Thanks for reading this and good luck!