Research Forum
19 Broad Weir, Bristol
published by Pat Hase on Fri, 10/09/2021 - 12:42
This is the business card of my great great grandfather, Thomas LONG who lived and worked at 19 Broad Weir in Bristol. Inspired by a "House Through Time" I am looking at the history of this address which was one house in from the corner of Philadelphia Street.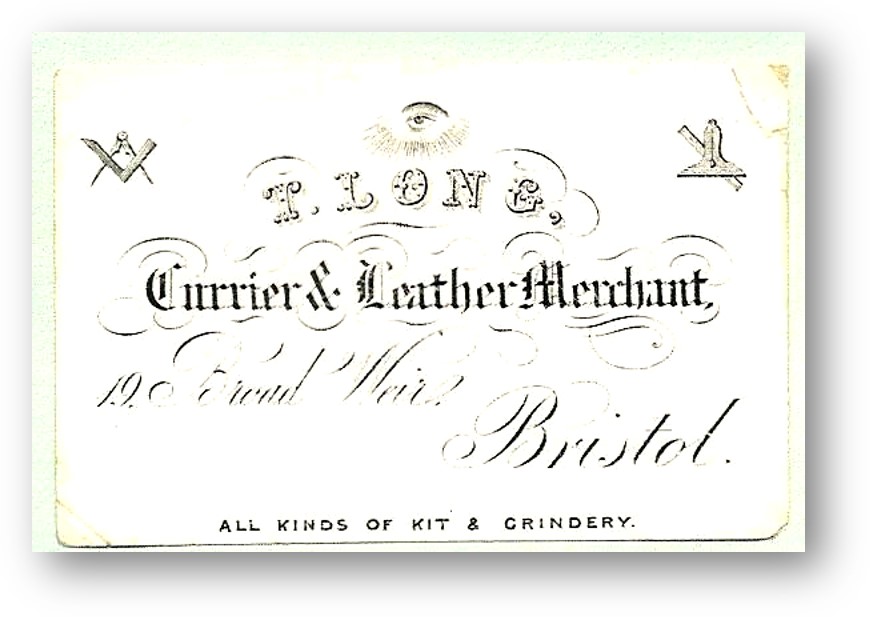 On the 1841 Census no house number is given for Thomas & Martha LONG but they were listed with the first son, Walter, as living in Broad Weir. In 1845, when my great grandfather, Samuel Thomas LONG was born his birth certificate states that he was born at 2 Broad Weir and on the 1851 census they are also listed at No 2 Broad Weir. My query is - did they move or was the road re-numbered?
In August 1942, 19 Broad Weir was destroyed by a bomb which fell on several buses parked outside causing a large number of deaths and in 1944 the then owners, Printers, Taylor Bros, gave a compete history of the house to the Bristol Archives. These date back to 1624 but it was existent before that. Thomas LONG did not own it - he was a tenant - but there are numerous newspaper accounts linking him to it as well as the births of his children and as my grandfather became a compositor he often spoke of Taylor Bros and the premises in Broad Weir which he remembered.
I know this is out of our area but we have many members with connections to Bristol and I wondered whether anyone else had researched this area of Bristol which is now between the Galleries and Cabot Circus.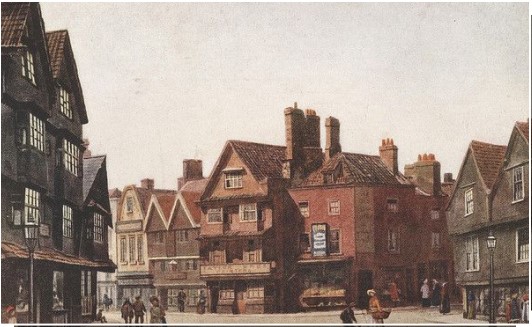 19 Broad Weir occupied by Taylor Bros (after 1875) Copyright - Bristol Libraries

5 Comments

login
or
join us now
to post comments
Pennant - Journal of the Nailsea Historical Society
published by on Sat, 04/09/2021 - 5:53
I am a new member looking for an article in Pennant no 42 which is not on the NHS website on Lawrence King Harman and Moorfields House in Nailsea by Roger Smallwood. The reason being that my Grandmother had an association with Lady Geraldine King Harman and just trying to link up the dates. They were close in age and I wonder if they were friends? Any information might help. I do know that Lady Geraldine was in the Territorial Nursing force between 1914 and 1920. Many Thanks for any assistance.

2 Comments

login
or
join us now
to post comments
WW2 Letter from Royal Artillery
published by Pat Hase on Wed, 01/09/2021 - 9:45
This letter has been found in Weston behind a fireplace. It has lost the signature at the end but I would love to find out who wrote it. Can anyone help with suggestions?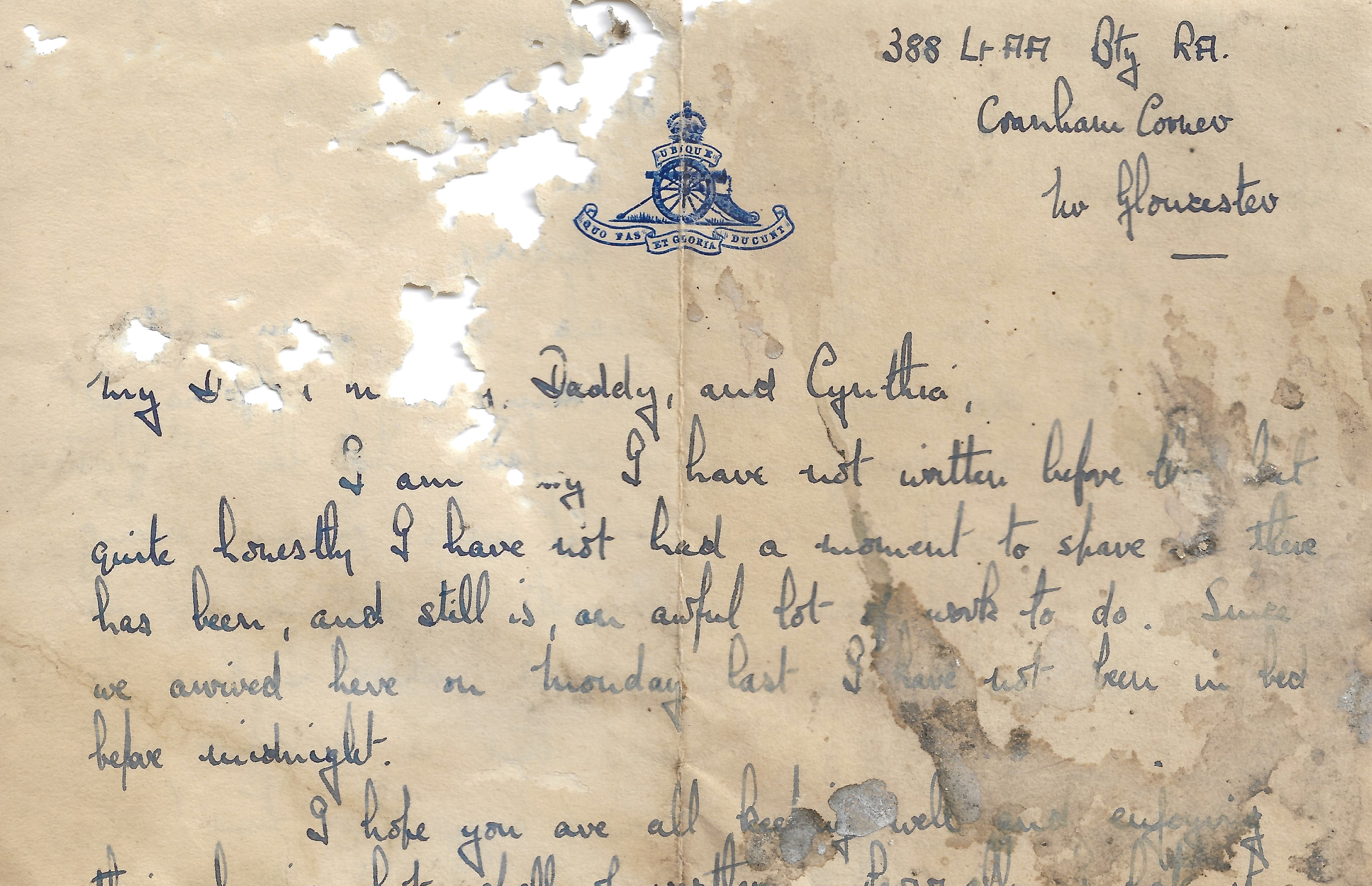 It is probably dated in the 1940s as it later mentions
"when we leave Tidworth we start combined operations training, beach landings etc. - this is the only thing that prevents us being really browned off - the thought of landing on the continent, which I am sure will come off soon"
I contacted the Royal Artillery Museum who sent the attached document but I would like some advice on how to proceed.

4 Comments

login
or
join us now
to post comments
Emily Janetta JARVIS
published by Les Martels on Tue, 03/08/2021 - 13:29
I am trying to find the baptism of Emily JARVIS born 29th April 1864. I suspect she was the illegitimate daughter of Ann JARVIS b.1843 and possibly Harry Han(d)cock.
The family lived in Brent Knoll and Emily married there to William COX in 1897.
I have looked under the name HANCOCK as well but it is possible she was not baptised. As the family, on the whole baptised their children, I would be surprised if Emily was the exception.

7 Comments

login
or
join us now
to post comments
Payne Family
published by JulieAPayne on Sat, 24/07/2021 - 15:07
I am making a last attempt to find the birthplace of my x4 great grandfather John Payne born about 1774. He married Hannah Sarah Bailey in Bleadon in July 1798. Hannah was from the Parish but the record states he was from Blagdon Parish.
He married again in 1808, as a widower of Bleadon, to Mary Petheram.
Having searched all the Blagdon and nearby Parish records, I have not been able to match him with any likely parents.
He had two sets of children from his marriages so wondered if any of this information sounds familiar to other Members with Pain/Payne ancestors from Bleadon or Uphill.

2 Comments

login
or
join us now
to post comments
Is your research stuck?
Use our research forum and
(If you are already a member please login (if not already logged in). If not why not join us now - see the link to the membership page.
Forthcoming Events
Physical Members' Meeting
Wednesday, 13th December, 2023 14:30 - 17:00
Help Session
Saturday, 6th January, 2024 14:00 - 15:30
Physical Members' Meeting
Wednesday, 10th January, 2024 14:30 - 17:00
Physical Members' Meeting
Wednesday, 14th February, 2024 14:30 - 17:00
Physical Members' Meeting
Wednesday, 13th March, 2024 14:30 - 17:00
<- View calendar for more