Research Forum
Gallop Tea Gardens, Dundry
published by ACEdwards on Thu, 21/11/2019 - 9:56
I hope that someone can help me with information. I have seen a photo of "GALLOP's tea gardens, Dundry" (in the Philip Gallop Collection) which I guess was taken circa 1920's. Can anyone tell me where the tea garden was, who in the GALLOP family ran it and between what dates. Trying to locate the property from the photo, using the school bell tower as a guide, I think that it may have been located in Hill Road.
Adrian Edwards

6 Comments

login
or
join us now
to post comments
Who lived in Burlington Street?
published by Pat Hase on Fri, 11/10/2019 - 13:02
I've been looking at the people who lived in Burlington Street, Weston-super-Mare over the years. This is in preparation for a talk I hope to give to the Society next year. Names such as VOWLES, PRIDDLE, ADDICOTT, WINDEATT, LORING, GIDDINGS, SPOONER etc. etc. including of course the PAYNE family. of Clara's cottage fame. If any of your families lived there at any time please can you share your information and any photos you may have. Thank you. As before please do not give details of living people without their permission.
I posted this on the Facebook Group because I thought that more of them might have Weston connections and have had some useful replies - some privately and two on the Group but I would value any help you can give.
It is sometimes difficult to identify exactly where people lived. The house numbers changed in about 1908 and Street Directories and Censuses do not always agree. Sometimes Poplar Place (next to the Chapel) is numbered as if it was a continuation of Burlington Street and where the Museum now stand were variously called Mews. We have electoral rolls for the more recent years - but all of these are only correct on the day the information was collected.
Know your Place provided a map from about 1884 which shows the buildings on the south side of Burlington Street before the Gas Co took over. Clara's Cottage is next but one to the Chapel. It's all highlighting the problems in identifying exactly where an ancestor lived but what is interesting is the different lives being led by the residents. I hope that our members will be able to add some detail to my research. Thank you.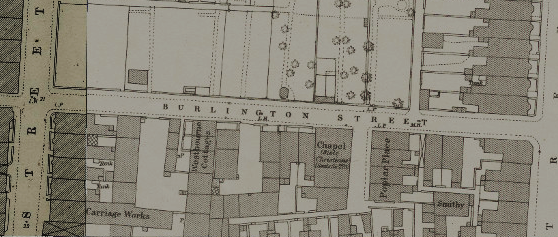 2 Comments

login
or
join us now
to post comments
HADWIN
published by Bill Caple on Thu, 26/09/2019 - 14:23
I received an old postcard from Peter Lander (Birnbeck Pier Regeneration Trust) showing damage caused by the 1903 storm at Weston, on the reverse of the card is some information about a family, are you researching these names?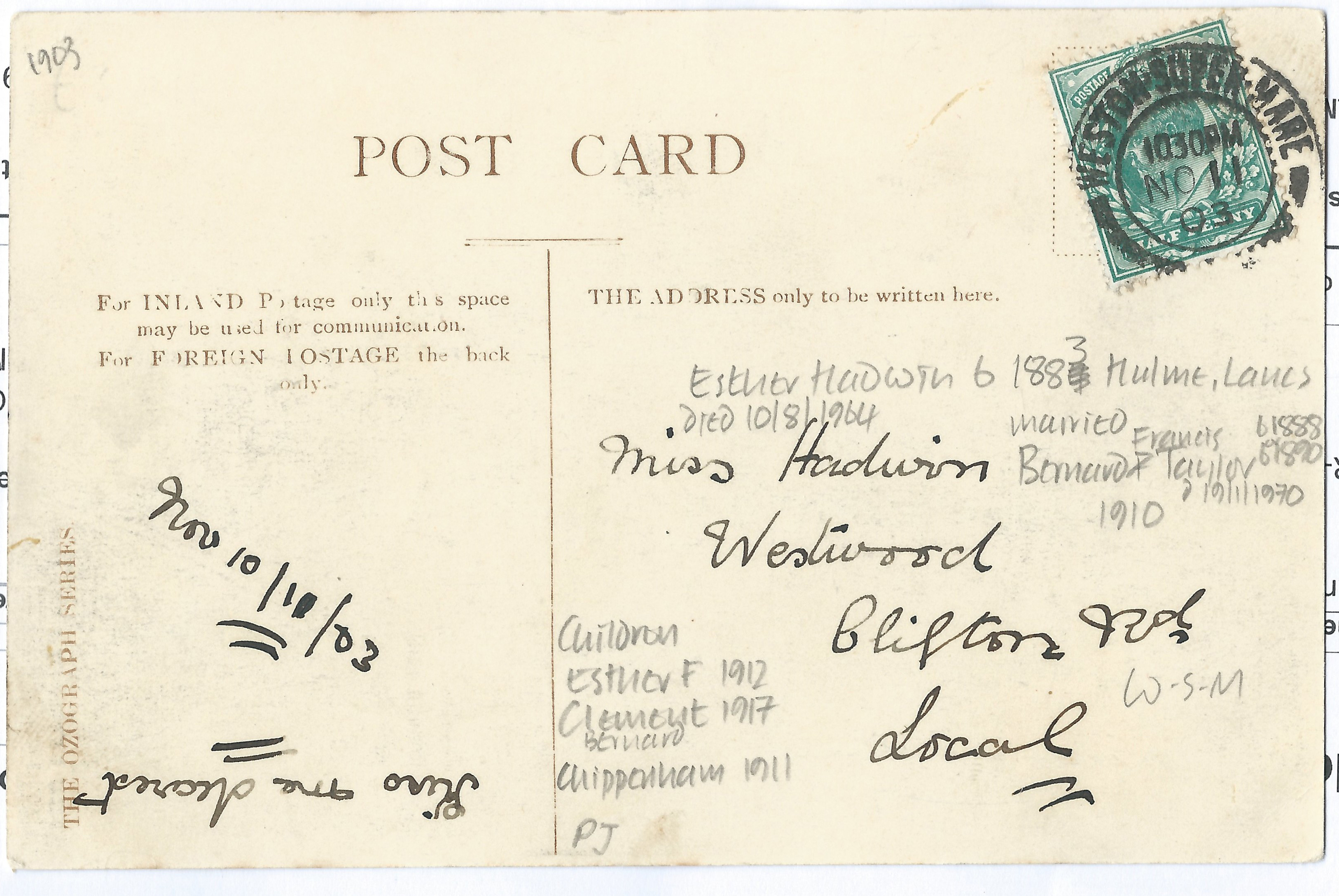 1 Comment

login
or
join us now
to post comments
Who was George HILL?
published by daveerasmus on Tue, 24/09/2019 - 18:41
According to UK and Tasmanian Criminal and Court records that I have seen, George HILL was:
born in Langford c1810-1812
a labourer
tried for Burglary (entering the house of Matthew TAVERNOR and stealing 40 Sovereigns) on 2 January 1831 at Wells Sessions
found guilty and sentenced to death (commuted to transportation for life)
moved from Shepton gaol to Ilchester on 6 August 1831
transferred to the Captivity Hulk Devonport on 12 September 1831
transported to Van Diemens Land arriving on 24 August 1833.
I am interested in George because I am a DNA match to one of his descendants.
I am a direct descendant of John HILL and Mary WHITE who were married in Churchill on 31 March 1806. They had numerous children all of whom were baptised in Churchill from 1806 (my 3x GGF John) and 1821 (Sarah). There was no George as far as I can tell. Nor can I find any George HILL baptised in Churchill from 1800 to 1820.
Any thoughts on when, where and to whom George was born would be appreciated, please.
One possibility is that he was the son of John Porter HILL who was baptised in Wrington on 26 September 1790. I don't think he was the John HILL who married Mary WHITE in 1806. I believe John Porter HILL was living in Bedminster in 1841 and 1851 with wife Mary and children Thomas, Mary, Charlotte and Elizabeth. "My" John HILL stayed in Churchill. I haven't found a marriage for John Porter HILL or baptism records for his children.

8 Comments

login
or
join us now
to post comments
Where was Martha GRANT born?
published by Pat Hase on Sun, 22/09/2019 - 0:34
When William ELLY and Martha GRANT, my 3 x great grand parents were married on the 6th Dec 1803 at Swainswick near Bath they were both described as Sojourners. I took this to mean that neither had been born in Swainswick.
However there is a baptism of a William ELLY in Swainswick in 1782 s/o Isaac & Susannah ELLY. As William & Martha's first child was a Susannah and they also had an Isaac I am inclined to believe that this is my Wiliam ELLY.
William was buried in Swainswick in 1832 but Martha lived until 1865. On the 1851 and 1861 censuses her birth place is also given as Swainswick. I can find no suitable baptism for Martha GRANT - Can anyone help me find her birth?

2 Comments

login
or
join us now
to post comments
What happened to Noah SMITH?
published by Pat Hase on Sun, 01/09/2019 - 17:58
My great grandmother born Mary Susannah WATTS (known as Susan) was born 18th June 1848 in Cam, (near Dursley) Gloucestershire. She was married twice - the first time to Stephen Hadley SMITH in Cam on the 6th April 1866. According to FreeBMD Stephen's birth was registered with both surnames in 1843
Births March qrt 1843
HADLEY Stephen Dursley 11 317
SMITH Stephen Dursley 11 317
Stephen and 2 of his brothers, Walter (registered as Walter SMITH in 1841) & Charles, were all christened on the 12th June 1848 at Cam Parish Church as the sons of Stephen and Sarah HADLEY.
Stephen HADLEY Senior had married Sarah SMITH, a widow, on Dec 6th 1846 at Cam. Sarah's father was Joseph HORWOOD. Sarah HORWOOD had married a Noah SMITH 1st Nov 1829 and I have found two children for them - Esther SMITH in 1829 and another Noah SMITH in 1832 - But what happened to their father?
Except for his wedding, Stephen Hadley SMITH was always known as Stephen HADLEY and he and Susan had 6 children. He died in 1876 and after his death, in 1879, Susan HADLEY (nee WATTS) married John HILL and they had 2 children, the first one born in 1878, before their marriage, and the last being my grandfather Ashton Bertie HILL in 1880.
But I am still curious about Noah SMITH - not a blood relation - but did he die between 1831 and 1841 or did she just leave him?

5 Comments

login
or
join us now
to post comments
Is your research stuck?
Use our research forum and
(If you are already a member please login (if not already logged in). If not why not join us now - see the link to the membership page.