Research Forum
96 Moorland Road - LOCKETT
published by Pat Hase on Fri, 06/11/2020 - 11:41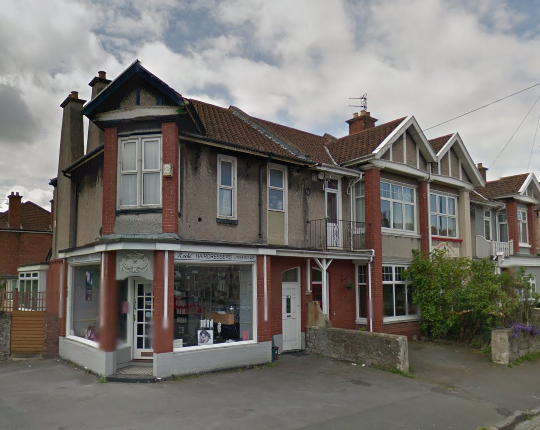 I have been told that when this was being built in 1906, as a house, an Edwin LOCKETT was a carpenter employed on the site. He had a girl friend whose father did not approve of him but grudgingly gave permission for her to visit Weston one Bank Holiday. However she bought a one-way ticket and they were married in 1906. The story goes that they then persuaded the Builder to change the plan to a shop and settled in it themselves. They were living there in 1911 but he was still entered as a carpenter & joiner. In 1917, in the Trades Directory section, of the Street Directory, Edwin LOCKETT was listed as a Draper at 96 Moorland Road.
His wife, Emily died in 1926 and was buried in Milton Road Cemetery in H 143. Edwin married again in 1931 and in 1939 he and his 2nd wife, Doris, were listed as Drapers at 339 Locking Road. I assume that they were still involved in the shop at Moorland Road. At 96 Moorland Road Edwin's daughter, Nora LOCKETT, was listed as a Draper's Shop Assistant.
Edwin and his first wife had one son and three daughters - Can anyone add anything about the LOCKETT family?
Langford and Churchill
published by Grace Rubery on Sun, 01/11/2020 - 16:47
A Bible has come into my possession which manes the following:
Presented to Millicent Ball aged 90 by Edith May May, Sutlidge House, Langford 9th November 1966.
Edith May May born 1904
Albert May died 1961
If these names mean anything to anyone I would be happy to pass it on
Moorland Road, Weston-super-Mare
published by Pat Hase on Sat, 31/10/2020 - 16:27
Member, David Tyler, is looking at the residents of Moorland Road, Weston-super-Mare over the years. If you have any connection with Moorland Road please reply to this Query with a comment so that we can show how this road has changed over time. It was a vibrant shopping area in the mid 20th Century and is now gradually reverting to being the residential area it was originally.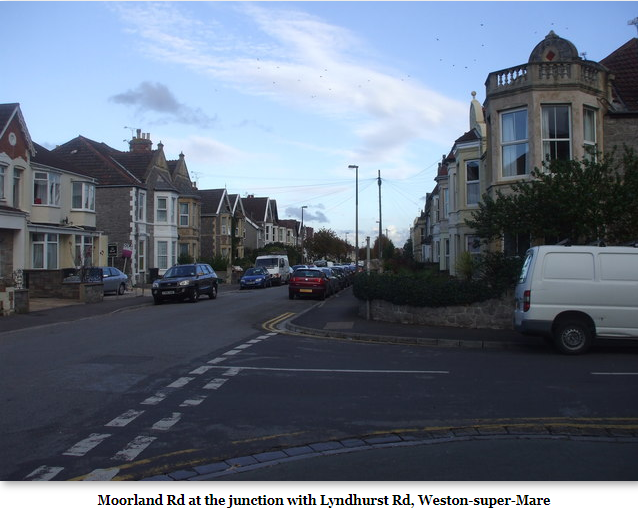 © Copyright John Lord and licensed for reuse under creativecommons.org/licenses/by-sa/2.0

5 Comments

login
or
join us now
to post comments
69 Moorland Road
published by suzannerowley on Sat, 24/10/2020 - 16:50
Hello everybody just wondering if any of you had relatives used to live at 69 Moorland Road Weston-s-Mare it is now a hairdresser shop
Hope you are all keeping well and Ok during this upheaval and that a vaccine will soon be available - Many thanks Suzanne

6 Comments

login
or
join us now
to post comments
Location in photo from 1920s
published by Richard Burnham on Wed, 21/10/2020 - 18:10
Can anyone please confirm whether or not this is somewhere in Weston? Picture taken around 1925.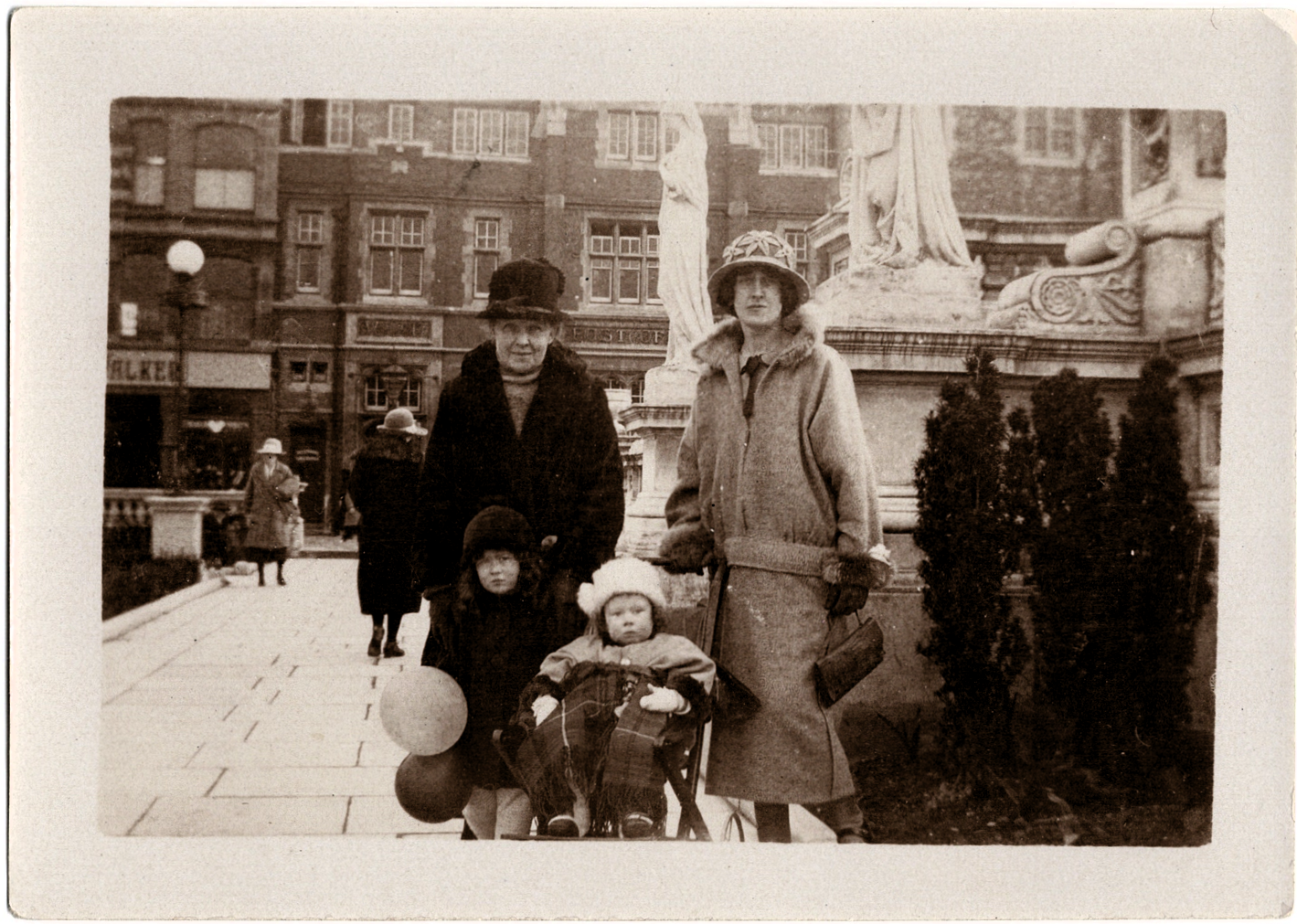 Dead Man's Penny WW1
published by Pat Hase on Sun, 18/10/2020 - 11:04
This photograph has been posted on our Facebook Group and I'm curious about Walter Charles WISEMAN and his family.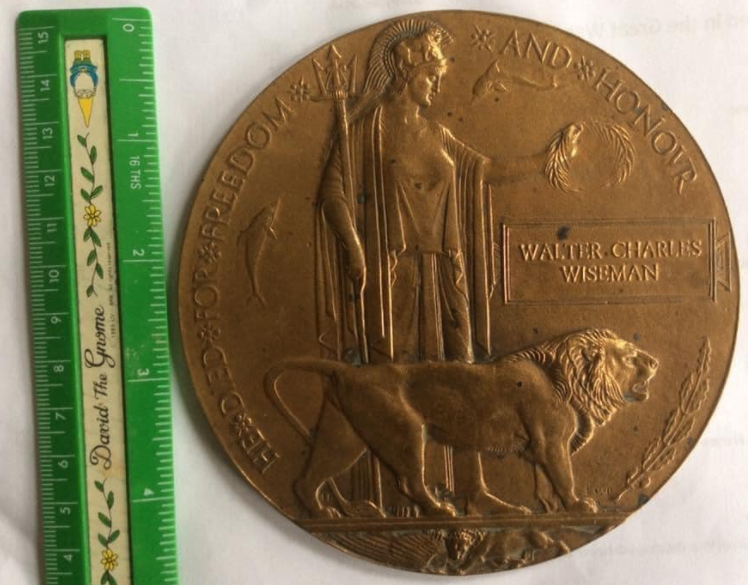 "Dead Man's Penny" of Walter Charles Wiseman of Weston-super-Mare. Killed in action 25th May 1918. These unique items were issued to the next of kin of each person killed in The First World War. Very, very heavy heavy bronze memorial plaque.
I have tried to find out more about Walter Charles WISEMAN 1893-1918. He was in the 2nd Bat Essex Regiment and is not on the Grove Park Memorial. Although born in Weston it seems that his parents travelled around quite a bit and his father had different occupations. His father is listed as:
Lecturer when he married in 1889 in Swansea,

Various Entertainer in 1891 in Swindon

Musician in 1894 in Farnham, Hampshire

Photographer in 1901 & 1911 in Bexley Heath, Kent
Don't think his family were in Weston for very long!
What were they doing in Weston-super-Mare?
Do you have one commemorating a member of your family?

1 Comment

login
or
join us now
to post comments
Is your research stuck?
Use our research forum and
(If you are already a member please login (if not already logged in). If not why not join us now - see the link to the membership page.