Research Forum
PETTIE and RITCHIE relatives, around 1900-1950s
published by Richard Burnham on Sat, 18/04/2020 - 14:30
I would welcome any information concerning my mother's maternal grandparents, Henry Vincent PETTIE, a tailor, and his wife Jane nee RITCHIE, who lived at 9 Jubilee Road, Weston, early in the 20th century. They had two daughters, my gran Annie Henrietta (Dolly) and her younger sister Catherine.
Also concerning three younger unmarried sisters of Jane called Johanna (Hannah), Agnes (Aggie) and Catherine (Kitty) Ritchie. Auntie Hannah and Auntie Aggie were still running a boarding house, Maycot at 12 Beaufort Road, when I went there on family holidays as a very young child in the 1950s. I also owe my existence to the sisters and Maycot, as it was where my father first met my mother.
Please see my notes under surname Ritchie for what I already know.
Thanks for your help!
Richard Burnham

login
or
join us now
to post comments
Sarah IRVINE - 3rd G/Grandmother
published by LouChapman13 on Sun, 12/04/2020 - 22:13
Evening everyone,
I hope you lovely people can assist me in tracing my 3rd Great Grandmother Sarah IRVINE. I have no DOB or Death date although I know she married James Edward BROWN on 14th August 1865 St John's Wood.
Sarah had a daughter Annie BROWN on 24th Nov 1865, Middlesex.
Sarah's father as per the marriage banns William IRVINE.
Any help would be appreciated.

2 Comments

login
or
join us now
to post comments
Schools in Weston super Mare
published by youngfear on Tue, 31/03/2020 - 15:48
I am researching my father's family tree (surname FEAR)...
My father was Alan George FEAR 6/5/1934 (WsM)- 22/4/1999 (Hartlepool).
His parents were Frederick Clarence FEAR 1900-1957 and Dorothy Ellen STONE 1902-1976
I am interested in finding out which schools my father might have attended. The family lived in Southend Rd, WsM in 1939, according to the England & Wales register for that period.
Any help or advice would be most appreciated.

1 Comment

login
or
join us now
to post comments
Francis Stephen DYMOND 1924-1943
published by Pat Hase on Tue, 31/03/2020 - 13:33
Have had this query from member Peter FOLLETT - I will pass on your replies.
"Francis Stephen DYMOND died on 24 March 1943 in RAF Hospital Poulton, Lancashire of septicaemia. I have a copy of his death certificate. He had joined the RAFVR only a month earlier on 21 February.
This discovery came about when the CWGC placed a plaque at the entrance to St Mary's Churchyard, Hutton stating there was a war grave in the churchyard. He is buried in a family plot with his grandparents and uncle. Why he is not on any war Memorial is a mystery maybe his parents did not want his name on a memorial or maybe they thought he did not qualify as he had served for such a short time.
In 1939 the family were living in 7 Bournville Road ,but at the time of his death his parents were living in Victoria Cottage, Station Road his father was the caretaker of the Methodist Church. According to the Mercury he was employed as a clerk at Bristol railway station before enlisting. There could be War Memorial recording the names of railway men who died during the war and he could be recorded there.
Hutton Parish Council have agreed to add his name to the Hutton War Memorial subject to every effort being made to trace any relatives, to obtain their view as recommended by the War Memorial Trust.
His parents were
Francis William DYMOND born 1890 died 1962 and
Ophelia Maud DYMOND nee BOWEN born 1896 died 1972
Any relatives would be descendants of his parents brothers and sisters."
Any help would be appreciated in tracing them to get permission to add his name to appropriate memorials.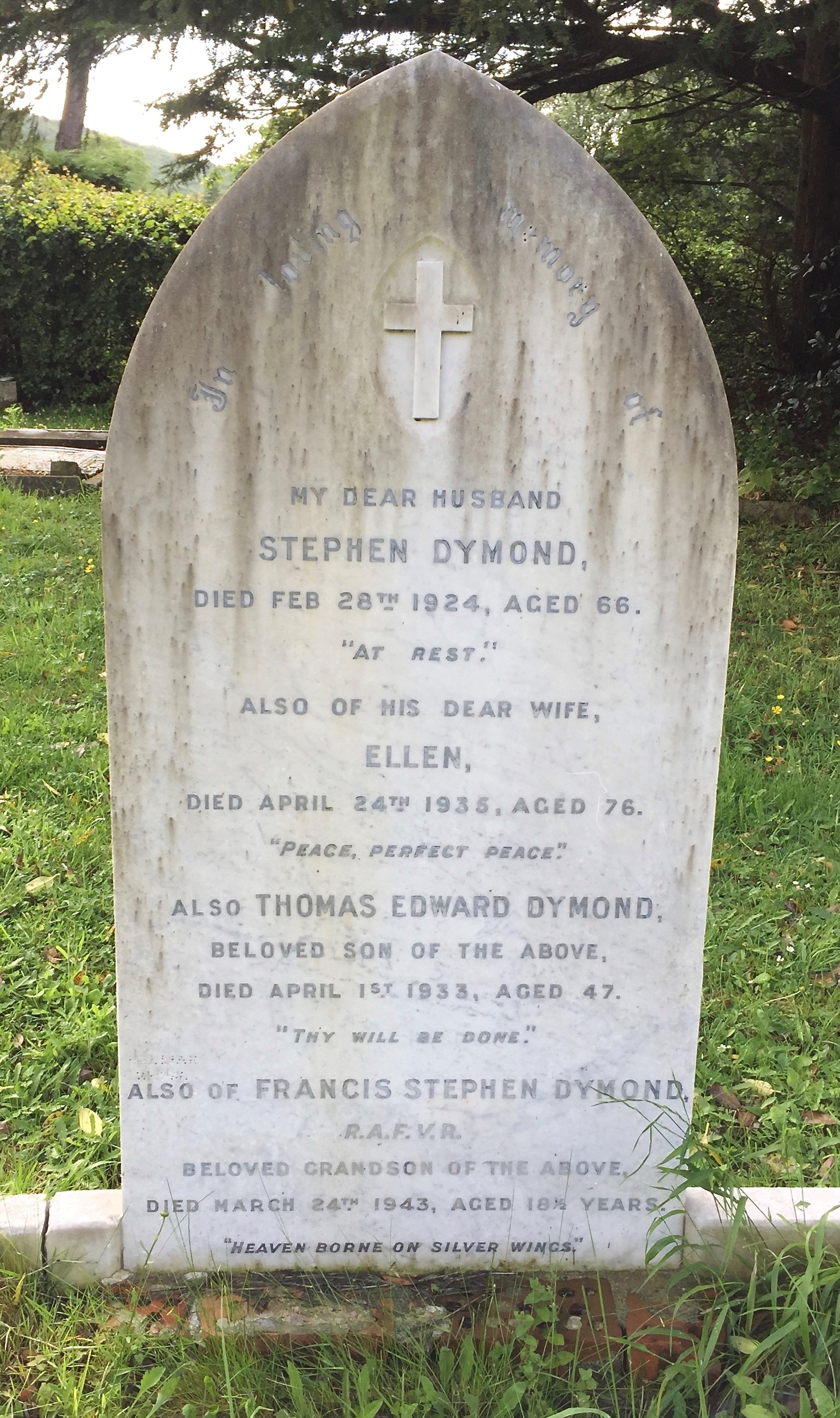 1 Comment

login
or
join us now
to post comments
Colin Granville BIRCH
published by Pat Hase on Tue, 10/03/2020 - 22:16
I have received this query - I will pass on any response from our members.
"I am currently researching a Roll of Honour for Langholm, Dumfriesshire.
The Roll of Honour will be privately printed with any profits, after printing costs, donated to the Royal British Legion.
I am trying to locate a photo of Colin Granville Birch, son of the Revd. Arthur Pershouse Birch, and of Faith Madeline Birch, of Weston-super-Mare, Somerset, reported missing, 28/11/1940.
He was reported missing in the same aircraft as Robert Vevers, from Langholm.
I am also trying to locate a crew photo of the aircraft.
Any assistance would be most appreciated."


Colin was born in 1920 with mother's maiden name of ORAM. In Sept 1940 the Western Daily Press reported that he had been awarded the DFC for an earlier action. Colin BIRCH had been educated at Wells Cathedral School. His father had died in 1924 and his mother remarried the same year to Rev James A TAYLOR in Bristol and they were living in Churchill Vicarage in 1939 with other BIRCH children
If you have any suggestions about a photograph - either of Colin BIRCH or the rest of the crew please add a comment

3 Comments

login
or
join us now
to post comments
St. Jude's Church
published by Derrick Norton on Tue, 25/02/2020 - 19:21
Dear Pat,

I sent you the email below on 7th January and haven't heard from you. I'm wondering if you received it.

Best wishes,

Derrick Norton


-------- Forwarded Message --------
Subject: Re: WSM & District Family History Society A member has commented on your forum post.
Date: Tue, 7 Jan 2020 20:17:57 +0000
From: Derrick Norton <djnorton@btconnect.com>
To: WSM & District Family History Society <admin@wsmfhs.org.uk>

Dear Pat,

I'm getting back to an email which you kindly sent to me last August! - hoping you might be able to help me further.

I sent the vicar at St. Jude's Church (now St. Andrew's) a couple of emails as you suggested, but he hasn't found any information.

I was able to visit Weston 11th-13th September (unfortunately not the Saturday) and the Heritage Open Days booklet says St. Jude's was "designed by Hans Price in 1887".

You suggested that George Dyer 1862-1934 was the most likely candidate as church builder, but he would have been aged 25. In the 1881 census he is a "Builder's Assistant" and in 1891 he is a "Contractor", presumably well supported by his Father who is a "Builder & Contractor".

I am wondering whether it might have been more of a family project. Do you have any indications pointing to George Dyer, please?

I have other questions, but thought it best to deal with them one at a time!
Many thanks for the supportive offers of the the Weston FHS.

Best wishes,

Derrick


On 18/08/2019 18:21, WSM & District Family History Society wrote:
Pat Hase has commented on your forum post (18-08-2019 18:21:24)

*Your post:*
St. Jude's Church

*Pat Hase's comment:*

I think you will find that the George DYER who built St Judes was William's son and he was born in about 1862 in Kewstoke. He died in 1934. I found it quite difficult to find any documentation about the building of the Church.



Why not log in and send them a reply? .

2 Comments

login
or
join us now
to post comments
Is your research stuck?
Use our research forum and
(If you are already a member please login (if not already logged in). If not why not join us now - see the link to the membership page.
Forthcoming Events
Society Meeting
Tuesday, 23rd June, 2020 19:00 - 21:00
Society Meeting
Tuesday, 28th July, 2020 19:00 - 21:00
Society Meeting
Tuesday, 29th September, 2020 19:00 - 21:00
Society Meeting
Tuesday, 27th October, 2020 19:00 - 21:00
Society Meeting
Tuesday, 24th November, 2020 19:00 - 21:00
<- View calendar for more