Research Forum
Mervyn Hugh Ernest THOMAS
published by Caroline Buckler on Tue, 25/08/2020 - 19:37
Hi
I'm a new member. My parents and grandparents both lived in Weston. I went to school there for part of my schooling.
I have done quite a bit of family history but have been more interested in going from 1911 to the present date which hasn't been easy.
Mervyn was my uncle, my Mother's brother. He died in Florida as an RAF cadet. (Pdf detail below.) I have been unable to find his birth date although my Mother and Aunt's details have been easy to find. Perhaps he was adopted. I contacted Waterloo Hall, came to the library etc but no joy. I've written to GRO etc but no joy. Any ideas would be welcome.
Best wishes
Caroline

7 Comments

login
or
join us now
to post comments
Creating a Family Tree
published by Pat Hase on Mon, 24/08/2020 - 20:51
I have received this query through the web site and as the answer might interest other members am posting it here. Please reply by posting comments then all will benefit.
Years ago I used Family Tree Maker software but I didn't continue to use it. I no longer have the software or files so I am now starting again from scratch. It will also ensure I recheck all the information I will be entering from paper records.
Family Tree Maker 2019 is far too complex for my fairly basic needs so what is considered a good current software for producing trees including photographs?
I'm not interested in syncing with Ancestry or other similar sites. The resulting trees will not be shared via the web as they will be solely for my family's use and will be shared as printed copies.
I believe Family Tree Builder by MyHeritage is free to download and wonder if any members of WSMFHS have used it?
I would be grateful for any help. Thank you.

1 Comment

login
or
join us now
to post comments
Criminal records
published by ceriseblack@btinternet.com on Sun, 16/08/2020 - 16:39
Hi,
Does anyone know if mugshots were taken in 1843, I found a court session for Middlesex where William Rawlings born 1806 did six months in Newgate for larceny. He stole a packet of tea!

Thanks Sue

2 Comments

login
or
join us now
to post comments
John Dyer 1803-1880
published by littlebinton on Mon, 27/07/2020 - 15:24
I have hit a brick wall trying to find a marriage for John Dyer to Louisa Wride.
His first wife, Mary Day, died in 1835, and the 1841 census shows John Dyer and his children either living with or very close to Louisa Wride. 1851 census shows them as being married, but I have been unable to find a marriage.
Can anyone help please?

6 Comments

login
or
join us now
to post comments
The CLARK Dynasty of Weston
published by Pat Hase on Mon, 27/07/2020 - 15:21
I found this marvellous photograph in the Weston-super-Mare Gazette Pictorial Revue for 1931. Pictured at a reunion are all 12 children of Charles and Cordelia CLARK who were married at Holy Trinity Church, St Phillips, Bristol on the 10th August 1871. All their children were born in Weston where Charles CLARK was a Hay and Corn Merchant and Greengrocer situated in St James Street.
Charles was born in Shipham in 1845 and Cordelia in Priddy. Some of the surnames which are connected with members of this family are ADAMS, ADAMSON, BOARD, DEMACK, DYER, HEDGES, MILKINS, PALMER, ROE, SHALLISH, TRIPP, WAY. Can you add to the family?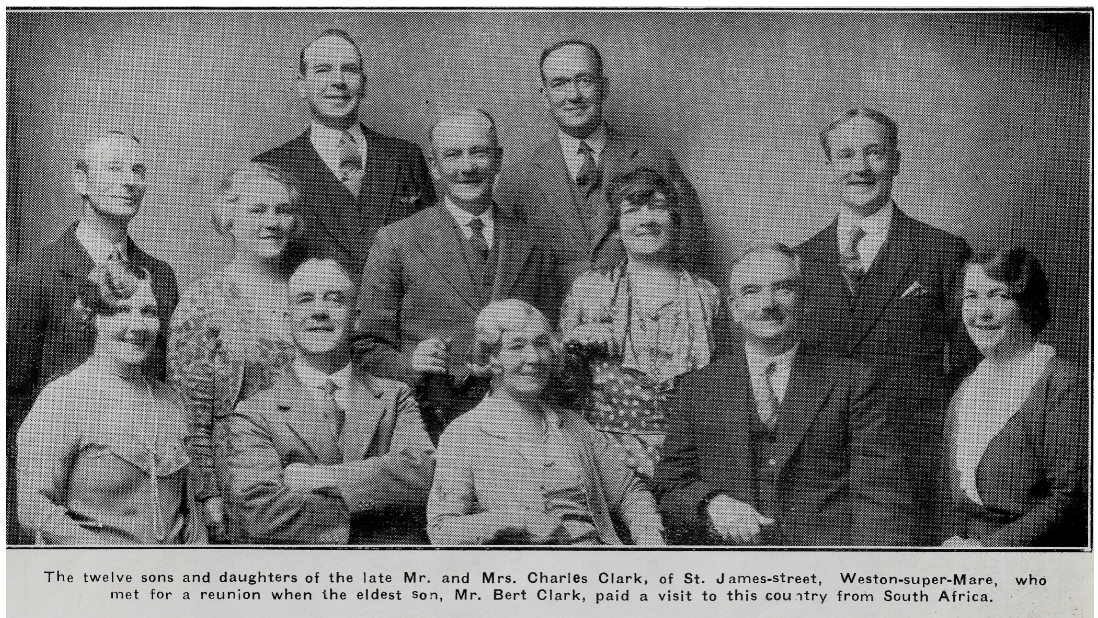 Their names were: Herbert Henry "Bert", Constance May, Jessie, Charles Henry, Cecil, David John, Amelia Melinda, Blanche Maria, Ernest Edgar, Percival Victor, Mary Ann and Douglas Arthur. Can you identify any of them?

6 Comments

login
or
join us now
to post comments
John & Mary PUDDY
published by Pat Hase on Sun, 19/07/2020 - 23:01
I'm stuck and need a second or third opinion! I am no longer convinced that my early research on the PUDDY family holds water. Can any one sort out the children of the multitude of John & Mary PUDDYs who seem to have inhabited Mark, Huntspill and Burnham on sea?
I'm fairly secure back to a John PUDDY who married a Marie Jane PUDDY in 1841 and after her death a Mary Ann SYMONs in 1860. For both marriages he said his father was another John PUDDY. From the censuses his birth is approximately 1814 in Burnham on Sea. There is a Baptism in Mark in 1814 of a John PUDDY born in Burnham s/o John & Joan PUDDY. There was a marriage for a John PUDDY who was a widower and a widow Joan MASON nee WHITTING in 1808. John's first marriage was (I think) to a Mary PURNEL in 1784.
Who were his children by Mary PURNEL? When and where was this John PUDDY born? Who were his parents? When did he die? - I don't want much do I?
Thanks for reading this far and I look forward to your help - I'm sure all will be revealed with the help of our transcriptions!

3 Comments

login
or
join us now
to post comments
Is your research stuck?
Use our research forum and
(If you are already a member please login (if not already logged in). If not why not join us now - see the link to the membership page.