Research Forum
Alma Marie BREGEON
published by joan sparke on Fri, 03/01/2020 - 14:44
Alma Marie BREGEON died in WSM on 22 Sept 1977 aged 88. I have accessed the Red
Cross web-site , Anyone with more knowledge? Where would I look for an obituary.
The lady was related to my husband and we have a good photo of her.

3 Comments

login
or
join us now
to post comments
Christmas Percy BLOOM
published by joan sparke on Fri, 03/01/2020 - 14:39
Christmas Percy BLOOM was born in Smallburgh, Norfolk in Dec 1908. My 1st cousin 1x removed but nothing more known and his Mother Minnie L BLOOM nee Seaton
died when he was 3 any ideas anyone?

3 Comments

login
or
join us now
to post comments
Lewis Henry SHERBORNE and Mary Bridget MURPHY
published by Pat Hase on Wed, 01/01/2020 - 23:08
Happy New Year! I received this query yesterday and wondered whether any of you had connections with this family or knew what happened to them. Lewis H SHERBORNE was born in 1910 at the White Hart at Congresbury - It's still there, on the Wrington Road out of Congresbury. He married Mary Bridget MURPHY in 1945 but no one seems to know what happened to them afterwards. They had a daughter who was adopted in 1946 and went to Australia with her adoptive parents. Eliza SHERBORNE, Lewis's mother, was still the Inn Keeper of the White Hart when she died in 1961 and was buried in Congresbury. Thank you.

1 Comment

login
or
join us now
to post comments
Richard OGBORN - Winford and Nempnett Thrubwell
published by Pat Hase on Fri, 06/12/2019 - 12:19
I need a second (or third) opinion! One of my 4 x great grandfathers was a Benjamin OGBORN, s/o Richard and Mary OGBORN and baptised in Nempnett Thrubwell in 1760. There is a marriage of a Richard OGBORN to a Mary PARKER in Winford on the 3 Jan 1756. But Mary PARKER was a widow. What was her maiden name?



2 Comments

login
or
join us now
to post comments
Gallop Tea Gardens, Dundry
published by ACEdwards on Thu, 21/11/2019 - 9:56
I hope that someone can help me with information. I have seen a photo of "GALLOP's tea gardens, Dundry" (in the Philip Gallop Collection) which I guess was taken circa 1920's. Can anyone tell me where the tea garden was, who in the GALLOP family ran it and between what dates. Trying to locate the property from the photo, using the school bell tower as a guide, I think that it may have been located in Hill Road.
Adrian Edwards

6 Comments

login
or
join us now
to post comments
Who lived in Burlington Street?
published by Pat Hase on Fri, 11/10/2019 - 13:02
I've been looking at the people who lived in Burlington Street, Weston-super-Mare over the years. This is in preparation for a talk I hope to give to the Society next year. Names such as VOWLES, PRIDDLE, ADDICOTT, WINDEATT, LORING, GIDDINGS, SPOONER etc. etc. including of course the PAYNE family. of Clara's cottage fame. If any of your families lived there at any time please can you share your information and any photos you may have. Thank you. As before please do not give details of living people without their permission.
I posted this on the Facebook Group because I thought that more of them might have Weston connections and have had some useful replies - some privately and two on the Group but I would value any help you can give.
It is sometimes difficult to identify exactly where people lived. The house numbers changed in about 1908 and Street Directories and Censuses do not always agree. Sometimes Poplar Place (next to the Chapel) is numbered as if it was a continuation of Burlington Street and where the Museum now stand were variously called Mews. We have electoral rolls for the more recent years - but all of these are only correct on the day the information was collected.
Know your Place provided a map from about 1884 which shows the buildings on the south side of Burlington Street before the Gas Co took over. Clara's Cottage is next but one to the Chapel. It's all highlighting the problems in identifying exactly where an ancestor lived but what is interesting is the different lives being led by the residents. I hope that our members will be able to add some detail to my research. Thank you.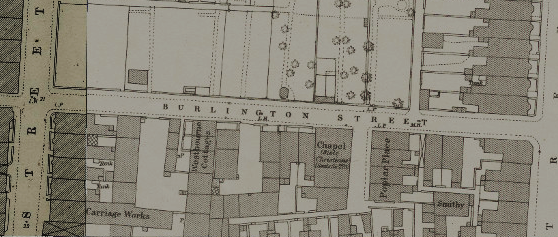 2 Comments

login
or
join us now
to post comments
Is your research stuck?
Use our research forum and
(If you are already a member please login (if not already logged in). If not why not join us now - see the link to the membership page.
Forthcoming Events
Society Meeting
Tuesday, 23rd June, 2020 19:00 - 21:00
Society Meeting
Tuesday, 28th July, 2020 19:00 - 21:00
Society Meeting
Tuesday, 29th September, 2020 19:00 - 21:00
Society Meeting
Tuesday, 27th October, 2020 19:00 - 21:00
Society Meeting
Tuesday, 24th November, 2020 19:00 - 21:00
<- View calendar for more