Research Forum
Locking Road School 1936
published by daveerasmus on Mon, 11/05/2020 - 12:07
Attached (at the foot of the page) is a photograph - taken, we think, in 1936 - of the Locking Road School class that my mother was in. Her name was Thelma PARKER and she has asked me to post this. Although she was 90 a few months ago, she can recall the names of most of the children. Obviously I can't name them on here in case they are still alive - hopefully many of them are. Mum would be interested to know if anyone can identify themself or a parent/grandparent?
Mum is sitting at the very front, third from the left, with the black hair.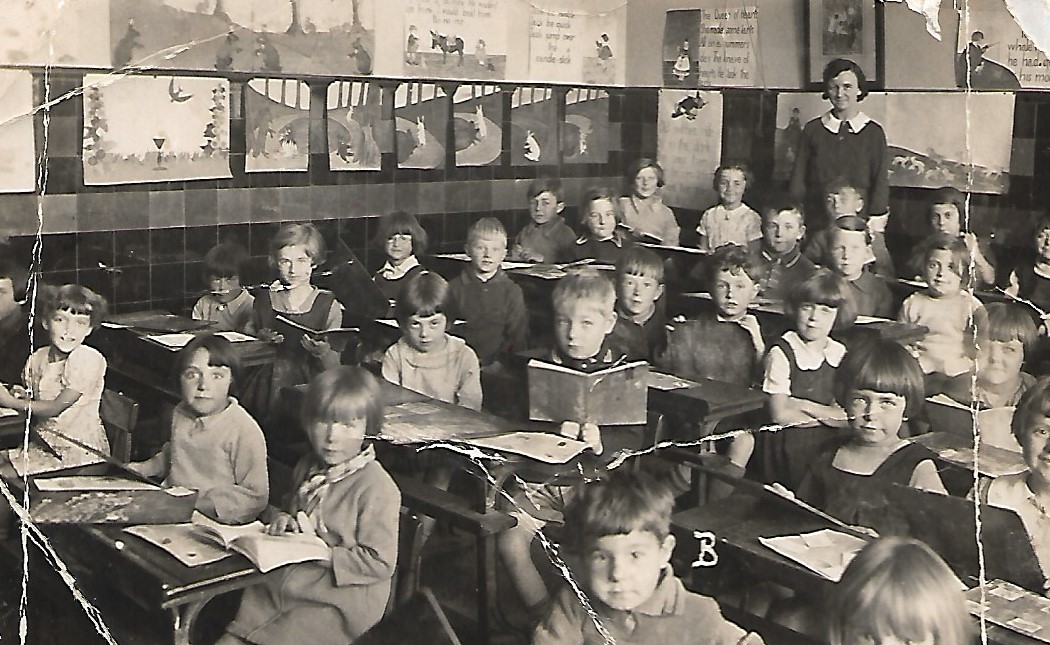 4 Comments

login
or
join us now
to post comments
Uphill Primary School
published by daveerasmus on Fri, 08/05/2020 - 19:37
I was at Uphill Primary School from 1955 to 1961. My sister was 2 years behind me. We have a couple of Class photos from our time there. I can remember some of the Teachers from that time, but not all. Are there any online records that might help jog my memory, please?

3 Comments

login
or
join us now
to post comments
the family name "Shougat" - what might it really be
published by Helenh49 on Wed, 06/05/2020 - 12:08
Hi
In the transcriptions for Cheddar, there is a marriage in 1722 with the family name of Shougat. I can't find this as a family name anywhere else and so I'm looking for suggestions as to what it could really be.
Helen

10 Comments

login
or
join us now
to post comments
HORSTMANN/PFAFF/HA(R)SE
published by rockerjt9 on Thu, 30/04/2020 - 13:44
Are there any descendants of Franz Heinrich (known as Henry) HORSTMANN and his second wife Christine Louise PFAFF who would like to tell me more about their watchmaking ancestors?
This German couple married Nov 7th 1893 in the Parish church of Christ Church in WsM. She was probably the sister of witness Friedrich Wilhelm Ewald PFAFF - the German bandmaster in WsM. (however, PFAFF is also the name of many German watch & clockmakers who came to UK to learn/improve and market their wares).
I am (slowly) researching material for a book on German watch & clockmakers in the UK and came across this couple...
What also intrigued me was, on the same page as their marriage entry, the details for a John RICH marrying Charlotte Mary HARSE...she of 35 Meadow St and d/o Joseph HARSE, butcher...how about that for coincidences....?!!
Jenny Towey
jenny@towey.me.uk

6 Comments

login
or
join us now
to post comments
Lavinia LEWIS my 3x Great Grandmother
published by Graham Payne on Tue, 21/04/2020 - 9:02
Lavinia Lewis was born about 1827 (Yatton/Churchill according to various census) She married George Land in Bristol 6 September 1846. According to the marriage certificate Lavinia's father was John Lewis. The only other information I have established for Lavinia was that in the 1841 census she was recorded as a farm servant aged 13 working for William & Samuel Harris in Yatton.
I would appreciate any help in finding Lavinia's baptism, actual place of birth and mother.
Thank you
Graham

1 Comment

login
or
join us now
to post comments
PETTIE and RITCHIE relatives, around 1900-1950s
published by Richard Burnham on Sat, 18/04/2020 - 14:30
I would welcome any information concerning my mother's maternal grandparents, Henry Vincent PETTIE, a tailor, and his wife Jane nee RITCHIE, who lived at 9 Jubilee Road, Weston, early in the 20th century. They had two daughters, my gran Annie Henrietta (Dolly) and her younger sister Catherine.
Also concerning three younger unmarried sisters of Jane called Johanna (Hannah), Agnes (Aggie) and Catherine (Kitty) Ritchie. Auntie Hannah and Auntie Aggie were still running a boarding house, Maycot at 12 Beaufort Road, when I went there on family holidays as a very young child in the 1950s. I also owe my existence to the sisters and Maycot, as it was where my father first met my mother.
Please see my notes under surname Ritchie for what I already know.
Thanks for your help!
Richard Burnham

login
or
join us now
to post comments
Is your research stuck?
Use our research forum and
(If you are already a member please login (if not already logged in). If not why not join us now - see the link to the membership page.