It's the 1st of June and "Summer is a coming in" or so says one of the oldest English songs. What are we going to do during the Summer? Family History often takes a back seat during the summer when other attractions hold sway. If you are mobile, why not make use of the fine weather to visit some of the places which your family knew in the past. It's strange how often when visiting a place where your ancestors lived you have a feeling of familiarity with the area. Walk where they walked, visit places that they knew and learn the history of the area where they lived. It all helps to understand their lives.
Holiday Photographs
Do you have any photographs of parents or grandparents on their summer holiday?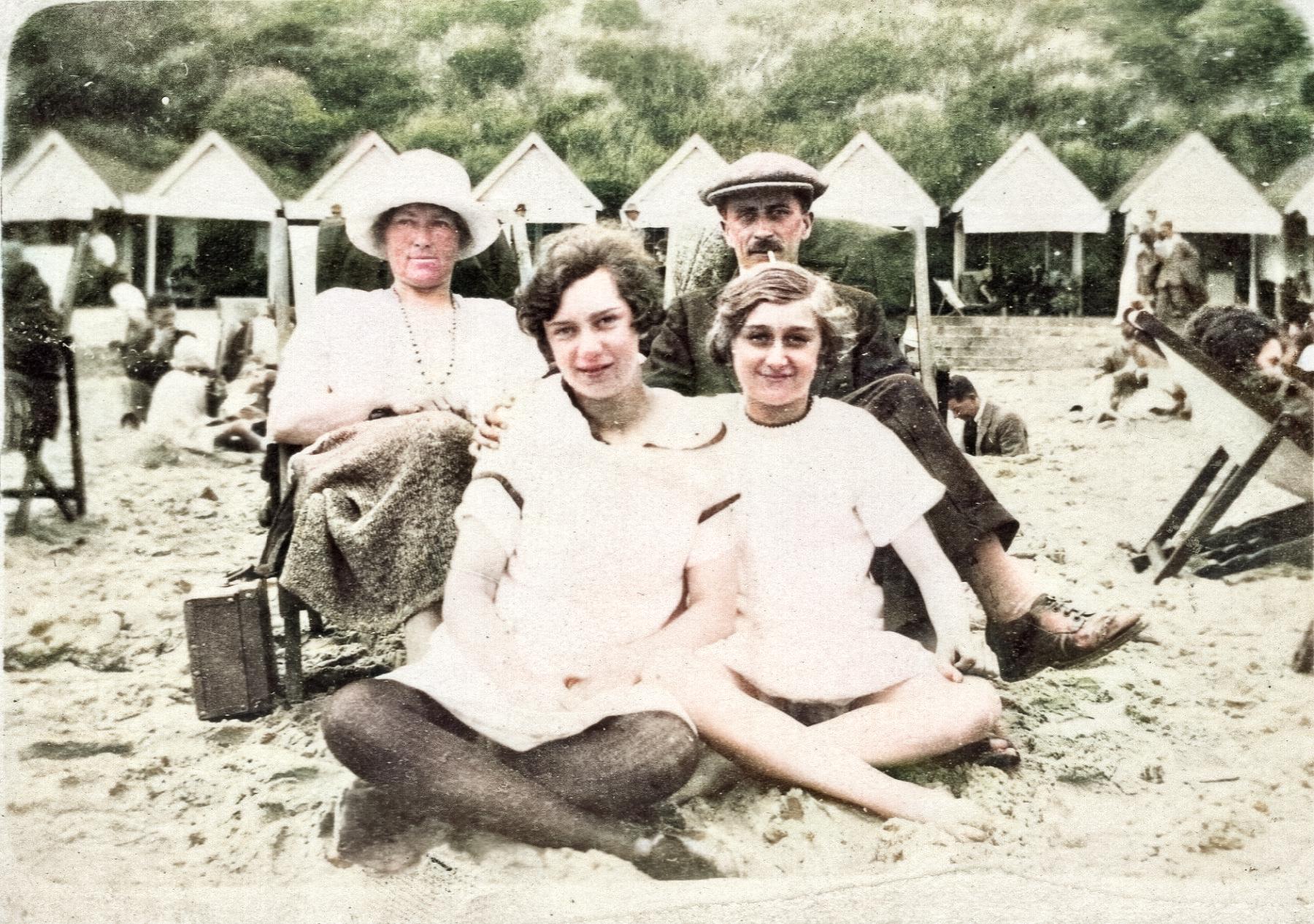 This is my mother and her sister on holiday in (I think) Bournemouth in about 1923, with my grandparents. I really do not know why my mother was wearing dark stockings on the beach!
Visit an Archive
Why not also arrange to visit an Archive to find out more about your family – not everything is online! You might look at Overseers' Accounts, Wills or perhaps even Bastardy Accounts if they have them. These may name the putative fathers of illegitimate children.
Overseers' Accounts
I recommend you look at the Overseers' Accounts for the parish in which your family lived. They are only rarely transcribed but give such an interesting insight into the lives of ancestors. They will tell you what taxes they paid to support the poor and if poor themselves what help they received. For example, there is an outline of the Overseers' Accounts for Shropshire which explains why they are so difficult to transcribe.
Brian Austin has transcribed the Overseers' Accounts for St John the Baptist of Weston-super-Mare which is available on the shelves in Weston Library in book form and is arranged in alphabetical order which makes them easier to consult than the actual Accounts
Somerset Wills
Many of the Somerset Wills were lost during the blitz but some can be found with other documents like deeds of property. Weston Library has a copy of a book by Sir Mervyn Medlycott of an index to Printed and Manuscript Copies of Somerset Wills, which he compiled in 1993. Check also with the Somerset Heritage Centre Catalogue online to see what else is available. Search with your ancestor's name. You can also search the Discovery database on The National Archives for documents that may be lodged in other local repositories.
Visit of North Somerset Archivist to Weston Library
A reminder that the next visit is on Thursday the 6th of June and you have just about time to order any documents you wish to see. More details can be seen here.
Free Online Resources
The Family History Federation, of which our Society is a member offers this section on Free Online Resources It's worth taking a look at it.
How to Prove your Family Tree Connections
There is nothing more frustrating than finding information online – perhaps in a submitted family tree which seems to be your family only to discover that there are errors in it. Worse still if you accept it and do not realise that there are errors! This seems to be happening more often now with the increase of DNA inspired research. This article will give you some ideas about how to ensure that your own family trees are error free by using the Genealogical Proof Standard. If you spot a mistake in a submitted family tree you can always try to explain to the owner why you think there is an error. You may find that you don't get a reply or that they insist that they are correct, and it is you who are wrong, but others may thank you for drawing attention to it.
Exhibitions and Shows
Free Help Sessions
Our Volunteers in the Library are there each Saturday from 2.00 p.m. until 3.30 p. m. to help anyone – members or not – with their family or local history research. Even if you are not researching local families do come into the library to see what is available to interest you or to discuss your research with others.
Research Forum
This has been very quiet again during May – Only 4 queries and 2 of them were from me! It would be helpful if replies to any queries could be sent to the website unless they contain information about living people because that way others can benefit from the suggestions made. Having said that, no one answered my queries either directly to me or to the web site. If our members really do not have any research queries perhaps they might consider giving some examples of recent successful research which might assist others.
Next Society meeting – June 25th
Books with a genealogical theme are riding high in the charts these days and I for one find them exciting reading. We are lucky to have in Weston a published author who is going to talk to the Society at our next meeting about her experiences in writing her latest book. We look forward to hearing Lois Sparshott again.
Finishing on a high this month – I hope very much to resume attending meetings very soon as I have successfully completed the course of chemotherapy. I am so grateful for all the messages of support which I have received and am looking forward to seeing you all again.