It's July, and time for Wimbledon, gardening and holidays so is there time for Family History? We all have priorities to make in the way we use our time, but life goes on and you are creating the family history of the future. Are you recording the events which your descendants will search for? With photography so easy now, are you saving and naming the people in your snaps? Many photos are kept digitally and not printed these days and it is not so easy to identify individuals without a back to write on! Many old photographs appear online with a request for someone to name the individuals, whether they are school photos, wedding photos or pictures of other activities, so this not a new problem.
Kewstoke Local History Exhibition
There will be a Kewstoke Local History Exhibition in the main village hall at Kewstoke starting Thurs. July 11th to Sunday July 14th. It will be open from 10.30 am until 6.30 pm each day. Refreshments will be available. Our Society will have a help Desk there throughout, but the local Kewstoke exhibits and resources will be plentiful and varied. They will include a new display of W.W.1 & 2 & evacuees and where they stayed in the village. Many local family histories with photos. The usual Census entries 1841 to 1911. New information taken from the Parish Minute books. Lots of new photos and information about local buildings and events.
Genealogy versus Family History
There has been a concentration lately on the DNA aspect of genealogy but if we think about the way in which our ancestors lived that will add another dimension to your research. I have recently been reminded of a book published in 2016 by Janet Few, who has spoken to our Society several times. It is called "Remember Then, Women's Memories of 1946 and 1969 and how to write your own" Janet worked with a group of 80 women who recounted their own experiences and consulted their diaries and photographs to produce a book which describes life from their own perspective and may give you some tips on how to write up your own memories. This holds good for men and women, although I suspect few men wore liberty bodices!
Serendipity
You never know what you will find when you are looking for something else! In the Library last Saturday we were looking for information about activities on Birnbeck Pier. We were trying to identify individuals in this photograph.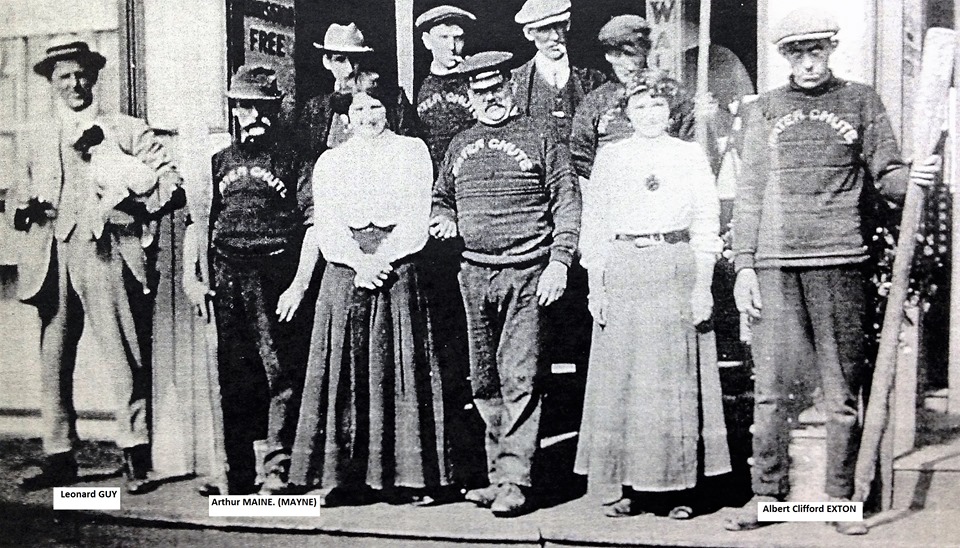 Peter Lander of the Birnbeck Regeneration Trust had already identified someone with connections to Axbridge Workhouse – but we had also found that a woman assistant on the Water Chute had given evidence at an Inquest during the same year as the photograph – 1913. David Tyler began looking through the Weston Mercury which is available on film in the library for more information and found an account that described the circumstances when a man fell from the Old Pier. Much to my surprise one of the boatmen who tried to rescue him was named as J. HASE. I think I can identify this boatman as my father-in-law's eldest brother, but I had no idea that he had a boat at that time. By the way, the air conditioning in the Library made the atmosphere very comfortable on one of the hottest days this year.
Helping others to help Yourself
I have found that answering queries on the Research Forum, by volunteering at one of our Free Help Sessions or by taking part in the discussions on our Facebook Group often takes me into new areas that can be helpful in my own research. I have just been looking to see what new resources were available on the various sites and found that Find a Grave had new entries on their site and one of them just might be a direct ancestor of mine who died in 1798.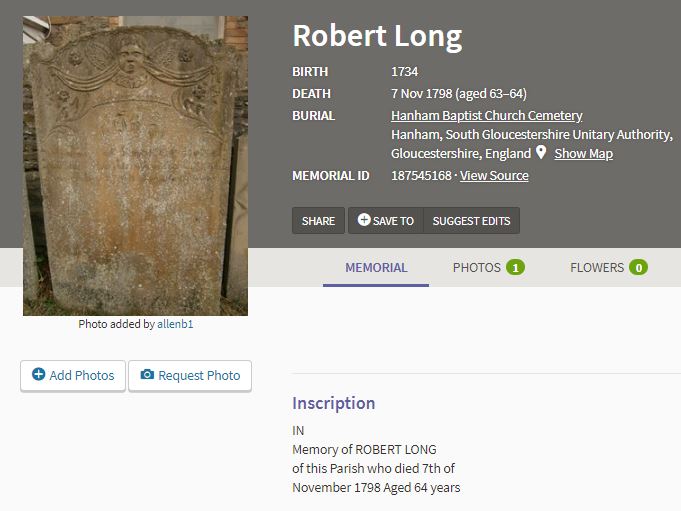 This photo was put on last year and I've been looking for him since the 1980s! The site is free of charge although it is included in the Ancestry offering. It obviously pays to revisit sites to see if they have been updated.
Family History Societies
I know I'm talking to the converted here but belonging to one or two Family History Societies can be a tremendous help in your research. Ideally, you should join one which holds meetings in the area in which you live so that you can attend meetings and meet like-minded people who share your interests and another which covers the area in which your ancestors lived as that one is likely to have resources to help you and members who have an in-depth knowledge of the area.
You don't have to be a member of our society to access many parts of our website. News & Information (including the Monthly Updates) and some Journal Articles are open to everybody. Transcriptions are free for members. Other Societies have similar areas that are open to all.
Some examples of other Societies' offerings:
The Bristol & Avon FHS has a database of information from unwanted Birth, Marriage and Death Certificates which can be searched online to give full details. They include certificates from places other than Bristol and there is always the chance that your family name is included. This is a Weston death certificate on this site - there could be others!
The Somerset & Dorset FHS has, as part of its website, a Society Blog with articles and features about the Society and it includes some articles from "The Greenwood Tree" their Members' Journal which may be of interest.
The Devon FHS has a WWWBoard – which is a place where anyone (you don't have to be a member) can post questions relating to Devon research.
July Events
During July our Free Saturday Help Sessions at the Library will continue – and we welcome people with questions about their family history research and the question doesn't have to be only about North Somerset as there is Internet access available. If you do not live in the area and you have any queries which our volunteers at the library can answer please use our Research Forum on the Web Site to ask your questions and if we have time we can search for you. The library has local newspapers on film but as they are not indexed, dates, as well as names, are needed to search these. There is a complete set of Street Directories for 1900 – 1974 and Electoral Rolls from the 1940s where people can be identified. With the Electoral Rolls don't forget that only people who have the vote are included and the Rolls are arranged in Street order not alphabetical so searching can take time. The library has extensive files about local people, buildings and events so if you can get there any Saturday afternoon from 2.00 – 3.30 (when we are there) or of course at any time during the week when you can do your own research you will find the visit worthwhile.
Our next monthly meeting will be on Tuesday 23rd July when the topic will be the fascinating history of the Weston, Clevedon and Portishead Light Railway known affectionately locally as the W.C & P. The Speaker will be Paul Gregory who is the Secretary of the W.C & P Railway Group
At the July meeting, it is hoped to have the latest edition of Buckets and Spades available for members. As usual, we will not have a meeting in August but look forward to our next meeting on September 24th when the topic will be War medals so you've plenty of time to discover which medals your relations received and why - and what questions to ask Peter Towey
If I have omitted any July events please add them as a Comment to this update.