It's the Summer Holidays and the schools have all broken up with Proms and Sports Days etc. I found this photo (and it's named!) in the Pictorial Review of 1931 published by the Weston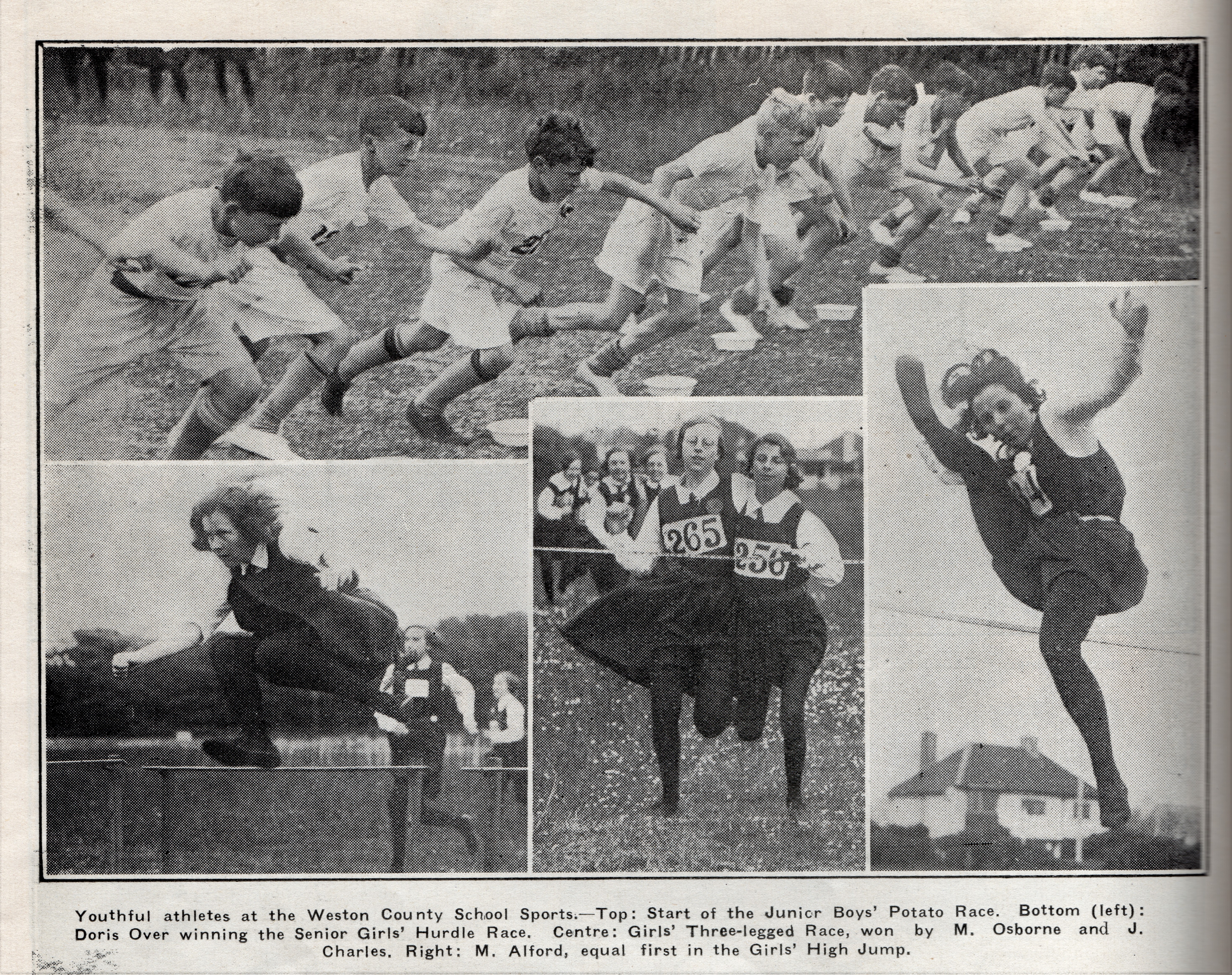 Gazette. Anybody researching these surnames? - OVER, OSBORNE, CHARLES or ALFORD - I think that Doris OVER was connected with the Confectioners OVERs in the High Street
Wills
The notification that UK Wills from 1858 are now available at £1.50 each instead of £10.00 was put on our web site as soon as they became available at this price and caused great excitement. Several members have already received Wills which have proved interesting. It is likely that this price will only be held for 12 months so make the most of it. See Who Do You Think You Are? magazine for details.
Family & Local History
I am a firm believer that Family and Local History go hand in hand and that you cannot do one without considering the other. Many local societies have helpful websites and I have just mentioned just three societies below. I know there are many other groups operating in our area. Please add a comment to this Update to draw attention to others which could help other members.
Yatton Local History Society has a series of their publications available which can be searched and contain interesting articles about the history and people of Yatton. The first item on the page is an index to names mentioned in various publications, not all of which are online
Nailsea & District Local History Society has also put a number of their Journals – The Pennant – online. You can see them by clicking on the name of the society. Purely by chance, I note that Pennant No 30 (the last one on the list) contains an article written by one of our members, Peter Lamb, about the MASSINGHAM Family.
The Clevedon Civic Society has a very strong Local History Group. It has published PDF versions of their magazine the Clevedonian which ceased publication in 2014 but contain a variety of interesting articles about Clevedon. They can be viewed by clicking on the name of the society and include a piece by Jane Lilly entitled "When we were very young" which may ring bells with some of our members.
Buckets & Spades
Thanks to Sue Maguire for the latest edition of our Buckets and Spades – it made for some very interesting reading about families with connections in the Weston district. On Page 36, Sheila MILLS mentions that her great grandfather Charles DAVIS was a "Journeyman" with the trade omitted. Looking at the 1871 census of Bedminster I see that Charles was a Carpenter. The term "Journeyman" means that he had completed an apprenticeship but had not set up in business on his own account and so was in the employ of someone else. One definition of "Journeyman" is that he was "paid by the day" after the French for "Day" – "Jour" not that he travelled around although of course, he might have done that looking for work.
The deadline for articles for the next edition is 17 Oct 2019.
If any of you are stuck with your research we have started a section in Buckets & Spades on "Breaking Down Brick Walls" - see Page 8 - If you contact me with your the problem I will try to offer suggestions for your research to be published in the next edition with the hope that the suggestions might give ideas to others of how to solve their problems as well. Looking forward to hearing from you.
The Research Forum.
The Research Forum is for full members only. When you post a query on the Research Forum please use this page and use the link on the right-hand side of the page where it says "Post your Query Now" which will allow you to give it a suitable title (with the SURNAME in UPPERCASE to attract a response. The Research Forum is open for questions about ancestors in all parts of this country not only North Somerset
Facebook Group
For members of the Facebook Group who are not also full members of the Society and who are reading this – You can post queries on the Facebook Group and hopefully other members of the Group – we now have 135 members and some are vastly experienced - will respond with suitable suggestions
Free Help Sessions
These are continuing during August as normal and are open for everyone members or not. Just turn up at about 2,00pm on a Saturday afternoon with some facts about your family and an idea of what you hope to find out and we will see if we can help. If you are a full member but cannot attend the Weston Library you can use the Research Forum to post your query – which need not be about the Weston area and our volunteers will use their time in the library to find an answer for you.
Brian Austin Archive
We have recently put a list of the topics of the research which Brian Austin has completed over the years on the web site. See The Brian Austin Archive for the full index to his work and detail of how to access it. Some of it is the result of him, many years ago, spotting documents with were surplus to requirements being destroyed by officials at the Town Hall. Brian removed them and studied their content, noting facts which have subsequently assisted family historians piece together information about their ancestors. Brian's research can be found in the Somerset Heritage Centre, Weston Library and at his home and he will reply to any query if you include a stamped addressed envelope.
Newish Resources online
The Genealogist has announced a new selection of records from Norfolk including Bastardy Records which should interest any of you with Norfolk ancestors - You will need to scroll down to find the article. These also include images from the Norfolk Archives. The latest news from The genealogist can be seen here
Findmypast now includes images of Devon Parish Records in its collection of records. See which other parishes it has available.
To find which new items have been added to Ancestry go to this page - Some will have just been updated but some are completely new.
Who do You think You Are?
It's that season again. Why is it, however much I want to see these programmes, that halfway through I fall asleep?! It's lucky that I can always catch up with them later! The stories behind the celebrities make for good television but I want more. How did the local expert actually find the information they produce from out of a hat? Why did they need the expert? Couldn't they do it themselves? Or would the programme be too long? It's taken me years to discover some facts but that's because when I started the documents were not as accessible as they are today. The celebrities are missing that rush of adrenaline when you finally discover the missing link. They are allowing someone else to find that final piece of the jigsaw. Mind you, if someone could tell me who the parents were of Robert LONG who married Hester PRIGG in 1767 in Bitton, how many children they had and when they died, I think I could live with that!
Society meetings
The July meeting looked at the history of the Weston, Clevedon and Portishead Light Railway. My mother used to tell of a day when she was on that train somewhere near Wick St Lawrence and she became uncomfortably hot only to find that there was a fire smoldering away under her seat! There were other tales of the train stopping for either passengers or the driver to pick mushrooms in a neighbouring field. If you would like to join a tour on Sunday 20th Oct 2019 along the route of the WC&P see here for more details
Just a reminder that we do not have a meeting in August. The September meeting on the 24th Sept will be Peter Towey talking about British War Medals.