On September 3rd it will be 80 years since the outbreak of WW2. If you have any memories of this time – your own or your parents' memories - we would love to hear them before it is too late! Thank you to Ben Simpson for his article in the July edition of Buckets & Spades. Were you or your parents evacuated? Did you have evacuees billeted with you? Was your home damaged during the war? What effect did the war have on your family? Can you remember food rationing? Did you have clothes made for you from parachute silk? What about Utility furniture? Etc.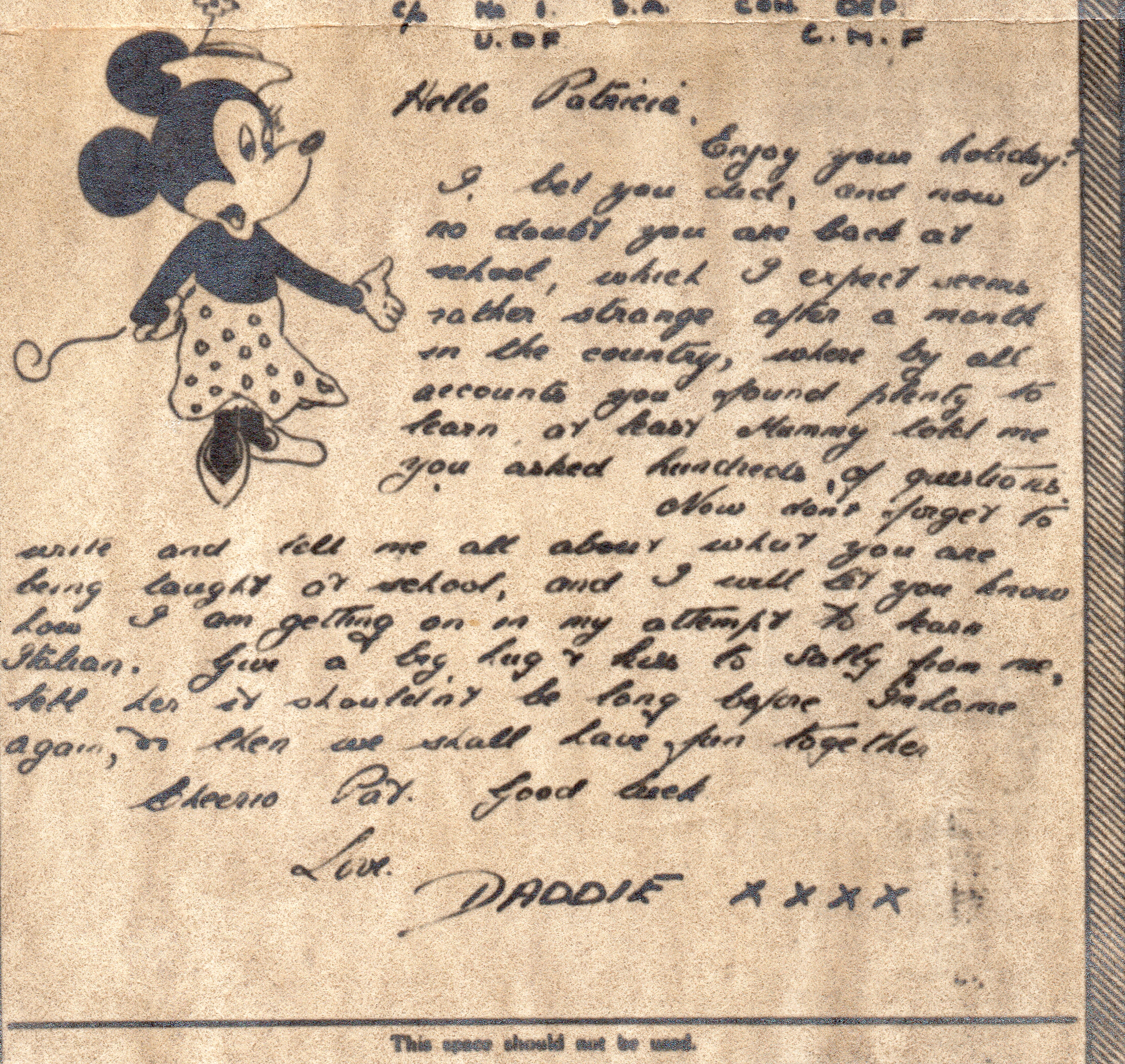 This is part of a photo-letter sent to me from my father in 1945 from Italy after he had been severely wounded at Monte Cassino in 1944. I have several of these letters which were photographed and reduced in size before sending.
WW2 Research
The National Archives has many research guides to assist your research into the Second World War and many of them have resources available online.
The National Archives has also re-issued some videocasts done for the 70th anniversary which tell the real stories behind some of the well-known WW2 films
Historic England has published some aerial views of Weston which includes some interesting shots of wartime Weston including air-raid shelters on the Beach lawns and Reservoirs on Alexandra Parade
Dates for September
North Somerset Archivist - Thursday 5 September

will be the next archivist visit to Weston-super-Mare Library- Sessions are open from 11.00 am to 1.00 pm, and from 2.00 pm to 3.30 pm For more information and to order documents to be brought to the library contact Somerset Archives somersetarchives@swheritage.org.uk Please give 2 days notice.

Heritage Open Days 2019 - 13 - 22 September

Every year in September, places across the country throw open their doors to celebrate their heritage, community and history. It's your chance to see hidden places and try out new experiences – and it's all FREE. In North Somerset many of the Churches will be open - some having special exhibitions of their archives and some, St Mary's Church at Portbury (for one) offering cream teas! Take a look at all the places which will be open they include The Town Quarry in Weston, The Curzon Cinema at Clevedon, Uphill Church on the hill, The Mayor's Parlour in Weston, etc. See Heritage Open Days for full details of places open in North Somerset
Society's Monthly Meeting - Tuesday September 24th

our meeting at the Vintage Church in Hughenden Road will feature Peter Towey with British War Medals as his topic. If you have any which you cannot identify or with a particular history please bring them along.

Bristol & Avon FHS Open Day - Saturday September 28th We will have a stand at this Open Day on with many other organisations offering help with your research. If you have even a passing interest in postcards, mining, Canadian research, Military matters, quilts, Railways, Caribbean research or maps as well as family history there will be something there to interest you. Local History Groups, Family History Societies from Wales, Warwickshire and the South West, Record Offices and commercial enterprises which support your research will all be on hand to help you. For full detail go to the Bristol & Avon web site
Our Annual Lunch - Monday Sept 30th

The Society's Annual Autumn Lunch will take place at Worlebury Golf Club – full details in the July edition of Buckets & Spades. Contact Peter de Dulin if you have any queries.
Using family history research techniques for other purposes.
Many of us are also interested in house histories and research the families which lived in them. The BBC programme "A House through Time" is an example of this and I understand that the next series in 2020 will feature a house in Bristol. Researching a single street (a short one is best!) can provide an amazing amount of information about the area in which our ancestors lived.
A display of Classic Cars in Weston recently reminded me that over the years, our family has owned and enjoyed a number of vintage cars. As it was in the 1960s when we bought our first one, it was more difficult to find out about previous owners and the history of the cars. Today it is easier. Although the old log books with names and addresses of previous owners are no longer in use, it is often possible to find mention of the owners and even sometimes a photograph in newspaper archives. Specialist car clubs have their own archives and museums and other enthusiasts have often posted histories and photographs of their cars on other sites. I was surprised recently to find online a letter written by my husband in the archives of Motor Sport Magazine!
Researching one car gave us a happy time in Worcester Record Office looking for the original 1923 registration of a car that carried later number plates. The records held there for cars registered in Worcestershire were fantastic and we eventually managed to get the original number back again. That car also took us to the Museum of the South Staffordshire Regiment for information about the first owner where we also found a photograph of him. We visited where the first owner had lived and a neighbour gave us information which led to us taking the car to see a close friend of the original chauffeur who was able to give us more information. All very similar to tracing a member of your family.
Family Trees on Ancestry.
I recently posted a photo of my great grandmother, Annie STOKES, on our Facebook Group and have been looking at her side of my family. She was one of 15 children and there are currently 31 trees on Ancestry which include her parents, Charles & Lavinia STOKES nee SPERRIN.
The first one I looked at had 4 different birth dates for Charles STOKES – 1819, 1820, 1821 and 1833. The first two dates I can understand as he was christened on the 2nd Jan 1820 at Wraxall and unless he was christened immediately it is likely that he was born in 1819. The 1821 date was taken from an entry on the 1841 census where ages are approximated to the nearest 5 years downwards. Unfortunately, the wrong Charles STOKES had been picked up. This tree has chosen a Charles STOKES living in Shepton Mallet in 1841 whereas my Charles was still in Wraxall. Just to confuse matters the researcher adds the Shepton Mallet "parents" of Charles to the tree. I could go on, but I am now trying to get in contact with the owner of this tree!
Do check any tree before adding anything from it to your own research!
Research Forum.
I have posted a query twice on the Research Forum about Samuel STOKES (Father of the Charles STOKES) baptised in Wraxall in 1793 said to be the son of Joseph & Martha. Neither time did I get any response, so I posted a similar query on the free Rootschat Forum and immediately had some really helpful suggestions which made me ask myself "Now, why didn't I think of that?" One of which was simply - did I have a death certificate which might show a relationship? This led me to wonder whether members are not using our Forum because they think their query is too silly or the answer to someone else is too obvious? Believe me, you can spend so much time going over in your own mind your own brickwalls but another person looking at the problem may see it from a different angle and make really useful suggestions. A member once commented that they couldn't answer any of the queries because they didn't refer to their own tree. The query might not be about your own research but in many cases you can use your own experience of how you built your own tree to help others.
Free Help Sessions
Many thanks to all the volunteers who turn up each Saturday not knowing what they are going to be asked to look at. Today, the last Saturday in August, we looked at Indian Records – How do you send for an Indian Marriage Certificate? We unearthed the marriage of a young woman who we eventually discovered used her stepfather's surname when she married which was why we couldn't find her marriage in the first place. A young Air or Army cadet came in looking for a member of the Home Guard who had died in 1944. The local newspapers which are on film (not online) gave us details of his inquest and funeral and our own transcriptions gave his burial in the Cemetery.