Comments
HARES
published by daveerasmus - 15 days ago.
Hi Pat. A Happy New Year to you. I\'ve looked at this a few times now and, like you, got nowhere. I think I know the answer to this, but why do you think that Sophia's maiden name was Stock? Dave Erasmus
---
HARES
published by Pat Hase - 19 days ago.
Selina HARES born in Shipham in about 1824 married Henry HASE in Shipham in 1846. She was Henry's first wife and she died in childbirth in Axbridge in 1856. I believe her parents were William HARES and Sophia STOCK - I've not found a marriage for them.
---
James Curry
published by Paul Tregelles - 1 months 3 days ago.
Thanks Pat
---
James Curry
published by Pat Hase - 1 months 5 days ago.
Ideally you want a newspaper entry (a bit early for that), someone researching the same family with a Family Bible, or perhaps school admissions or occupational records which may give date of birth. As I note that many trees on Ancestry give 1817 (presumably calculated from a census age) as the birth for James CURRY that probably means that he was born between April and Dec 1816 i.e. with a birthday after the census.
---
horse shows in weston
published by Pat Hase - 1 months 18 days ago.
According to the Weston Gazette of 25th July 1896 it was the 12th Annual Horse Show that Year. It was held on the Recreation Ground (and it poured with rain!) The Weston Mercury of 18th June 1881 has an article about the proposed new Weston Horse Show - with some discussion about its competition with the Banwell Horse Show.
In 1907 this advertisement appeared in the Gazette of August 10th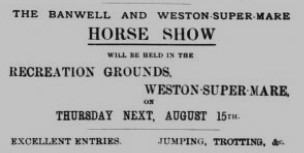 Like you, I used the BNA - I searched for "Horse Show" and limited the papers to the Weston ones. Quite a few articles came up.
---
December 2020 Newsletter
published by rockerjt9 - 1 months 21 days ago.
The book that Pat mentions above - \'Saints, Crooks and Slavers\' - is also available via two local bookshops: Books on the Hill in Hill Rd, Clevedon and Storysmith in North St, Bedminster.

\r\n
---