Thank you for your message - I am replying online as perhaps it might help other members who are stuck looking for someone. As your grandfather had such a distinctive name, Garnet THOMAS, and as his occupation as a Minister of Religion was given in the 1939 Register I wondered whether the newspapers might have mentioned him. I used the British Newspaper Archive which is also available, if you have a subscription, on Find my Past. The first article I found was this one, which surprised me as Aberdeen is a long way from Weston!

There were several other articles including this one which was earlier when I thought he was in Weston.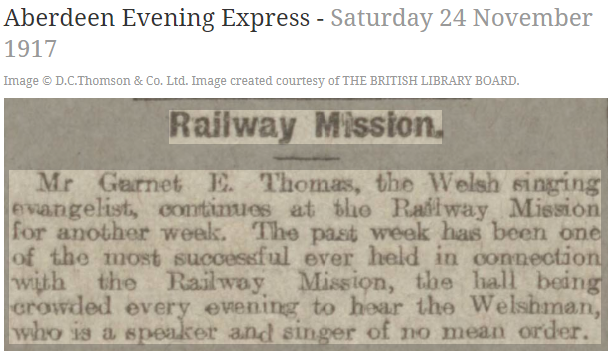 He sounded a remarkable man and the Pontypridd newspapers also reported that Garnet THOMAS from Weston-super-Mare frequently spoke in Wales and had visited America on several occasions I realised that there was a lot more to this man! Not being able to find Mervyn's birth in England or Wales I thought I'd try Scotland and Hey Presto - Scotlandspeople came up with the answer.
Should you feel motivated I'm sure that Sue Maguire, the editor of our Journal, Buckets and Spades, would be delighted to have a short resume of this remarkable man's life. Just looking at the newspaper obituary in 1940 tells me that this resident of Weston needs to be more widely known.