Comments
George Jennings
published by Bill Caple - 3 months 27 days ago.
Pat & Graham
Many thanks for your help
---
George Jennings
published by Graham Payne - 3 months 29 days ago.
Bill here is a copy of George's WW1 Medal records from Ancestry.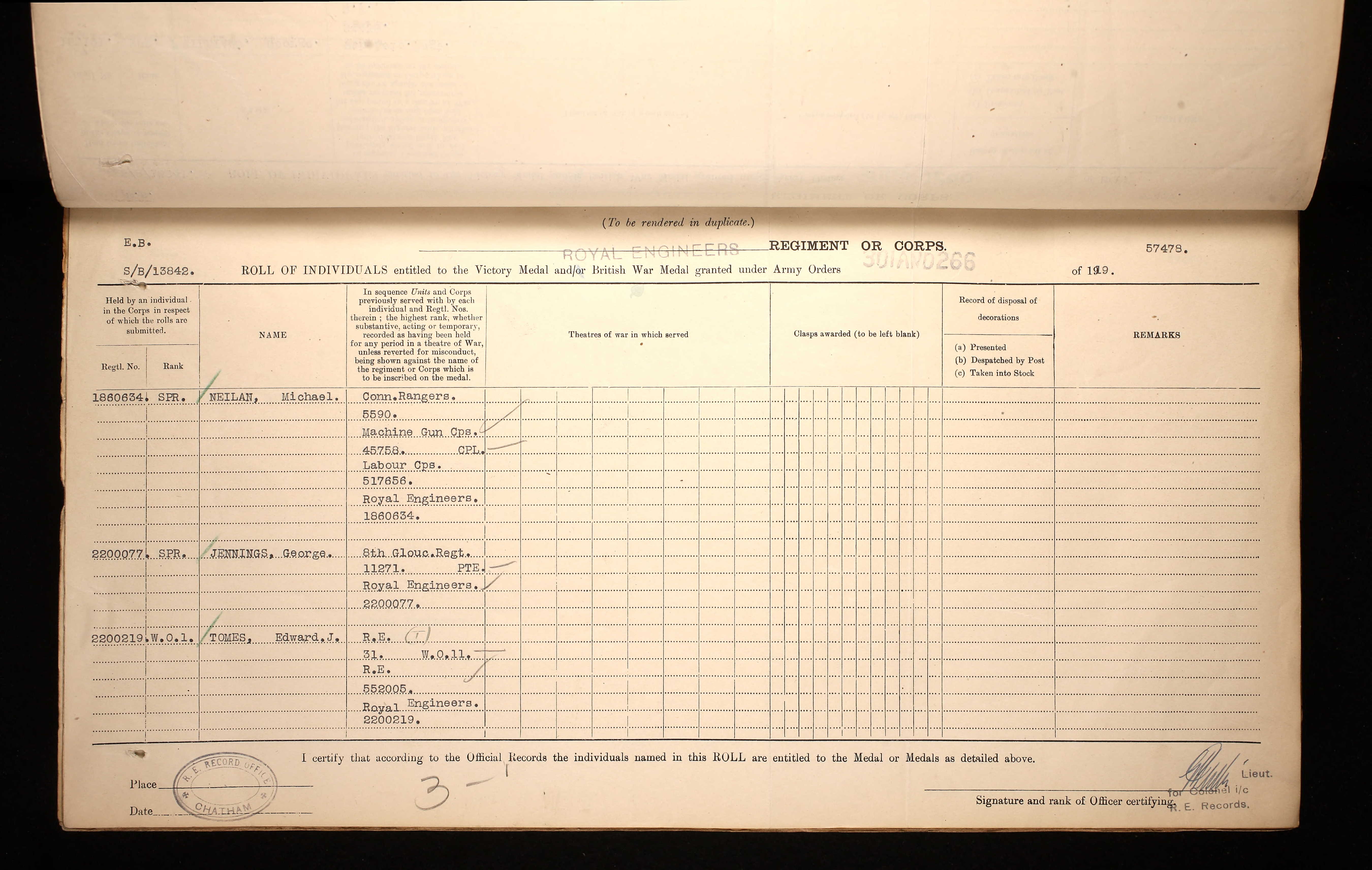 ---
George Jennings
published by Pat Hase - 3 months 29 days ago.
There is a George JENNINGS living in Weston in 1939 with a wife called Lottie. A George Jennings married a Lottie BENNETT in the Axbridge District in 1915. I would check the parish records on fiche in Weston Library to see if their marriages include 1915 at Emmanuel (our transcriptions end in 1912) George JENNINGS was buried in Weston Cemetery in August 1961 described as a mason aged 68. Lottie appears to have died in 1975. They lived in Southmead Road.
---
PUDDY and BAKER Weston-super-Mare
published by daveerasmus - 4 months 0 day ago.
When I was growing up in Weston (in the 50's and early 60's) "Mr Puddy" was our Butcher. I don't remember anything else about him! Anyway...
...Sylvester George BAKER was born 3 April 1861 and baptised in Banwell on 28 April 1861. His parents were Mark and Anna Maria (HANCOCK?) There is a marriage of a Harriet PUDDY registered in Axbridge RD in Q4 1884 (Vol 5C Page 1029). One of the male names with the same registration details is George BAKER. There are a few public trees on Ancestry but none of them has any more details of the marriage I'm afraid.
One of their sons was Silvester George BAKER (born 25 June 1887). He was given Freedom of the City of London in February 1923. He was an Auctioneer and Valuer.
All sourced through Ancestry.
Dave Erasmus
---
Introducing the next generation to Family History
published by Pat Hase - 4 months 7 days ago.
Thank you, Peter Cardiff for this suggestion. Bearing what you have said, perhaps we need to help our members to get the younger members of their own families involved first. A Grandparents\' Guide to passing on an interest in Family History? Any more suggestions?
---
Introducing the next generation to Family History
published by Paul Tracey - 4 months 11 days ago.
On the question you asked in a circular email the other day about Introducing the next generation to Family History I wonder, given (most) youngster\'s keenness to solve solvable problems and liking for the Internet/technology, they could be asked to try to find the full names, years and places of birth of, say, their great-grandparents or something like that and for the children to draw a rough family tree with them at the bottom? Of course, appropriate sensitivity is needed - some children are adopted, or are the great-grandchildren of immigrants to the UK etc etc and so the problems to be solved needs to be tailor-made after discussion with parents. Just an idea!
Peter
---