I commend you on your thorough research. I was interested to note that Betty PARKER appears to have been buried on the same day that she died unless there is an error in the Burial Register. You have her death certificate and the same date is given in a newspaper announcement of her death. But the burial Register of Weston Cemetery gives the same date for her burial. Possible but unusual.
I would go along with your reasoning about the parentage of Betty SALVIDGE. it was not unusual for a child to privately christened at birth and then formally presented to the congregation at a later date. If, as you say her parents died not long after her birth then it is entirely possible that this second ceremony was overlooked.
I'm not so sure about Betty's mother. There is a Will of Samuel TUTTON who died in Bleadon in 1771 available on the National Archives which at the moment you can download free of charge. It is very long and difficult to read but I can see the name James SAVAGE [sic] mentioned several times. It also includes a statement that James SAVAGE should take the surname TUTTON by Act of Parliament. As James SALVIDGE died shortly after Samuel TUTTON this is probably why his son took the name TUTTON. On a quick perusal of the Will I cannot see any mention of a wife or children for Samuel TUTTON - but as I said the writing is difficult - I hope you will have better luck. Perhaps Sarah TUTTON was his niece?
Do let us know what you can decipher from the Will. There are several items relating to SALVIDGE in the Somerset Archives, including this one which may be of help to you when they are open again.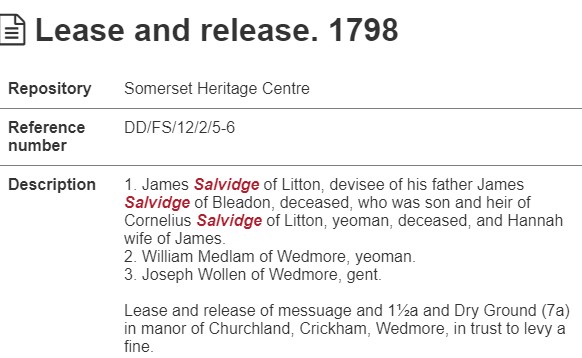 Good Luck with your research!