Comments
John & Mary PUDDY
published by Pat Hase - 1 months 30 days ago.
Thank you so much for your time and thoughts on my problem. I really do appreciated someone else's opinion - thanks! There is a burial of a John PUDDY in Mark in 1826, aged 63 which, if correct, suggests a birth date of 1763 - this ties in with a christening in Huntspill of a John PUDDY, s/o Charles & Rachel. (see our transcriptions)
I had considered the John christened in Mark in Dec 1767 until I discovered that he was one of triplets who all died in Jan 1768. This is where I am the moment but nothing is set in stone. Still some John & Marys to be sorted.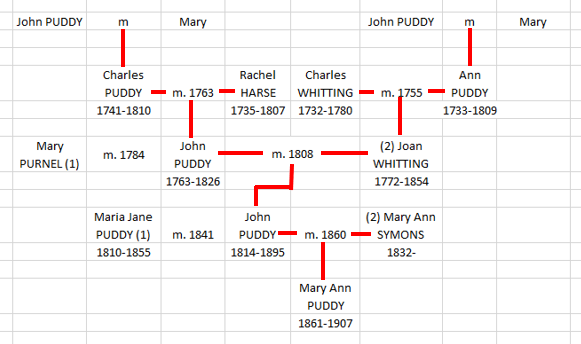 ---
John & Mary PUDDY
published by daveerasmus - 2 months 0 day ago.
Pat:
FreeReg has the following baptisms for children of John & Mary PUDDY in Mark:
Nancy 16 September 1785 (Note: Father referred to as John jnr)
As you probably know, Mary wife of John was buried in Mark in May 1808. This tends to support your view that she was the first wife of the John PUDDY who married Joan MASON later that year.
If John's first marriage was in 1784 then his likely year of birth was possibly around 18-20 years earlier. A John PUDDY was baptised in Mark on 19 December 1767 to parents John & Jane (abode: Southwick). Bit young maybe? But there is a marriage of a John PUDDY in Burnham on 26 July 1762. Could this be John senior? The bride was Jane WHITING – coincidence?
---
John & Mary PUDDY
published by Pat Hase - 2 months 4 days ago.
Can I add another query about John & Mary PUDDYs? I mentioned the marriage of John PUDDY and Joan MASON nee WHITTING above. I think that Joan WHITTING was the daughter of a Charles & Ann WHITTING nee PUDDY married in 1755 in Mark. Is it possible that this Ann PUDDY was the one who was baptised in 1733 in Mark d/o John & Mary PUDDY? If so, is this the same John & Mary whose son Charles married a Rachael HARSE in Huntspill and whose grandson, John (Charles' son) married Joan MASON?!!
---
RAWLINGS
published by ceriseblack@btinternet.com - 2 months 6 days ago.
Hi Pat, I found Esme in Slaters directory in Denton, now under Tameside near Manchester in 1909 and 1911 and then on the 1911 Census with Annie. I did find who I think was his wife Elizabeth in 1891 Census living with her sister but it said she was a widow, so I'm not really certain but she did have one of the children with her, it's a real mystery. For now I am going to assume that Esme was William Henry's brother and keep searching, see what else I can find in the meantime to say otherwise. Even the occupations of being a lithographer are the same for William and Esme. I was hoping the cemetery would answer all my questions but there was no headstone. I will keep plodding on. I'm so glad I joined the site, it's great just to have someone to share you're thoughts that understands the issues. My hubby doesn't like the record searching side but likes to visit the places and look for buildings and gravestones etc. Thanks Sue
---
RAWLINGS
published by Pat Hase - 2 months 6 days ago.
I was beginning to think that Esme simply adopted the name William Edward and used it until I discovered that Esme had married in London in 1866. Esme married an Elizabeth WILLIS at St John\'s Notting Hill Sept 29th 1866. In 1881 Esme and Elizabeth with 4 children were in Fulham. In 1891 Esme was a patient in a London Hospital, Do you know what happened to them after that?
---
RAWLINGS
published by ceriseblack@btinternet.com - 2 months 6 days ago.
Hi Pat,\r\n\r\nPossibly, the Shepton Mallet Rawlings you found, they had a William Henry listed and I did wonder if that was the same one. To complicate matters the William Henry buried in Annie's grave died 1918 aged 56 yrs in the burial register is listed as William Erne, (should be William Esme not Erne that is definitely a transcript error as I have got the original). The GRO has William Esme died 1918 aged 79 yrs, which ties in with Shepton Mallet Esme's birth on the Census of 1842.\r\nWhat is even stranger, is on the 1911 Census Manchester, Esme is down as head of household with William Edwards wife Annie, married 12 yrs, this ties in with the date William and Annie got married in 1898 but why would William call himself Esme. If he was William Esme, why is it William Edward on his marriage certificate.\r\nThere is also a Vincent Percival as William Henry's brother in the Shepton family and William Henry also had a brother names Vincent Percival which again seems to imply it is the same family. \r\nNone of this explains why there is no record of William Edward for Weston Super Mare and did Annie Rawlings marry her husbands brother Esme. It's the strangest thing and I have no living relatives to ask. William Edward would have been my great grandad. It's his marriage certificate that I got the names from, I was hoping to find a baptism record for him.
---