Comments
June 2019 Update
published by Pat Hase - 2 months 17 days ago.
This has just been put on the Facebook Group by Grace Rubery
Wick St Lawrence Village
During the weekend of the 8th and 9th of June "All Things Wick" will be celebrated. There will be an exhibition of Memorabilia in the Village Hall from 11.00am to 5,00pm, ploughman's lunches, cream teas, afternoon tea, and BBQ. There will also be tours of the church tower. "Our Village in Photographs" will be launched.
---
Frederick BAKER
published by Pat Hase - 2 months 17 days ago.
I have now heard from Eddie Priest that someone has answered this query directly to him having found the death of a Frederick Ronald BAKER in 2017 on Find my Past. I hadn't realised that they had deaths as late as 2017 on Find my Past, but these are from the private company which has compiled information from various sources. Anyway it seems that my suggestion was not the correct one and well done to whoever contacted Eddie Priest.
---
Frederick Baker
published by Pat Hase - 2 months 21 days ago.
I'm sorry that you did not get a reply to your original query. Any reply would have been on the website -but I can't find your query on our web site. However, there is a Frederick R BAKER living in Shirehampton on the 1939 Register - his date of birth is given as 19 Jan 1917 which could well be the same man. His wife's name is Mary. As that information is available it looks as if he has died.
There is a death registered in Bristol in 1981 of a Frederick Robert BAKER was born 19 Feb 1917. Although this date is not correct errors of that nature are not uncommon on death certificates. It would be worth checking it out. Death registered 4th qrt 1981 Bristol 22 1135.
---
Frederick Baker
published by Eddie Prest - 2 months 21 days ago.
He was born in Bristol on 17 Jan 1917, and he was Frederick R Baker. I do not yet know what the R stood for!
---
Do you know anyone in the picture?
published by daveerasmus - 3 months 14 days ago.
Thanks, Bill. We have exchanged several emails now. Attached to one is a document I have prepared summarising the residents of Langford Road at the time of the 1939 Register. My grandfather and his family lived at 77 and one of his brothers and his family lived at 79. Both worked at the Potteries, as did another brother. If any other member would like a copy I am happy to share it.
Dave Erasmus
---
Glentworth Hall
published by Bill Caple - 3 months 15 days ago.
Glentworth Hall as it was in 1940.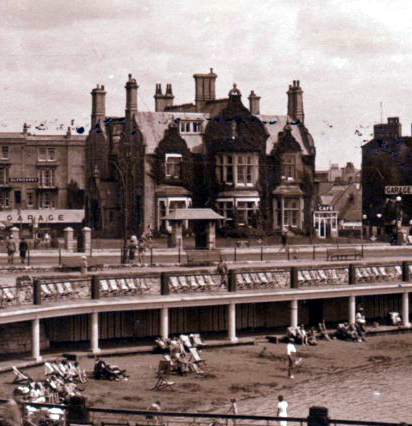 ---
Forthcoming Events
Weston Library Help Sessions
Saturday, 24th August, 2019 14:00 - 15:30
Weston Library Help Sessions
Saturday, 31st August, 2019 14:00 - 15:30
Weston Library Help Sessions
Saturday, 7th September, 2019 14:00 - 15:30
Society Committee Meeting
Monday, 9th September, 2019 19:30 - 21:30
Weston Library Help Sessions
Saturday, 14th September, 2019 14:00 - 15:30
<- View calendar for more